If you are a super busy person who loves to sew, here are 30 free sewing patterns, just for you. All these free patterns are perfect to sew for yourself, your family, and your friends. These sewing tutorials require very little sewing skills and with some practice, you can whip them up in almost 10 minutes!
Or, if you are a seamstress who makes her living by selling handmade items, these 30 sewing projects are great to sell. These are all awesome, adorable items that your customers would love to buy. Since these are all 10-minute DIY tutorials, you can quickly whip up a number of finished products within no time at all!
All you need would be some leftover fabric scraps in beautiful color combinations to whip up these beginner sewing projects. These tutorials are so much fun and interesting that you will enjoy making them.
30 Free Patterns You Can Sew in 10 Minutes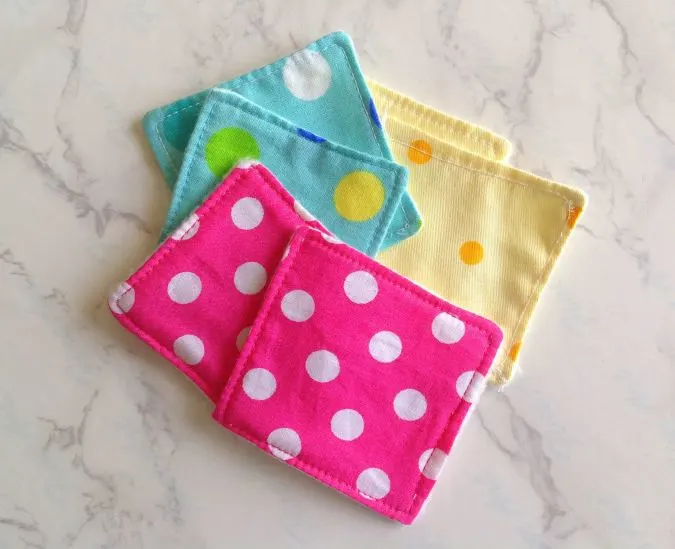 Are you someone who values reducing, reusing, and recycling? Then, here's a project you can sew with your leftover fabric scraps that are adorable, simple, and practical: some DIY reusable makeup remover pads.
Sewing these wipes goes very quickly. You can join several of them together and sew a large number of them at once by sitting in front of your sewing machine. They make excellent homemade gifts as well as practical items for you.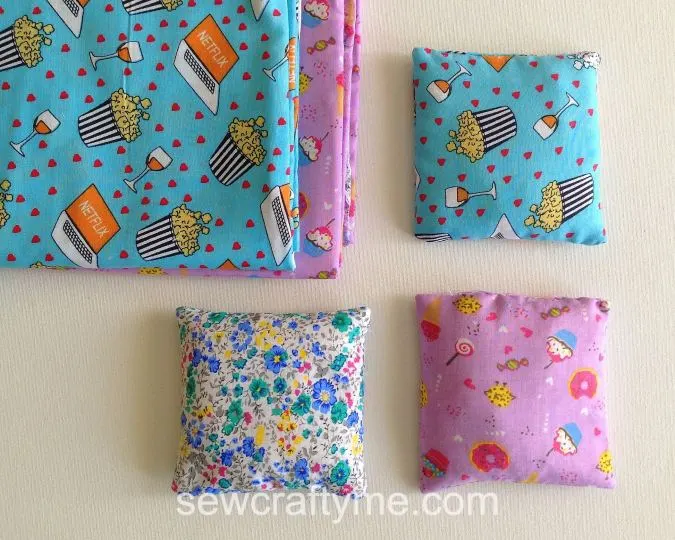 One of the simplest and quickest sewing projects I've ever completed is this one. It is therefore a great project for beginners and even young children. These DIY reusable hand warmers make excellent last-minute Christmas presents.
My favorite things to sew are the DIY hand warmers because they can be quickly constructed with leftover fabric and supplies from my kitchen. They can be machine or hand-stitched.
This is again one of the free sewing patterns, you can learn to sew in 10 minutes. This is a quick-sew, reversible DIY bowl cover sewing pattern. Doesn't a novice seamstress find that appealing?
It's easy to wash them clean if they get stained. When you grow weary with one side, you can also just turn it over to receive a brand-new one! Furthermore, these DIY reusable bowl covers are so simple to create that even a beginner seamstress can do them!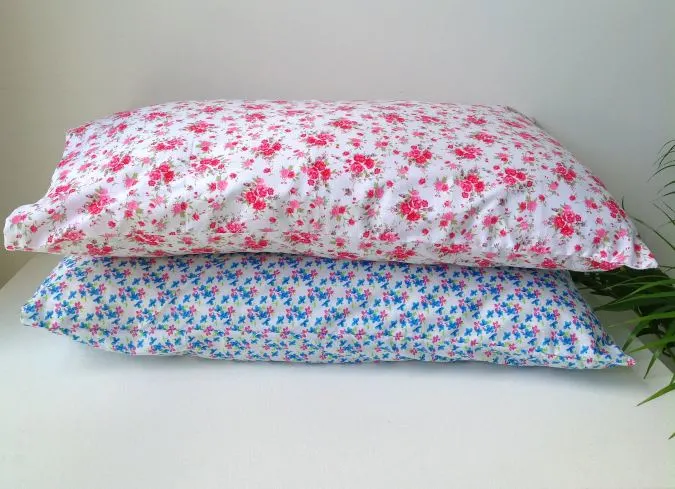 You may quickly learn how to make a pillowcase with the aid of this simple pillow cover sewing pattern. This pillowcase was sewn using just one piece of fabric and a few straight stitches.
This simple pillow cover sewing pattern may provide coziness to any space and looks stunning in both modern and vintage decor. They are ideal for your beds and sofas as well.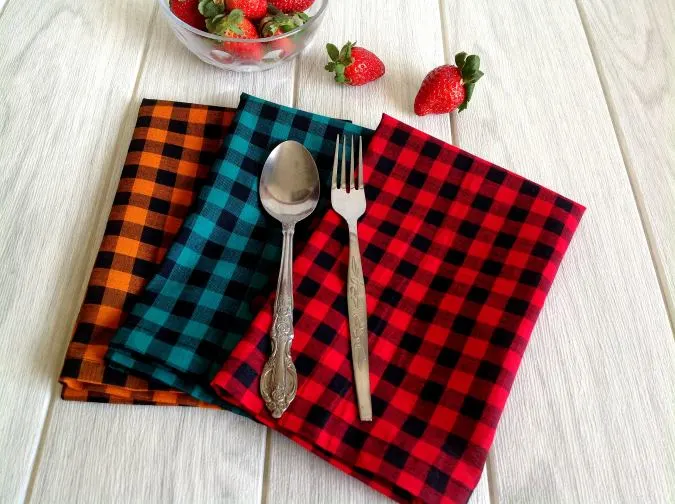 You can make this homemade cloth napkin in just 10 minutes of sewing! All it takes are a few simple straight cuts and straight-line stitches to finish.
Mitered corners give this 10-minute cloth napkin sewing project a finished, store-bought look and feel. Even if you are a novice seamstress, this sewing tutorial will teach you how to sew the mitered corners neatly and quickly.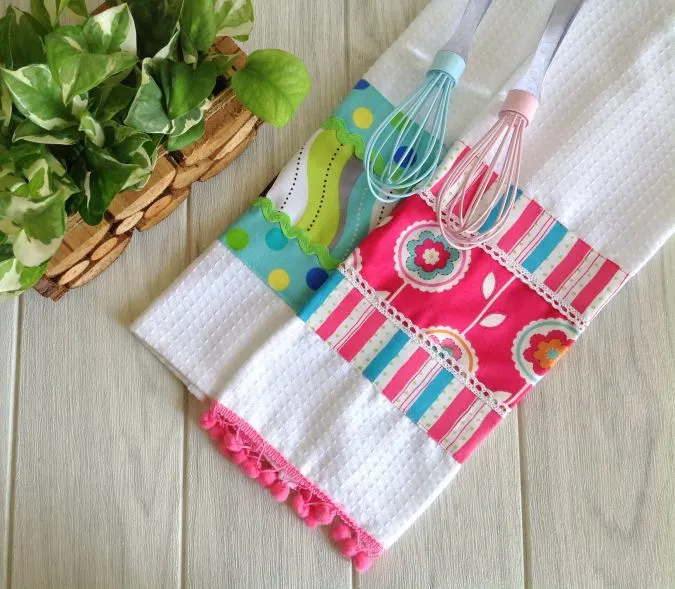 If you are looking for some cute handmade gifts for your loved ones, these scrappy dish towels are perfect for them. It requires very little time and expertise to sew.
These DIY scrappy dish towels can be made from your leftover fabric scraps. They can be made in different colors and embellished with different trims like rickrack, pompoms, lace, etc. These trims would completely transform your plain dish towels into colorful and beautiful ones.
Here is a simple solution to help protect your ears from getting chaffed and painful while wearing the mask, the easy DIY ear-saver tutorial! You can make them with your tiny leftover scraps and some buttons.
These ear savers are so quick and easy to make that you can make them in minutes.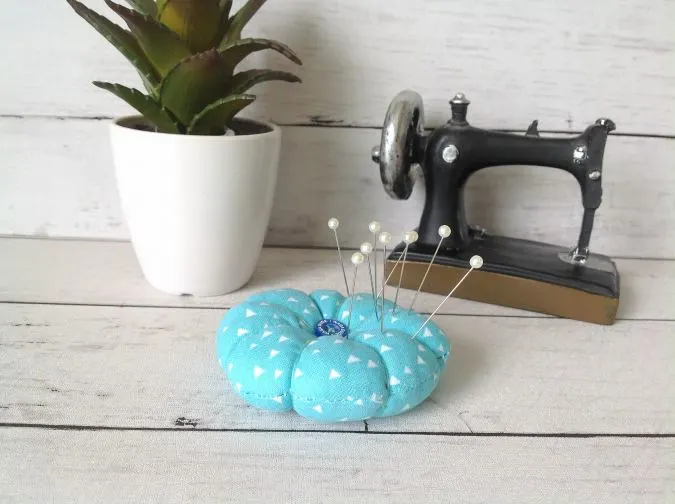 If you are not in the mood to try a large DIY sewing project, try this simple pincushion pattern. You will enjoy making it and it is essential for your sewing room as well!
This tutorial on how to make a pumpkin pincushion is designed in the shape of a pumpkin. You can easily make it by cutting two circles, sewing, and stuffing it with a little polyfill fiber.
These DIY burp cloths can be made from the leftover pieces from a baby dress or diaper cover you made earlier. That way you can make matching sets for your baby or as a baby shower gift.
Burp cloths are much needed to protect your baby's clothes or even yours from the baby's drool and wet burps. They can be made in absorbent fabrics to keep the baby's chest dry and prevent him or her from catching a bad cold or cough.
Looking for easy and fun things to use up your fabric scrap? Then look no further, here is an easy corner bookmark sewing pattern that is not only quick to work up but is a very useful thing for the avid reader in you.
These bookmarks are again one of my easy sewing projects that any beginner can try. There are no complicated pieces to be cut or complicated edges to be sewn. These DIY bookmarks can be made by a few square pieces of fabric and interfacing put together. They are so easy that once you get the practice, you can sew them in 10 minutes.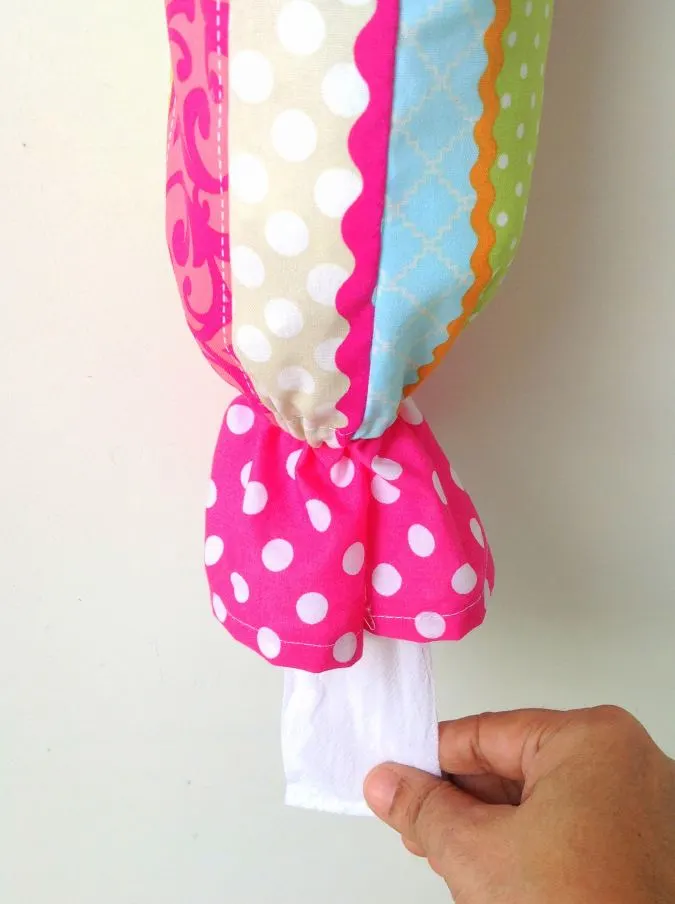 This sewing project for a plastic bag holder is so easy that once your fabric pieces are cut, you can make it in almost 10 minutes. This is again one of the patterns that I recommend beginner seamstresses to try.
The pattern is designed with elastic for the upper and lower closure to make it easier to use. You can mix and match different fabrics to make beautiful plastic bag dispensers for yourself or as handmade gifts.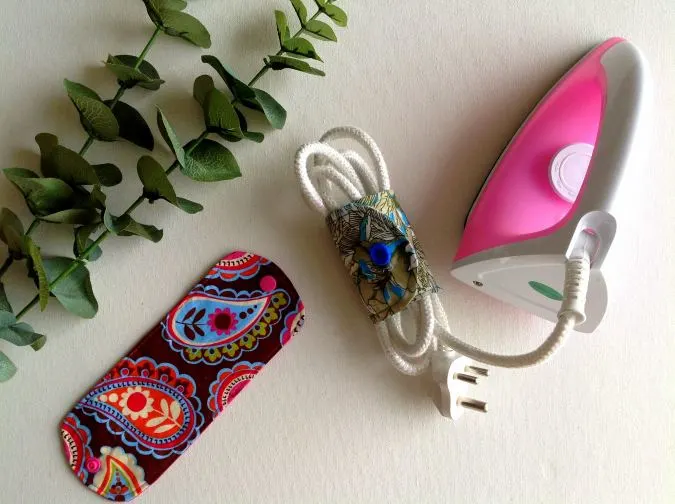 This DIY fabric cord organizer is easy to make, easy to use, and looks pretty too. If you are a beginner and would like to sew something easy and quick, here is something you can try. I bet you will never go wrong!
These cord holders are perfect to keep the hanging wires in place. You can neatly roll and button them up using these DIY cord organizers.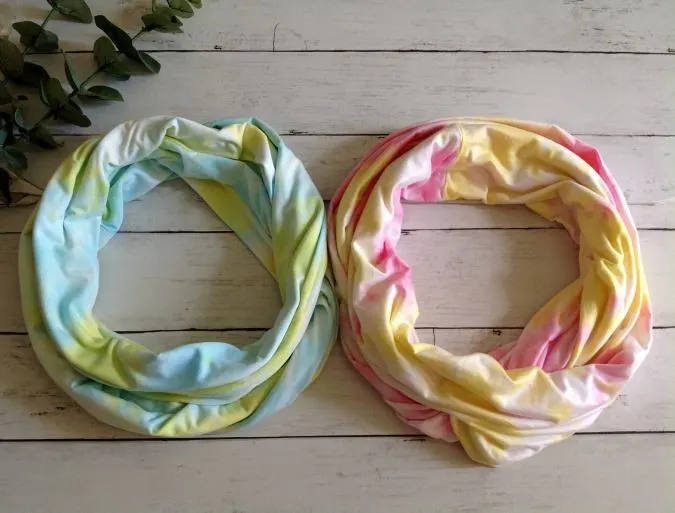 The holiday season is quickly approaching, so you might want to give your loved ones a gift that you made yourself. This DIY infinity scarf is a wonderful and simple project you can try as a gift.
With very little cutting and stitching involved, the infinity scarf sewing pattern is also one of the easiest sewing projects a beginner can try.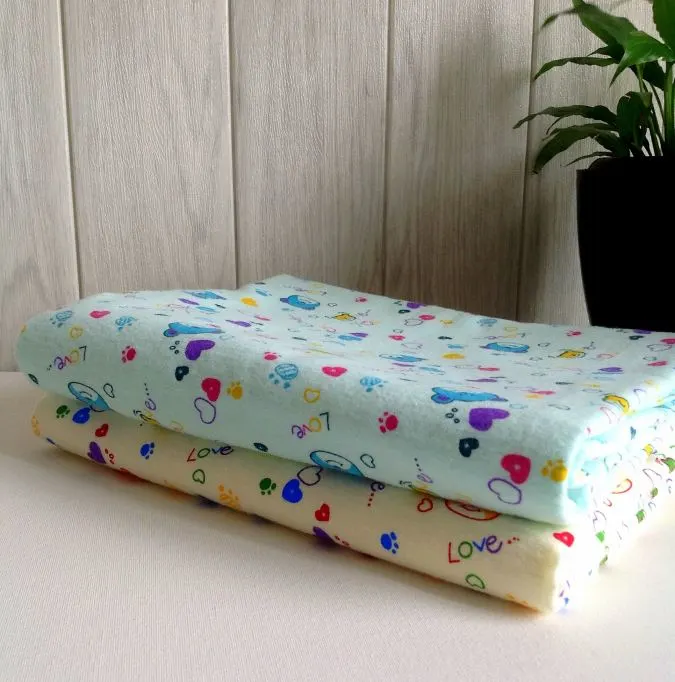 There are a number of easy sewing projects you can do for a baby shower gift, but this reversible blanket sewing pattern is the easiest and the quickest.
There is no limit to the size you can make and the fabrics you can use. Here I have used flannel on both sides. You can use fleece on both sides or use flannel and cotton or fleece and cotton to sew a variety of blankets.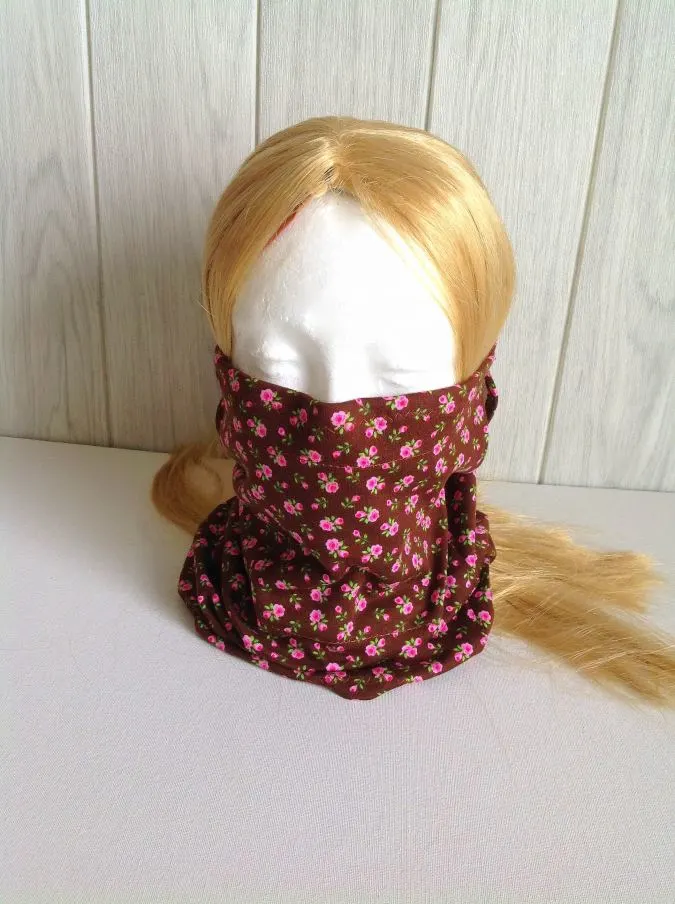 Here is a multi-functional neck gaiter face mask sewing project that any beginner can try. This easy gaiter face mask pattern comes with instructions for a filter pocket and a nose piece insert for maximum filtration efficiency. This neck gaiter face mask would give you all the comfort of a gaiter plus the advantage of a face mask.
You can use it as a headband, a bandana, or even to hold your ponytail in place! The gaiter face mask is breathable, soft, and comfy, and is a perfect option for those who feel uncomfortable wearing a face mask with ties or elastic.
Learn how to make a drawstring bag in minutes with this easy DIY tutorial. There are instructions to sew them in any size you like! The steps are incredibly easy and I bet you can't just stop at one!
This drawstring bag would help you keep everything neat, tidy, and organized. Made in fabrics with adorable prints and colors, they can look great too!
Here I will teach you how to make organizers with embroidery hoops. These wall hangers are perfect to tuck away your little things.
These DIY embroidery hoop organizers require very little or no sewing and they can be done in minutes. They are so easy and quick to make that you can make a number of them in one sitting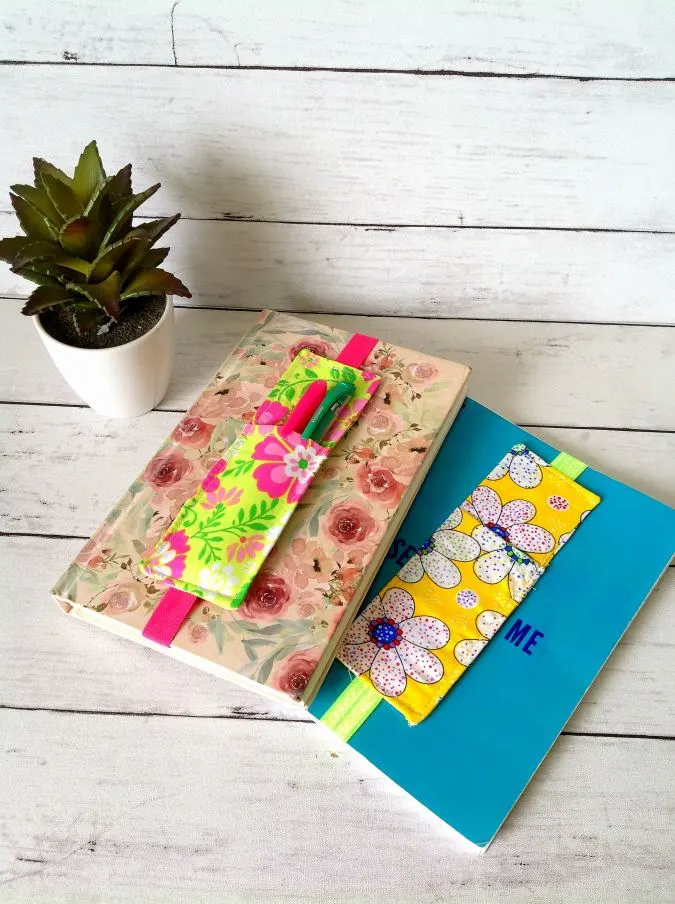 This easy fabric bookmark sewing pattern comes with a pen pocket and elastic, which makes it more valuable.
This bookmark has an elastic attached to it so you can put it around the pages you would like to mark. You can easily carry the book around, without the fear of the bookmark falling off.
This DIY Fabric Brush Holder is the easiest sewing project I have made and is extremely useful too. This can be your perfect companion during travel and what more? You can wash it with your other laundry and it comes out clean and dry!
All you need to make it is a small washcloth that is available in every supermarket.
In this tutorial with step-by-step instructions, you will learn how to make fabric bows in small, medium, and large sizes. These bows look great and are easy to make. You can use them to adorn your garments, bags, and more.
21) Reversible Blanket Pattern
This one of the free blanket patterns will teach you to sew blankets, that are reversible. You can use fleece on both sides if you want to use it for winter. Use flannel on both sides or replace fleece with cotton on one side, if you need a lighter blanket.
Here I have used small pompom trims for embellishment. You can use lace or rickrack if you wish.
This is a super simple DIY sleep mask pattern that can help you sew reversible sleep masks. This step-by-step tutorial with free pattern would help you make it in a jiffy! These DIY sleep masks are so useful to keep the light away while you sleep.
23) Face Mask with Filter Pocket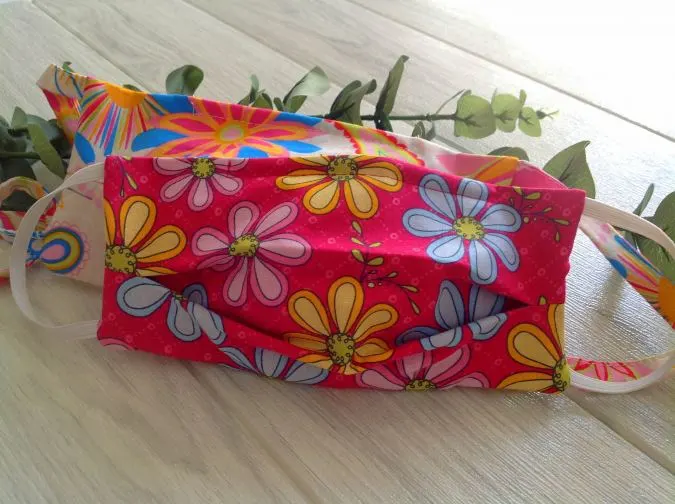 This tutorial on how to sew face masks with filter pockets can help you make masks for yourself and also for others.
These masks are designed with filter pockets. For the filter, you can use a piece of your cotton t-shirt, which according to the CDC, has a high ability to capture particles. In the absence of these materials, you can also use dried antibacterial wet wipes or even toilet paper as a filter.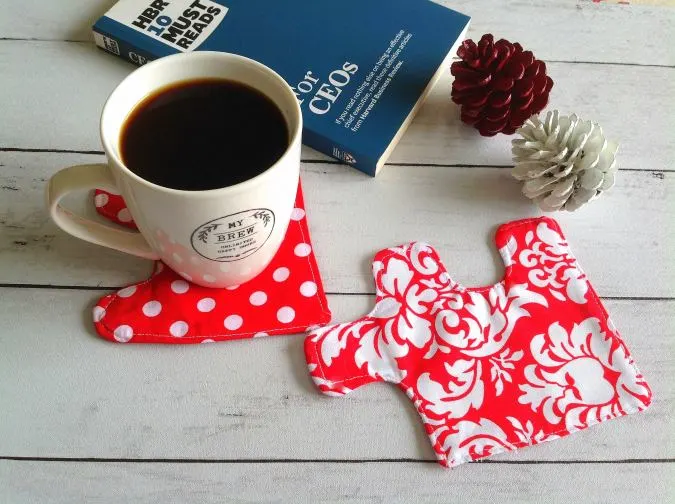 All you need to make these puzzle coasters are some fabric scraps and very little of your precious time! The template makes it even easier to complete the coaster.
These DIY coasters are adorable to look at and are great to protect your coffee table from stains.
25) Flower Drawstring Make Up Pouch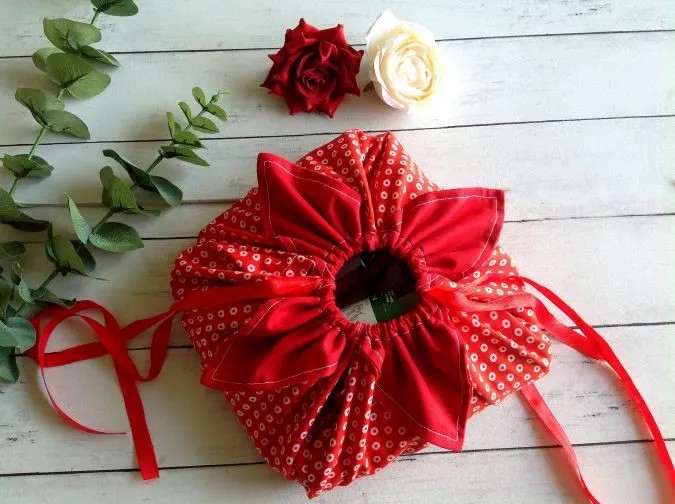 This sewing pattern for a flower drawstring pouch is all you have been looking for to store and carry your makeup supplies easily. This is one of the easy-to-sew projects for beginners, that is useful and fun as well.
If you find it hard to organize, arrange, carry, and later search for your makeup supplies when you travel, this is the pouch to which you can dump them all together and close them securely by pulling the cords!
In this DIY sewing tutorial, I have shown how to hand-sew a scrunchie in just 10 minutes or so. If you like machine sewing more, you can try that too! This is also one of the easy-to-sew projects, perfect for beginners.
Now you can make the scrunchies in matching fabrics with your outfit. They can be made in different colors and prints and you can have fun making them.
27) How to Sew a Plaid Pumpkin
This is a DIY plaid pumpkin pattern, that is done by hand sewing. You can make it sitting on your couch or bed. It is so easy, you could just finish it in just a few steps. Well, you can sew it by machine too!
These pumpkins in plaid fabric look so much like Fall! Just arrange them with cones, twigs, lanterns, and another fall décor to bring in the spirit of the beautiful season.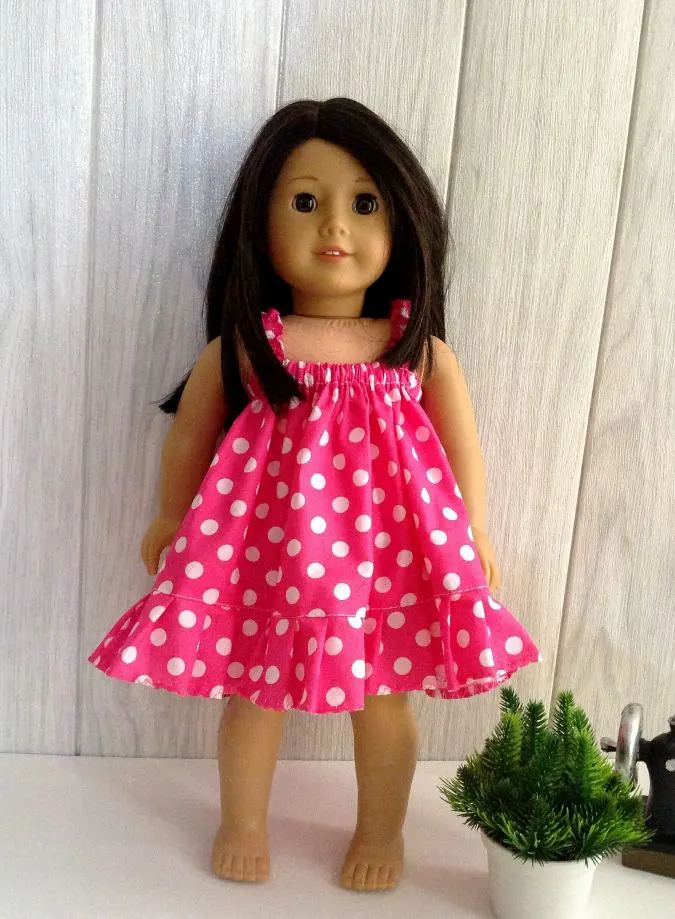 This is the easiest sundress sewing pattern, for your little girl's 18-inch American doll. This dress has no curved seams but only straight seams which can be done even by a very beginner seamstress.
You can ask your little one to lend a helping hand while making this dress since this pattern can be perfect as her first sewing lesson. After a few hours of apprenticeship, she can easily sew one! A few fabric scraps and a little elastic are all that you need! This dress is so easy that you can sew a number of them to fill up her little dolly's wardrobe
29)Envelope Throw pillow Covers
This one of my free patterns will teach you how to sew pillow covers in 10 minutes. They require very little fabric and very little of your valuable time.
This easy pillow cover pattern requires very little sewing and they have an envelope-style closure, which frees you from the task of attaching zippers or buttons. Doesn't that make this DIY pillow cover sewing tutorial, the perfect beginner project?
30) Fun and Easy Doll Skirt Pattern
These cute little dolly skirts are a treat to your eyes. You can sew them as mini, midi, or maxi skirts for your little girl's American Girl Doll. Moreover, they are so simple that they can be made even by your little girl (with your supervision of course!).
So, that is it about my 30 easy to sew projects that can be completed in 10 minutes.
If you like the post, you can pin it for later here,
If you would like to read about why sewing as a stress reliever and therapy, click here!