Flower coaster, heart coaster, square coaster, or round coaster, you name it and the coaster sewing pattern is there free on the internet! But the puzzle coaster pattern is a novelty. This pattern is cute, different, and easy to sew!
All you need are some fabric scraps and very little of your precious time! The template given here makes it even easier to complete the coaster. You will get a finished product of approximately 4.5″ x 4.5″.
The idea of the puzzle coaster sprang up in my mind when I saw the wooden version somewhere on the internet. I thought it was a quick to design pattern, but it took me a few trials and errors to decide the sizes of the peaks and the pits!
I have made the tutorial with the same fabrics on both sides. If you choose different fabrics, you can make a reversible coaster. You may use a mix of colors and prints to create a vibrant set of coasters!
Puzzle Coaster Sewing Pattern
Materials Required:
Fabric scraps.
Fleece or quilt batting for the inside of the coaster.
Sewing Notions.
Gather all your supplies.
Fold the fabric and place the template on it. Cut around the template to get two mirror images of the puzzle. Cut a batting piece using the same template.
Layer the three pieces in the order shown above. Align the edges all around.
Sew around the edge, leaving a 2-inch gap along the straight edge, to turn the coaster right side out. Clip the corners and make small slits along the curved edges, taking care not to cut through the seam.
Turn the right side out through the opening. Press the coaster taut, carefully tucking in the raw edges.
Topstitch around the edge to close the opening and to make the coaster neat and crisp.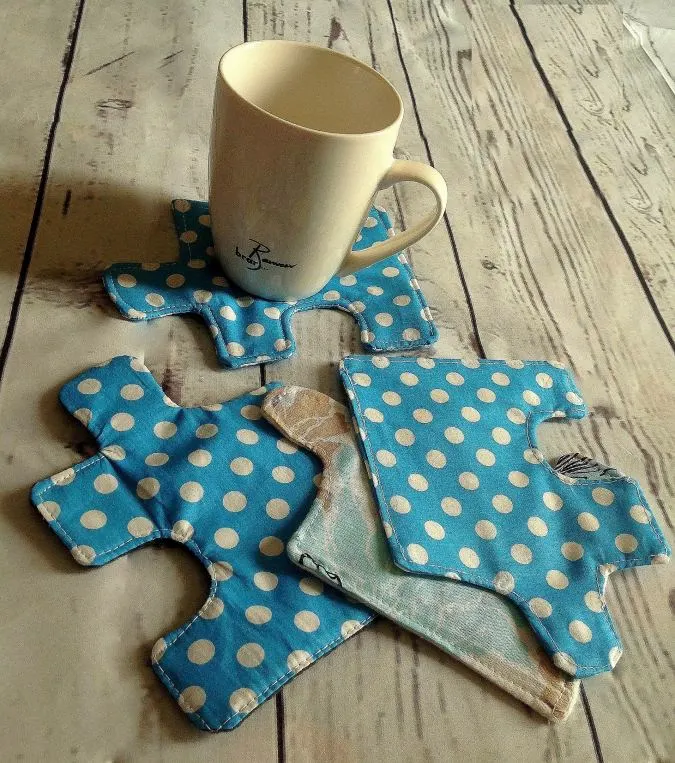 Your coaster is ready!
You can find more free coaster sewing patterns on Allfreesewing.com.
Have a look at all my sewing patterns here.
Pin it for later here,