Here is a multi-functional neck gaiter face mask sewing project that any beginner can try. This easy gaiter face mask pattern comes with instructions for a filter pocket and a nose piece insert for maximum filtration efficiency. This neck gaiter face mask would give you all the comfort of a gaiter plus the advantage of a face mask.
You can use it as a headband, a bandana, or even to hold your ponytail in place! The gaiter face mask is breathable, soft, comfy, and is a perfect option for those who feel uncomfortable wearing a woven face mask with ties or elastic.
There are ear openings on the sides to hold it in place and prevent the facemask from falling off. There are no elastics or ties to be sewn and as such, it protects your ears from getting sore and also save a lot of time in sewing.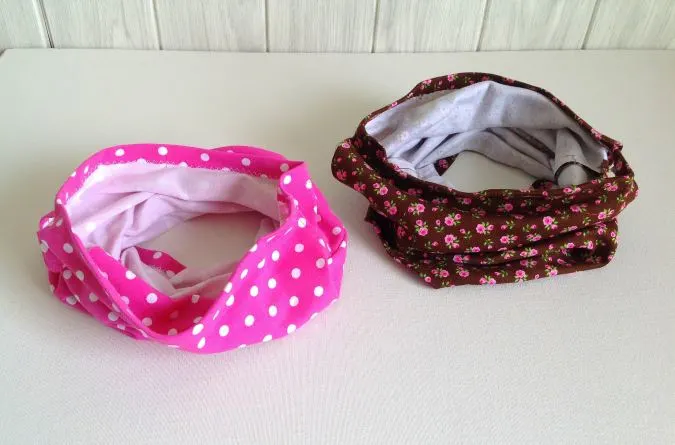 This gaiter face mask does not require much time or materials. All you need are some knit pieces and a ballpoint needle. If you are not confident about sewing with knits, this tutorial would give you all the instructions to make sewing the gaiter face mask a breeze.
These masks are designed with filter pockets. You can use a piece of your cotton t-shirt, which according to the CDC, has a high ability to capture particles. In the absence of these materials, you can also use dried antibacterial wet wipes or even toilet paper as a filter.
Guidelines for Sewing with Knits.
1. Spread out your knit fabric on a large flat surface for cutting. This prevents it from getting stretched and distorted.
2. Use polyester thread or a cotton-polyester thread to allow for stretch.
3. A ball-point needle is a must for sewing with knits.
4. Try stitching on a double layer of scrap before sewing on your actual fabric.
5. Take care not to stretch the fabric while sewing. Hold the fabric up to keep it flat near the machine. If you have an option in your machine to reduce the pressure of the presser foot, that would be great too.
6. Since knit fabrics do not ravel, you don't need a serger. But if you need a professional finish and you have just an ordinary machine, you may go ahead and use the zigzag for the finish.
7. Press with a lot of steam to get the stretched areas back in shape.
If you would like to see my other face mask making tutorials, find them below:
Easy Gaiter Face Mask Pattern
Supplies Needed:
½ yard of knit fabric that has 50 % stretch horizontally and vertically. You can also cut your t-shirt if it is not very old or worn out.* To check the stretch of the fabric, hold it against a ruler, if you can stretch a 4" to 8", then the fabric is right for your gaiter face mask.
1. Polyester thread.
2. Ballpoint needle.
3. Other sewing notions.
4. Floral wire or pipe cleaner for the nose piece- 5 inches.
5. Vacuum cleaner filter, paper towel, or dried wet wipes, to be used as a filter.
Table
In the table below, "w" stands for the width and "l" stands for the length of the fabric piece to be cut.
Pinch to zoom for mobile users.
Preparing the Ear Openings
Let's mark the ear openings.
You will need to fold the fabric in between the slits.
Sewing the Filter Pocket
Let's sew the gaiter front and back together.
The two pictures below are for illustration purposes.
Next, we hem the upper and lower hem. *The upper hem also serves as the nose piece casing.
Press the gaiter with a lot of seam on the hem and the side seams to bring any stretched areas back to shape.
For more of my free patterns, click here.
For hundreds of free patterns and DIYs, visit allfreesewing.com.
Pin it for later here,