DIY hand warmers are something I have been making for years. I always use them to keep my hands and even my feet warm. I just heat it in the microwave for 60 to 90 seconds and it would stay warm for almost an hour.
The homemade hand warmers that I use now have been made about 7 years ago. That left me wondering how the rice inside the warmer never got spoiled in spite of heating and reheating it all these years!
I enjoyed sewing and gifting reusable hand warmers to my near and dear ones. I could see the gleam in their eyes whenever I gifted them with these useful little pillow-like pouches.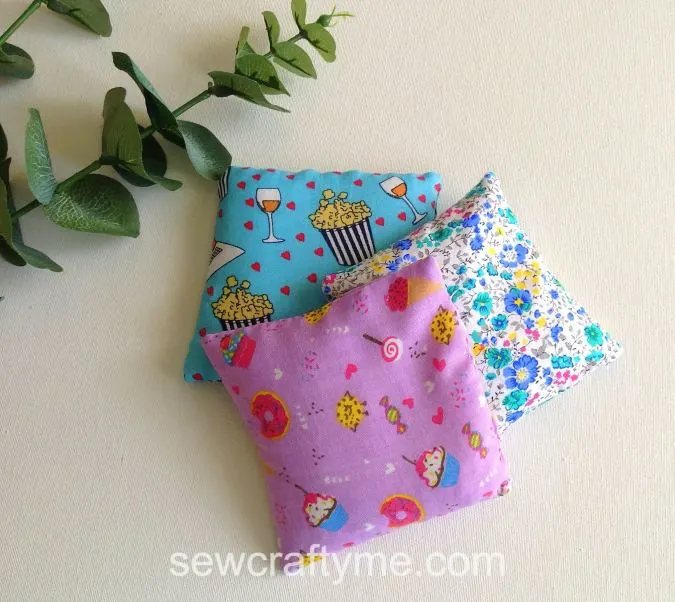 The fact that they can be made quickly with scraps of fabric and things around my kitchen make the DIY hand warmers my favorite items to sew. You can either sew them by hand or by machine. In fact, this is one of the projects I hand sew while watching T.V.
This is also one of the easiest and quickest projects I have made. That makes it an ideal project for beginners and even kids. If you would like to whip up quick Christmas gifts, these homemade reusable hand warmers are a great choice. You can make them in Christmassy prints and colors to bring in the spirit of the season.
Here I have used just rice for the filling to make simple hand warmers. I have seen people making scented ones by adding store-bought dried organic flowers or even dried and powdered spices to the filling. If you are sewing them as gifts and you would like to make a scented one, you may go ahead and add the dried flowers.
If you would love to learn how to hand- sew a scrunchie, click on the picture below,
DIY Hand Warmers (Sewing Project)
Supplies Needed
Scraps of cotton, flannel, or other fabrics that have natural fibers. Avoid using any synthetic material as it can melt while heating in the microwave.
About 1 cup of plain white rice (uncooked) for the filling.
Small funnel to fill the rice inside the hand warmer.
Sewing notions.
Pin it for later here,
For more of my free patterns, click here.
For hundreds of free patterns and DIYs, visit allfreesewing.com.
Here you have a cute little DIY hand warmer to keep your hands and feet warm or even to soothe your sore muscles!