Do you love infinity scarves? Would you like to learn how to sew an infinity scarf easily? Then look no further, this sewing tutorial with simple instructions will help you make it in minutes!
So, what is an infinity scarf? It is just a tube of soft comfy fabric that can be worn in loops around your neck for warmth. Of course, there are many other ways to wear an infinity scarf in style.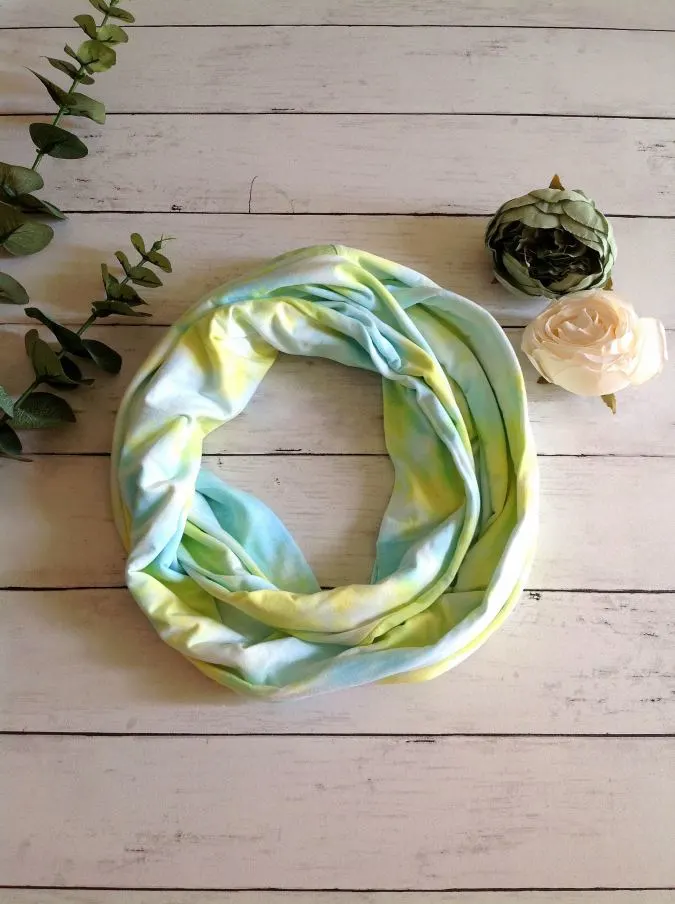 It is one of the most stylish accessories you can wear during the cooler months. The infinity scarf sewing pattern is also one of the easiest sewing projects a beginner can try.
Here I have used a jersey knit in shibori print for the scarf. I made them in two colors and it looks really awesome when I wrap them around my neck in two loops.
This Infinity scarf sewing pattern gives you a finished scarf with 11- inches in width and 60- inches in length. This scarf can be wrapped around your neck twice. If you would need a fuller scarf, you can increase the width of the fabric used. If you use a lighter fabric and want to wrap it around your neck three times, you may increase the length to 72 inches.
With the holiday season fast approaching, you may want to gift your loved ones something you made all by yourself, and this DIY infinity scarf is a great and easy project you can try as gift.
How to Sew an Infinity Scarf
Supplies Needed:
1) 1 & 3/4 yards of fabric
You can use chiffon, georgette, voile, flannel, lightweight cotton, rayon, jersey knit, or any other fabric that has a good drape.
The above is required for a finished scarf that is 11 inches wide and 60 inches long. If you would like it to be longer, you will need to buy more fabric.
2) Sewing Notions.
Next, we sew the scarf closed in a loop.
If you would like to see different ways to wear your infinity scarf, visit the link below:
Pin it for later here,