Have a look at the 25 awesome things you can sew for your home. These are easy and quick sewing projects that you can sew for yourself or as handmade gifts for your loved ones.
I love sewing for my home apart from sewing for kids and babies. I have made numerous items for my home and kitchen over the years. From napkins to organizers, I cannot think of anything that I haven't made for my home!
With the holiday season fast approaching, I can feel the urge in my fellow seamstresses to sew for their homes. I know that all of us face the time crunch, juggling between our jobs and our family. But, definitely, we all have the urge to make things for our home.
When we have little time, it is hard finding a suitable project to sew for our home or to sew for a loved friend or family. Creating and gifting handmade gifts is a great way to show our love to friends and family and these projects are definitely good choices.
Here I have put together 25 sewing projects to make sewing for your home easier. Each of these projects is carefully designed to make your home look awesome and your sewing task easy and quick.
So follow me as I take you through these 25 sewing projects that can adorn your home for different seasons.
25 Awesome Things to Sew for Your Home
Click on the picture or the title below to take you directly to the tutorial.
This is a tortilla warmer sewing pattern that you can make easily. This easy reusable DIY tortilla warmer can be used to warm your tortillas in the microwave and keep them soft and warm till you finish your meal!
I tried it and not only were the tortillas extra soft and warm but stayed that way for almost an hour!
2) Bowl Cozy
This microwavable bowl cozy pattern is something very easy and useful to sew. You can use the bowl cozy to hold your hot or cold bowls.
It is reversible and also washable. You can choose different fabrics on both sides so that you can flip it over and get a totally new one while you get bored with the other side.
Learn how to make awesome Christmas potholders with your sewing and Cricut machines. They are great for your home and can make great handmade gifts too.
You can sew these potholders with pockets, add some Christmas-themed texts using your Cricut, stuff it with goodies and gift them to someone you love!
Fabric pumpkins are a must-have for Halloween, aren't they? They are great for decorating your home if you would like a rustic look. These plaid fabric pumpkins are so lovely, you can't just stop at making just one.
I love plaid fabrics and I love choosing them for my holiday sewing projects. These pumpkins in plaid fabric look so much like Fall! Just arrange them with cones, twigs, lanterns, and other fall décor to bring in the spirit of the beautiful season.
5) Fall Pillow
If you love to decorate your home with handmade items on a budget, here is something you can try, an easy fall pillow cover pattern with pumpkin applique and pompoms.
They give your home all the color and classiness it needs. They are replaceable after every season and they are easy to fold and store once the season gets over.
6) Grocery Bag
This easy reusable reversible grocery bag sewing pattern is one DIY project I love. This is a very easy bag tutorial, that will give you double the results for the time you spent on sewing it.
This reversible market bag comes with optional pockets, which is again a bonus. You can add pockets to just one side (as I did) or both sides.
This is a quick- sew tote style bag, that requires a few rectangular pieces of fabric and a few straight-line stitches. Doesn't it sound like a perfect beginner sewing project?
If you are looking for some cute handmade gifts for your loved ones, this scrappy dish towel is just right for you. This DIY scrappy dish towel requires very little time and expertise to sew.
This towel can be made in different colors and embellished with different trims like rickrack, pompoms, lace, etc. These trims would completely transform your plain dish towel into a colorful and beautiful one.
Maybe you have a lot of little things to tidy up and organize. These DIY fabric baskets are a great way to quickly clear away the clutter. You can quickly dump the items in the basket and clear the space.
You can also use these DIY reversible fabric baskets to store your other household items. They are so easy that you can make a number of them in one go.
These wall hangers are perfect to tuck away your little things. And the main advantage; you don't have to look for them everywhere, they will be right on your wall, popping out from the pockets!
These DIY embroidery hoop organizers require very little or no sewing and they can be done in minutes. They are so easy and quick to make that you can make a number of them in one sitting.
10) Cloth Napkin
If you are somebody like me who likes everything handmade in your household but still doesn't have time to sew for yourself, here is something you can sew quickly for your home, the 15-minute cloth napkin!
This DIY cloth napkin is so easy to sew that you just need 15 minutes to whip it up! Just a few straight cuts, a few straight line stitches, and you are done. Here I have used plaid fabrics to get the festive feel. You can sew the napkins in fabrics like linen and cotton and use any prints you like.
Learn how to sew envelope-style pillow covers and upgrade your home on a budget. This easy sewing project will teach you how to make pillow covers in minutes. They require very little fabric and very little of your valuable time.
This easy pillow cover pattern requires very little sewing and they have an envelope style closure, which frees you from the task of attaching zipper or buttons. That also makes this DIY pillow cover sewing tutorial, the perfect choice for a beginner.
12) Drawstring Bag
Learn how to sew a drawstring bag, that has a variety of uses. You can use these bags to store your little things or you can use them to put your handmade gifts.
This DIY drawstring bag is so quick and easy to make that you can sew a number of them in an hour. You don't need a lot of things to sew the bag, all you need are some fabric scraps and some grosgrain ribbon.
13) Hanging Towel
These hanging kitchen towels are a super fun way to add some color to your kitchen. They are so easy and quick to sew that you can even complete them in 15 minutes or so.
This hanging kitchen towel sewing pattern is designed with velcro fastening, which makes it very easy for on and off.
This tutorial on how to make a placemat comes with a cutlery pocket. You can now arrange your cutleries neatly and set your dinner table in style.
You can sew these reversible placemats in types that can match your home. In this tutorial on how to make placemats, I have used rickrack for embellishment. You can leave the rickrack and the cutlery pockets and sew a simple reversible placemat if you need a quick sew project.
Learn how to make a throw blanket to cuddle up on your couch while watching a movie or make a larger one to keep you warm and comfortable during your night's sleep. You can even make it smaller, in child and baby sizes.
You can make this blanket in flannel, fur, or fleece fabric. It involves just a few straight line stitches and can be done even by a beginner seamstress.
Learn how to sew mobile charger holders that are light and handy. These mobile charging pouches are so light, you can carry them anywhere you go.
They are perfect as handmade gifts too. You can use different fabric designs for the main piece, pockets, and binding to sew a variety of holders to suit your taste.
17) Paneled Pillow
This throw pillow cover pattern comes with a paneled design that gives you an option to customize the pillow according to your liking. Mix and match colors and prints to suit your taste and awaken the designer in you!
You can make any number of them, in different colors and sizes to add a splash of color and spruce up your sofas, armchairs, and beds.
18) Puzzle Coaster
This pattern is cute, different, and easy to sew! All you need is some fabric scraps and very little of your precious time! The template given here makes it even easier to complete the coaster.
You may use a mix of colors and prints to create a vibrant set of coasters!
19) Christmas Tree Cutlery Pocket
These cutlery holders are so cute and lovely to adorn your Christmas table. Given the templates, a number of them can be sewn quickly and easily for yourself or as Christmas gifts. You can use up your fabric scraps in your leftover stash to make these holders.
Add some extra flavor to your cooking time with your little one by sewing these matching ruffly girly aprons for you and your little one.
She would love to wear a matching one with you while learning her cooking skills. Moreover, these aprons can render those special moments colorful and joyous. They are easy to sew and can be done with your leftover scraps of fabric.
These Christmas ornaments are great to adorn your Christmas tree for the coming holiday season. They are so easy and fun to sew that you can share the task with your kids. Choose vibrant colors to make your Christmas tree look brighter.
You don't have to stop at one of each kind, you can make as many as you want to adorn your home. So come on, get ready for the creative bonanza and give your Christmas tree the homespun touch!
22) Bread basket
Make this simple bread basket in minutes for a perfect display of your bread, candies, chocolates or even fruits. This bread basket offers an elegant way to serve your bread. It can also serve as a perfect handmade gift idea!
The bread basket requires so little sewing that any beginner seamstress can do it as her starter project! It has the added advantage of being washable and what more can you ask for when you can remove the ribbon ties at the four corners and flatten it up to make it easy for storage.
This is a reusable bowl cover pattern that anyone can sew. There is very little cutting and sewing involved and once the cutting is done, you can complete it in just 10 minutes.
Once they get dirty, you can easily wash them clean! When you are bored with one side, just flip over and you get a totally different one! Also, these DIY reusable covers are so easy that any beginner seamstress can make them!
This wall organizer offers the right solution to clear the clutter in your drawers. It can be used to store not only your Christmas cards but also your envelopes, writing pads, pens, and even more.
I have made this in red color, keeping the Christmas season in mind. You can make it in fun colors to organize your child's room. It also adds as an inexpensive art piece to your wall
25) Tooth Brush Holder from Towels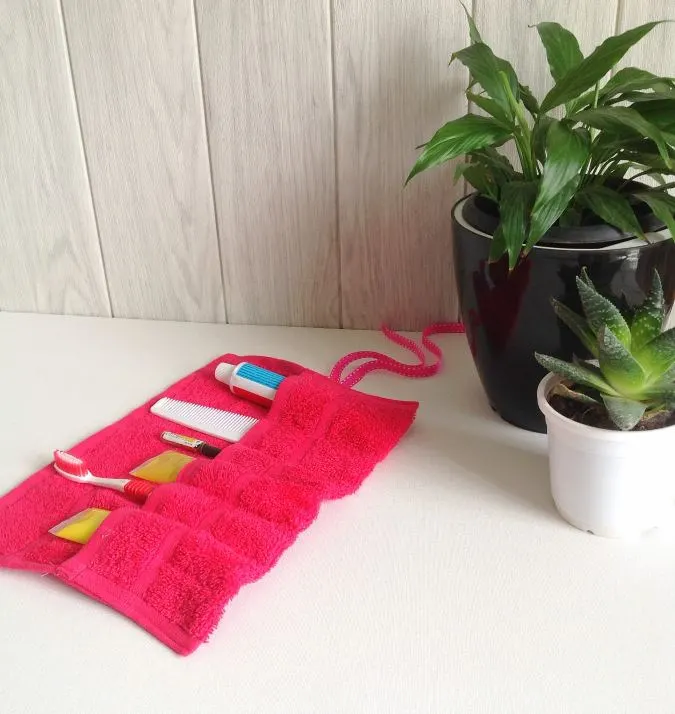 This is a very simple sewing project that anyone can try. You can make it by folding a towel and sewing a few straight-line stitches.
These holders are great to carry your little things while you travel and you can also use them to keep your things clean and organized at home.
Pin it for later here,
If you would like to read an awesome article on why sewing is the best skill to learn, click here!
So I am done with my round-up post for 25 things to sew for home. Hope this will inspire you to make beautiful things for your home too!