Learn how to sew an easy reusable DIY tortilla warmer to warm your tortillas in the microwave and keep them soft and warm till you finish your meal!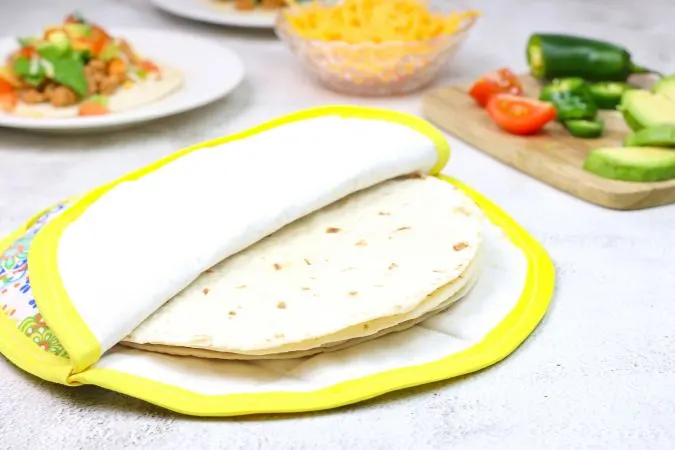 Mexican food is delicious and the most famous among Mexican food is tortillas. All of us must have had tortillas to accompany our meals at breakfast, lunch, or even dinner. My family loves tortillas too. We often use it as a base and top it with sauce, cheese, and some other filling of our choice to make our favorite breakfast!
I never make my own tortillas but use store-bought ones instead. I keep them in the refrigerator and often always they become hard and rough after heating in the microwave on an open plate.
A friend suggested that I use the fabric tortilla warmers to heat them and keep them warm on my dinner table. I tried it and not only were the tortillas extra soft and warm but stayed that way for almost an hour!
I had used tortilla warmers that I bought from Etsy. I observed it while having my dinner and thought I need to design and sew them with the fabrics of my choice. That's how I came up with this DIY tutorial on how to sew the tortilla warmers.
If you would like to have a look at other easy things to sew, click on the pictures below:
DIY Tortilla Warmer ( Easy Sewing Project)
Important Notes:
All the materials used for sewing the tortilla warmer, including the fabric, the batting, and the thread should be 100% cotton to prevent it from catching fire in the microwave
Do not leave the microwave unattended while warming the tortillas inside the tortilla warmer.
Never use the tortilla warmer in a convection oven.
The tortilla warmer is washable and reusable.
Supplies
1/3 yard of 100% cotton fabric for the outside pieces
1/3 yard of 100% cotton fabric for the inside pieces
1/3-yard of cotton batting
100% cotton extra wide double fold bias tape (store-bought or homemade with a Bias Tape Maker from Amazon)
Matching 100% cotton thread
11" round plate (for a 10" Tortilla Warmer. Use a plate 1" larger than the finished Tortilla Warmer you plan to make)
Sewing pins or clips
Scissors
Turning tool
Disappearing fabric marker
Cutting mat and ruler, measuring tape or ruler
Iron and ironing board or iron mat
Skill Level: Intermediate (due to the application of bias tape)
Approximate time to complete 1 10" Tortilla Warmer: 30-45 minutes
Approximate cost to make: $4.24
*Please note Amazon links are not my affiliate links. They are for your reference only.
Instructions:
For more of my free patterns, click here.
Pin it for later here,