Learn how to make a slim zipper purse with this easy sewing project. This tutorial comes with step-by-step instructions and a downloadable template to make the zipper purse in two sizes.
This tutorial on how to sew a zipper pouch has been inspired by one of my daughters who uses zippered purses to store almost all the little things she has. She has them in beautiful colors and shapes.
I see them all over her room and find it extremely handy when I try to tidy up her mess. She had asked for a long zippered pouch that is different from what we see commonly so that she can keep her make-up things as well as her combs and hairbrushes.
This tutorial on how to make a zippered purse is for a long pouch that can be used to store or carry your small essentials. Kids can also use it as a DIY pencil case.
This is a lined zipper pouch pattern that is easy to whip up. If you don't have the practice of attaching zippers, this tutorial will teach you how to sew a zipper easily!
If you would like to see the tutorial on how to sew a drawstring pouch, click on the picture below: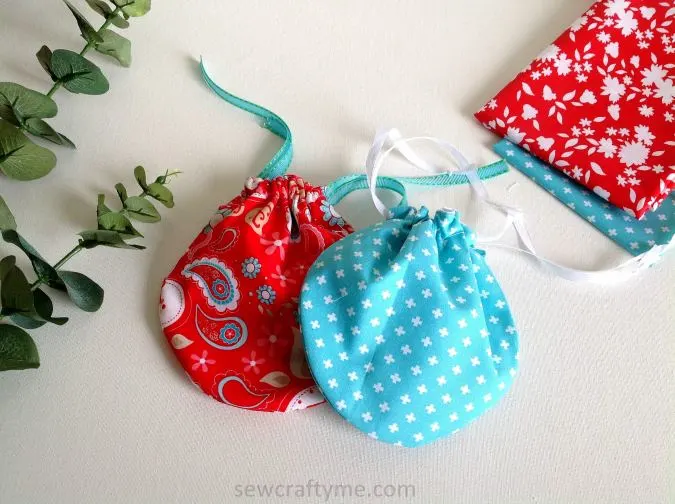 You can follow the written pattern below or purchase it as an ad-free PDF for just $ 2.99, Add to Cart Here.
How to Sew a Slim Zipper Purse
Materials
Medium weight cotton fabric for purse outer- 1/3 yard
Medium weight cotton fabric for the purse lining- 1/3 yard
Light or medium weight fusible interfacing- 1/3 yard
2- 14" all-purpose zippers
Matching thread
Sewing pins or clips
Fabric marker or chalk
Scissors
Cutting mat and ruler, measuring tape or ruler
Iron and ironing board or iron mat
Zipper Purse template. * Enter your e-mail address and click on the subscribe button below to download the template.
Skill Level: Skilled Beginner/Intermediate
Template: 1 pdf
Approximate time to complete: 30-45 minutes
Approximate cost to make: $3.50-$4.50 each (depending on the cost of fabric and zipper.)
Finished Size:
Small
Width- 8.75"
Height- 3"
Large
Width- 12.75"
Height- 4.75"
Let's cut the pieces.
Instructions for the Pattern Pieces:
Cut two pieces of the lining and also two pieces of the interfacing using the same template.
Instructions for Attaching the Zipper:
Next, we sew the other edge of the zipper with the pieces.
Instructions for Making Boxed Corners:
Next you are going to make a boxed corner. This allows your bag to "stand up".
Instructions for Finishing the Pouch:
Pin it for later here,
So, I have completed my tutorial on how to sew a long and slim zipper purse. Hope it inspires you to sew a number of them in beautiful colors and prints!