This week, I took a short break from my baby patterns and designed something for our home, a super cute and easy bowl cozy. I am sure my readers would love this easy reusable, reversible bowl cozy sewing pattern.
Time and again, I found myself using potholders to carry heated bowls from my microwave or even to hold things from the freezer. I never found them comfortable to hold and often always, the bowl would slip away from my hand. Sometimes I even dipped the potholders in the bowl! That is when I searched for a solution and came up with the idea of sewing up some bowl cozies.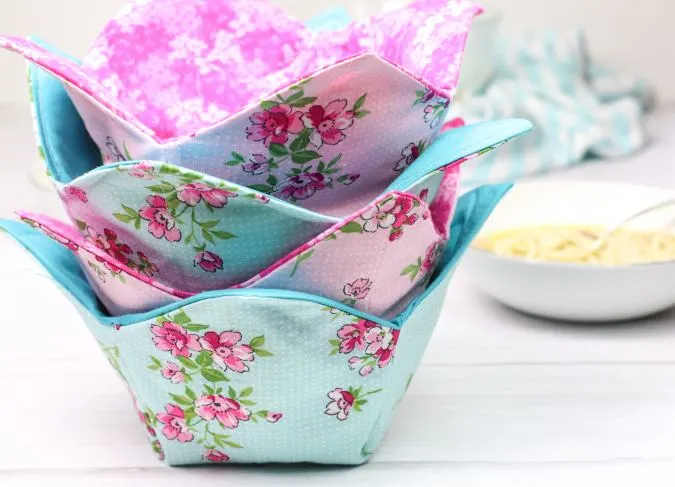 This microwavable bowl cozy pattern is something very easy and useful to sew. This bowl cozy is reversible and also washable. You can choose different fabrics on both sides so that you can flip it over and get a totally new one while you get bored with the other side.
This easy reversible bowl cozy sewing pattern does not need a lot of fabric. You can make them with your leftover fabric scraps. They don't also require a lot of time to sew., they may take only 30 to 40 minutes.
If you would like to have a look at other easy things to sew, click on the pictures below:
Easy Reversible Bowl Cozy Sewing Pattern
Important Notes:
All the materials used for sewing the bowl cozy, including the fabric, the batting, and the thread should be 100% cotton to prevent it from catching fire in the microwave
Do not leave the microwave unattended while warming the bowl inside the bowl cozy.
Never use the bowl cozy in a convection oven.
The bowl cozy is washable and reusable.
Supplies
*3/8 yard of cotton for 1st main piece (I bought my 4 total) pieces of fabric from Walmart for $6.00
3/8 yard of cotton for 2nd main piece
3/8 yard of cotton for 1st secondary piece
3/8 yard of cotton for 2nd secondary piece
3/4" yard cotton batting
Matching thread
Sewing pins or clips
Scissors
Turning tool
Disappearing fabric marker
Cutting mat and ruler, measuring tape or ruler
Iron and ironing board or iron mat
Skill Level: Beginner-Intermediate
Approximate time to complete 1 Bowl Cozy: 30-45 minutes
Approximate cost to make: $2.74
Instructions
With the measurements given below, you can make a bowl cozy to fit a bowl that is approximately 6.25″ in diameter.
For more of my free patterns, click here.
For hundreds of free patterns visit https://sewmodernkids.com/
Pin it for later here,