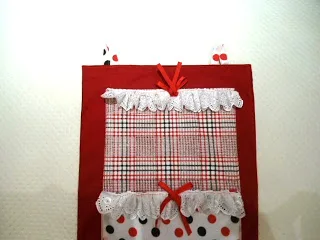 If you are crafty, chances are that you have more things than you can handle. Hoarding and crafting go hand in hand, don't they? That is why I came up with this Wall organizer sewing tutorial for Christmas. Use up any scrap fabric and lace you have to whip up this useful organizer with my step by step sewing pattern even beginners can master. Make it as a gift for someone this Christmas season and help them stay organized while adding a little bit of adornment to their walls. Change the fabric to suit the theme of your house or room and the possibilities are just endless.
This wall organizer offers the right solution to clear the clutter in your drawers. It can be used to store not only your Christmas cards but also your envelopes, writing pads, pens and even more. I have made this in red color, keeping the Christmas season in mind. You can make it in fun colors to organize your child's room. It also adds as an inexpensive art piece to your wall. My tutorial will take you through simple steps and explicit photographs which will help any beginner seamstress make this organizer in a breeze.
For the free pattern, Click Here
If you love it, please consider sharing it with one of the social media buttons below. Thank You!