The ultimate collection of scrap fabric projects to try right now! If you are thinking about what to do with your leftover fabric scraps, you are at the right place!
Are you an ardent sewist? Well, if you are one, you will find your pile of scraps mounting up. You will want to get rid of them somehow but looking at the beautiful colors and designs, you will of course want to put them to good use.
I am a person who never leaves fabric scraps unused. If I make a baby dress, I would use the leftover scraps to make baby booties or baby headbands. That way, I could make great matching accessories for little ones with no extra costs! Long thin panels also were not wasted. My paneled skirts and the paneled dress has been made by joining scraps.
I have a myriad of fabric scrap projects that I have put together here. I have found that If you join the scraps in the right combination and taste, you can make beautiful items that can adorn your home or even yourself and your kids! Here I have put together 25 awesome scrap fabric projects, that can serve as scrap busters!
25 Awesome Scrap Fabric Projects
Click on the title or the pictures below to take you directly to the tutorial.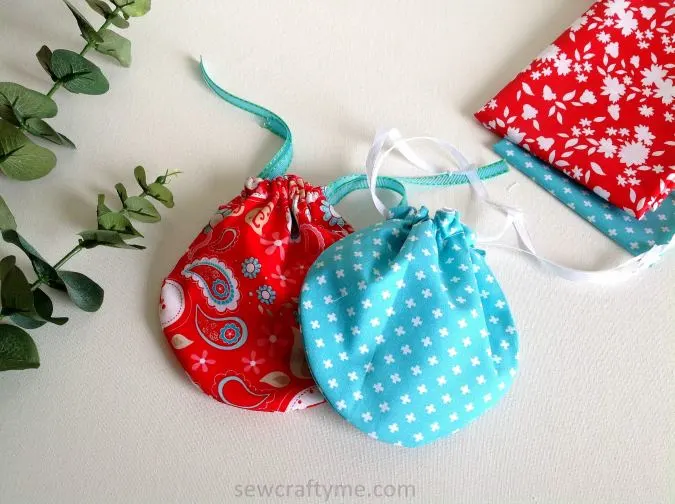 If you find yourself searching hard for my chapsticks, lipsticks, or even your sanitizer inside your bag, this scrap fabric project is the perfect storage solution for you.
This DIY drawstring pouch can be opened and closed quickly by just pulling the drawstring and as such, they are very useful and handy even for storing coins.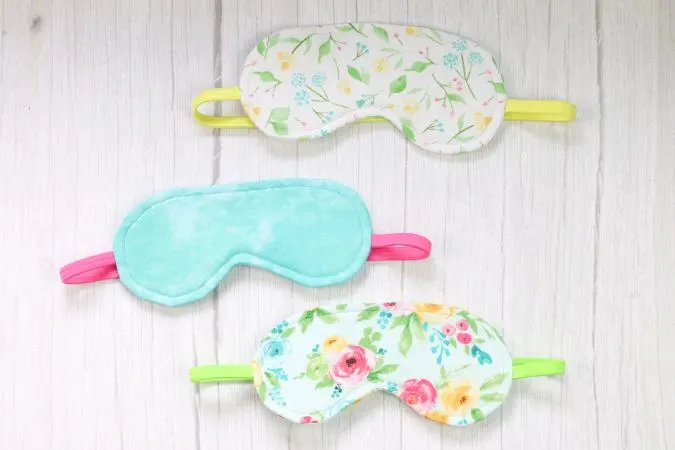 This is a super simple DIY sleep mask pattern that can help you sew reversible sleep masks. This fabric scrap project, with step-by-step tutorial and free pattern, would help you make it in a jiffy!
These DIY sleep masks are so useful to keep the light away while you sleep.
Most masks that give a good fit are tight around the nose and can be suffocating to the wearer if worn for a longer period. Here I have come up with a 3D breathable face mask pattern that provides the best fit, yet traps air in front of your nose to make it comfortable.
Learn how to make four different fabric flowers with this easy and fun tutorial. This sewing project comes with step-by-step instructions and downloadable templates for making the flowers in three sizes!
You can make these DIY fabric flowers to embellish your dresses, headbands, bags, purses, and even footwear. As these flowers need very little fabric, you can always make them with your leftover scraps of cotton fabric, satin, jute, etc. Flowers like the fluffy flower look extremely pretty if they are made with tulle.
The fact that the hand warmers can be made quickly with scraps of fabric and things around the kitchen, makes the DIY hand warmers a favorite item to sew. You can either sew these by hand or by machine. In fact, this is one of the projects I hand sew while watching T.V.
This is also one of the easiest and quickest sewing projects to make. It is also an ideal project for beginners and even kids. If you would like to whip up quick handmade gifts, these reusable hand warmers are a great choice.
Hair scrunchies are one of the fabric scrap projects that will make your hair look fabulous. You can wear them with any outfit you wear. They can also be worn around the wrist as a fashion accessory.
Here I have shown how to hand-sew a scrunchie in just 15 minutes or so. If you are somebody who likes machine sewing more, you can try that too! This is also a very easy and quick sew project that can be tried by any beginner seamstress.
These fabric phone charger holders are very easy to sew. All you need are small pieces of your leftover fabrics and a small length of fusible interfacing.
No extra fittings are necessary. Given the template, these DIY phone charger holders can be done even by a beginner seamstress.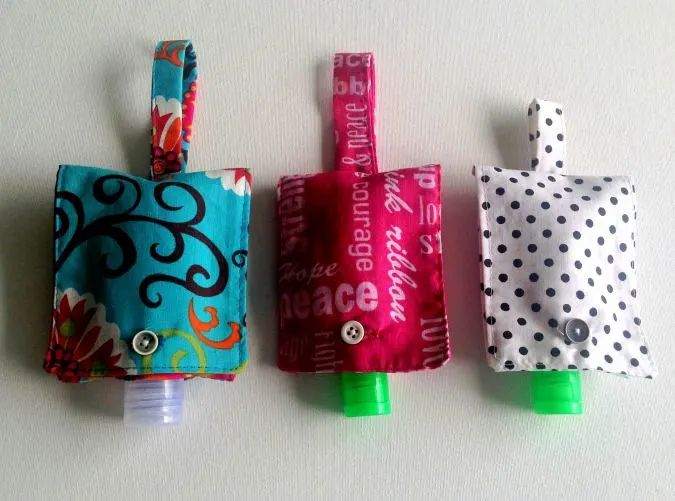 This is an easy sewing project that any beginner can try. Just a few small rectangular pieces, two buttons, and you are done!
You don't need a keychain to hang the sanitizer holder on your bag. I have designed a strap that fastened to the bag with buttons. You may also change the length of the strap as desired.
Here is a simple solution to help protect your ears from getting chaffed and painful while wearing the mask, the easy DIY ear saver tutorial! You can make them with your tiny leftover scraps and some buttons.
These ear savers are so quick and easy to make that you can make them in minutes.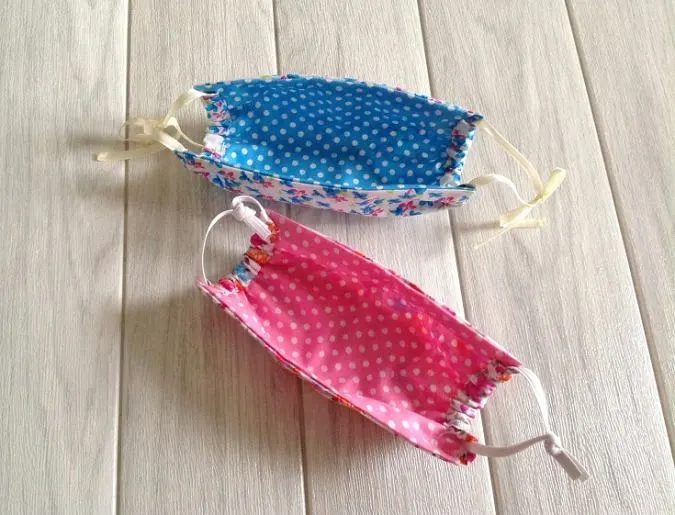 This simple tutorial will teach you how to hand sew a facemask in just 10 to 15 minutes. All you have to do is to join two rectangular pieces by hand. You can use elastic or if your supply of elastic is exhausted, you can use ties.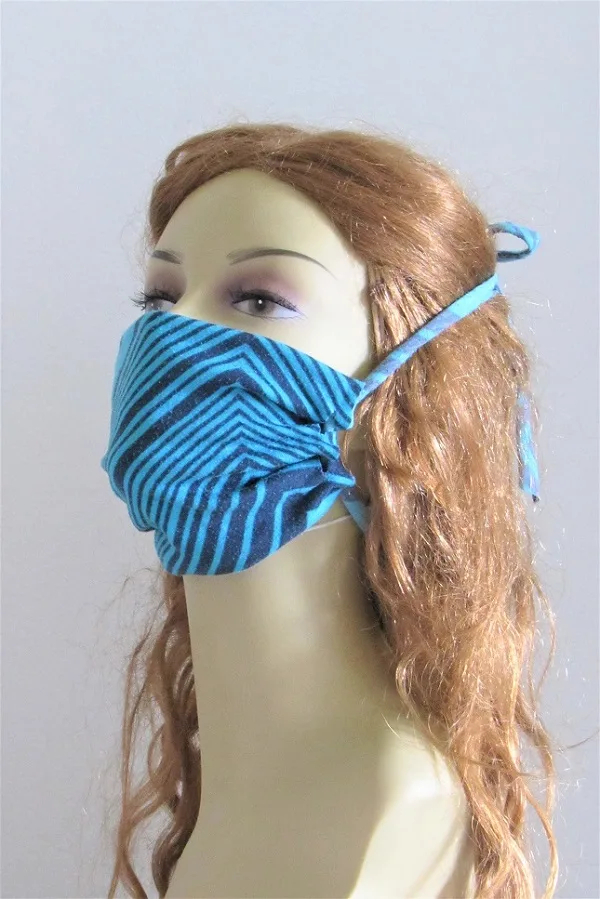 If you have a T-shirt and a pair of sharp scissors, you can easily make this DIY face mask using my printable template.
This is a fast and easy no-sew design for those who cannot sew.
This is a very easy sewing pattern for a headband, which can be made with your leftover fabric scraps. With an elasticized back, this headband gives a perfect fit and is easy for on and off. This tutorial will help you how to make a headband from baby to adult size.
This is a simple bow sewing pattern with directions to make it in three different sizes. All you need is some fabric scraps and you are off to go!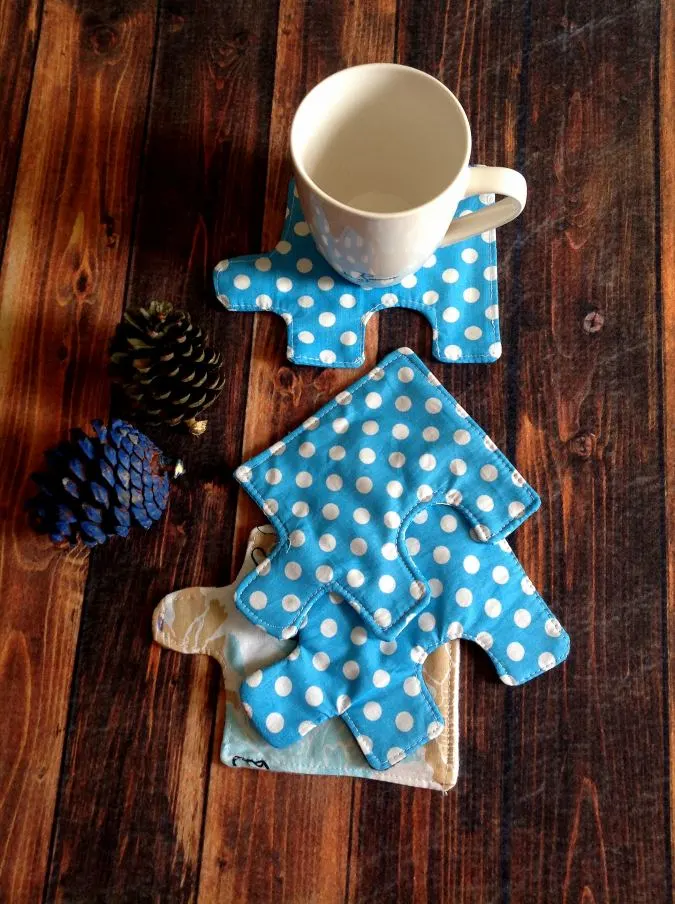 This is a puzzle-shaped coaster sewing pattern you will love! This puzzle coaster pattern is a novelty. It is cute, different, and easy to sew!
Make this scrap skirt and let your little fashionista dress up in style! This is a recycled skirt that can be sewn using your leftover scraps of fabric.
You can mix and match different fabrics to sew a bright and fun-filled skirt. It is designed with a lot of twirl factor to let your little one play and run around in stylish comfort.
This pattern for a face mask pouch is designed to carry your extra masks, sanitizer holders, and even your chapsticks. It has a little strap that fastens with a button. No keychains to be bought, no zippers to be sewn and the pouches can be made in minutes!
This tutorial on how to sew face masks with filter pockets can help you make masks for yourself and also for others. These masks are designed with filter pockets. They can be made in two ways, one with elastic and or if you find ties more comfortable, you can sew them instead.
Transform your plain boring dish towels into colorful ones with this scrappy dish towel sewing tutorial. The placement and arrangements of the fabric strips depend totally on your preference.
You may choose to place a single-wide strip of fabric and add rickrack, ribbon, or lace along the edge. You may change the width of the strip or you can even replace the fabric strips with wide ribbon or lace. The choice is yours!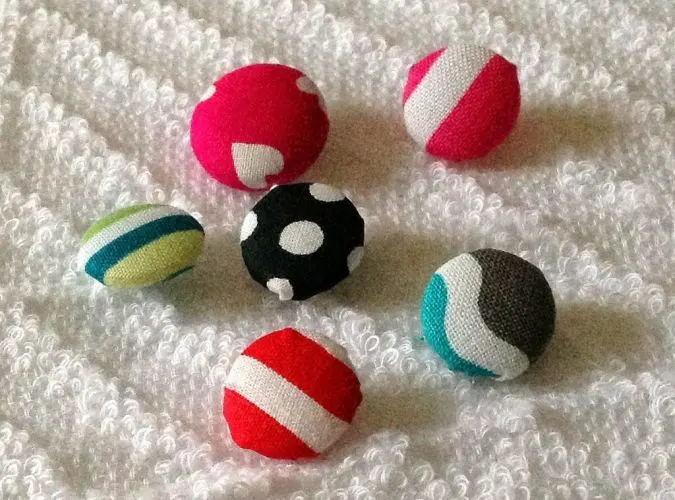 These fabric-covered buttons can be made with any leftover scrap of fabric and old leftover buttons. Here I show you how to make them using the button-making kit and also the classic way of sewing them without the kit. They can be used to embellish bags, fabric shoes, hairbands, and a lot more.
With this tutorial, you could make a warm and luxurious blanket perfect to cover your little baby or a toddler. This blanket design is large enough to be used over the years.
Sewn-in bright cotton patches for fun and a cuddly fleece for backing, these blankets are perfect to keep your baby warm and cozy or as baby shower gifts. They can also be used as play mats and are perfect as a cover for car seats and prams.
If you have a little one in your life or you have somebody who has a baby, here is something awesome you can sew with your scrap fabric, a cute pair of baby booties!
I have made this tutorial simple for beginners and free for all to sew! Templates are available from newborn to 12 months in size.
These DIY fabric baskets are a great way to quickly clear away the clutter. You can quickly dump the items in the basket and clear the space. They are easy to sew and are reversible too! Turn the basket inside- out and you have a totally different one!
This DIY tutorial will teach you how to make organizers with embroidery hoops. These wall hangers are perfect to tuck away your little things. And the main advantage; you don't have to look for them everywhere, they will be right on your wall, popping out from the pockets!
These DIY embroidery hoop organizers require very little or no sewing and they can be done in minutes. They are so easy and quick to make that you can make a number of them in one sitting.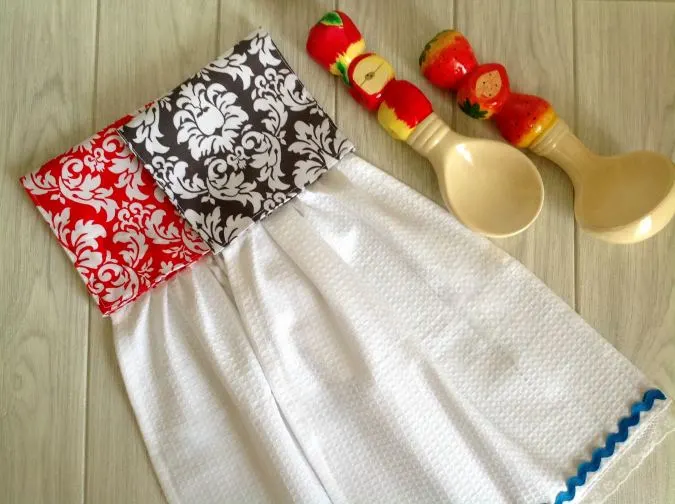 This hanging kitchen towel sewing pattern will teach you to make towels that do not shift and fall off. They are also perfect to dress up your kitchen in style. They are so easy and quick to sew that you can even complete them in 15 minutes or so.
This takes less than 1/8 yard of fabric and is a very good way of using the leftover fabric from a dress to make a matching accessory. It will keep the hair out of your face while adding a touch of style.
Pin it for later here,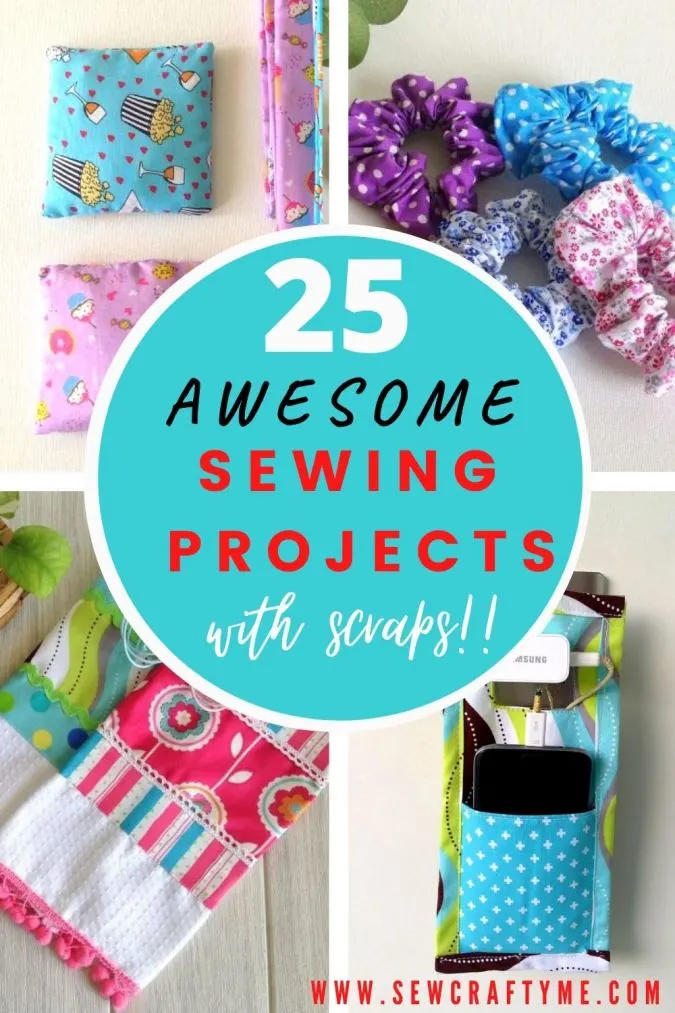 Before you sign off, check out this awesome article about the calming effects of sewing, Click Here.
Done! I hope this post on scrap buster sewing projects would help you make useful and interesting things for yourself or as handmade gifts!