Have you found yourself frantically searching for your hand sanitizer in your handbag? Well, I found myself doing that all the time. With all the trash I have in my handbag, I find it hard to find the little sanitizer bottles.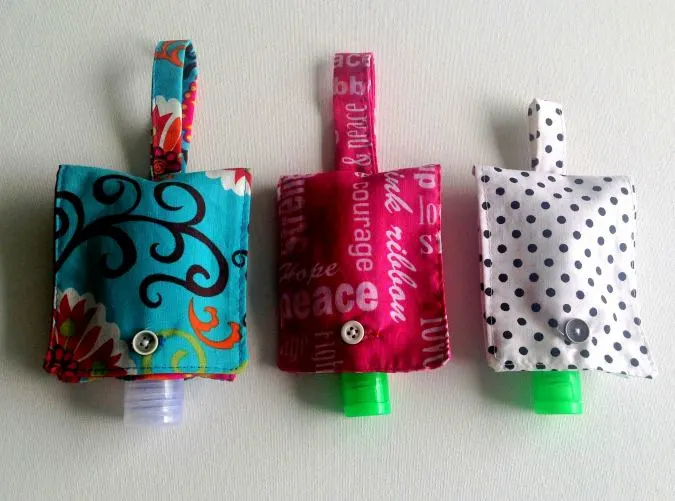 During the pandemic that we are experiencing today, we better treat ourselves generously with sanitizers before touching anything inside our bags. Earlier, I had tried putting it inside my trouser pocket but then I realized that I would be touching my trousers without sanitizing my hands! With all this in mind, I had to come with a perfect solution to store my sanitizer outside my bag and here I am with a sanitizer holder sewing project!
This is an easy sewing project that any beginner can try. Just a few rectangular pieces, two buttons, and you are done! You don't need a keychain to hang the sanitizer holder on your bag. I have designed a strap that fastened to the bag with buttons. You may also change the length of the strap as desired.
If you would like to see my face mask making tutorials, find them below:
DIY Sanitizer Holder (Easy Sewing Project)
Materials Required
Fabric scraps for the holder body and lining.
Sewing notions.
Two small plastic buttons.
Cutting and Sewing
You need to cut the following pieces:
Holder front and front lining, 4.25" W x 4.5" L
Holder back and back lining, 4.25" W x 4.5" L
Flap, 4.25" W x 5.75" L
Strap, 2.25" W x 8" L
The above are measurements for a 100 ml sanitizer bottle. It should fit almost all bottles. If you would like to sew for a different size bottle, use the directions below:
Next, we finish the strap.
Let's sew the strap to the holder piece.
Next, we need to sew the holder main and lining pieces together.
Next, we do the buttonhole and the buttons.
For more of my free patterns, click here.
For hundreds of free patterns and DIYs, visit allfreesewing.com.
Pin it for later here,