If you have been hoarding scraps of fabric in the hope that you will someday be able to put them to use, you will love this cloth headband sewing pattern!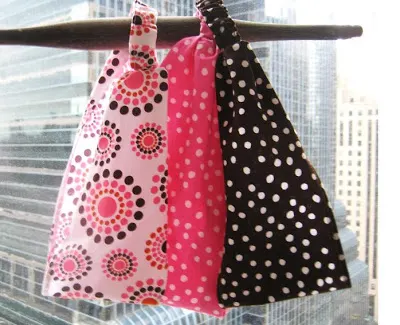 This takes less than 1/8 yard of fabric and is a very good way of using the leftover fabric from a dress to make a matching accessory. It will keep the hair out of your face while adding a touch of style.
With just a few quick steps involved, this project is sure to delight beginner and experienced seamstresses alike.
This cloth headband can be seen in a wide variety of fabrics like cotton, eyelet fabric, chiffon, and even knit fabric. You can experiment with the width of the headband to get interesting results that suit your style.
Choose from different patterns like floral, polka dot, zebra prints or stripes. So what are you waiting for? Grab your sewing notions and join me as I walk you through every step of this BlissfulSewing project!
Sewing Pattern
Materials
1. 1/8 yard of any medium weight fabric of your choice. If you want to make it wider,
choose one that is flowing like chiffon or lightweight cotton.
2. 3/8 inch elastic – you will need a strip that is 6 ½ inches long
3. Sewing Machine and sewing notions.
Size
Finished size is 21 inches. Fits teen to adult head. You can make it wider too as shown in
pink polka dot above.
Pin it for later: