Sewing for babies is a passion that I have cherished from childhood. I have always preferred handmade baby sewing projects over store-bought ones for baby shower gifts and also for my children.
There are a ton of items you can sew for babies. The little ones need a lot of things to make him or her comfortable. We spend a lot of money on babies' clothing and other accessories. But, if you are a seamstress and you have the time and interest, you can sew a lot for babies.
From blankets to babies' shoes, baby items are fun to sew and the end product is always delightful to the eye.
Here I have compiled more than 20 free baby sewing projects. Each of them is designed by me and almost all of them have downloadable templates to make sewing easy even for a beginner.
Most of the free baby sewing patterns given below are for baby girls but you may use the blankets, tag toys, booties, and bloomers for a baby boy as well. All these patterns are very new on the web and I bet you will not find them in any other round-up posts for the time being.
Almost all of these come in different sizes and are also available as PDF sewing patterns for a small price. If you wish to use it for free, you can always view it online, with free downloadable templates.
If you would like to purchase an Ad-free version including the 15-minute baby dress, easy baby dress, 15-minute baby blanket, easy baby bib, baby pinafore, diaper cover, baby ruffled romper, baby bloomers, baby booties, vintage baby pinafore, baby dress with collar, animal ear blanket, peasant dress, baby leggings, baby dress with sleeves, unisex baby romper, baby bonnet, flutter bloomers and baby sundress for just $20, Add to Cart here. The patterns will be e-mailed to you in PDF format
20+ Free Baby Sewing Projects
Click on the pictures to navigate to the post.
1) 15 Minute Baby Dress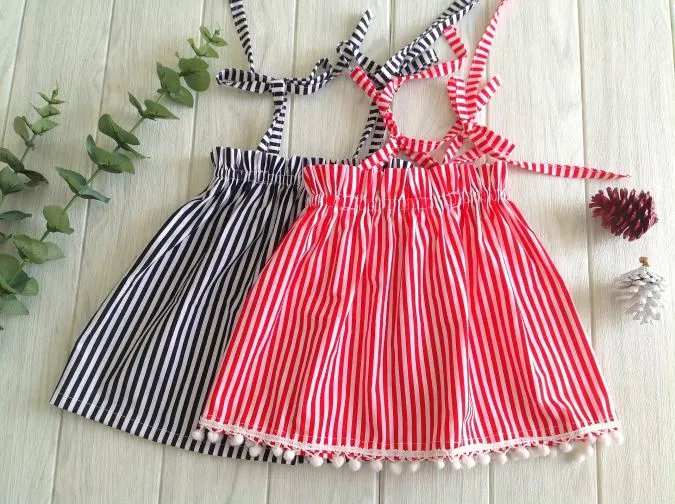 This is one of the easiest baby sewing projects you will find in the sewing pattern world. This cute little dress is made from just one rectangular piece of fabric and you can imagine the number of stitches it would need to take the dress form.
Well, let me tell you; all you need are four straight line stitches to form the flutter ruffle along the chest, hemline, and side seam of the dress.
Replace the fabric ties with gross-grain ribbon and you can complete the dress in just 15 minutes. This dress sewing tutorial is so easy that even a very beginner seamstress or even a kid can try it!
This design comes in a dress and top lengths that come as an added advantage.
2) Easy Baby Dress
This classic baby dress sewing pattern is one of my most sought-after patterns to date. Moms and grandmoms have received this little girl's pattern with great appreciation. This is an easy baby dress sewing pattern with a classic style yoke. This is a timeless dress design.
It is an all-time favorite that can look good on any little one. There are numerous options to make this design in a variety. You can use different kinds of trims like lace, rick rack, or pompoms along the edge.
You may mix and match different fabrics for the yoke and skirt. These little factors would work wonders on the design and would help you whip up a boutique-style dress with this free pattern.
3) 15 Minute Baby Blanket.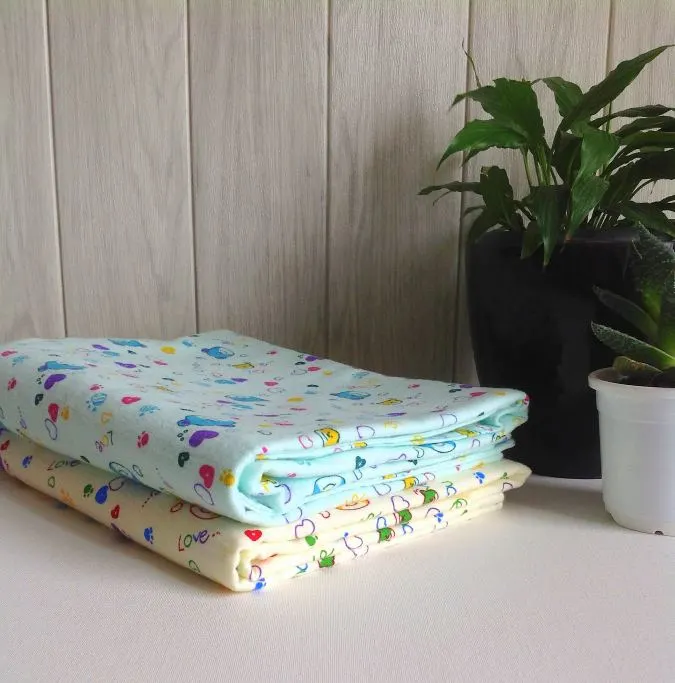 If you are looking for easy sewing patterns for babies, here is something very quick and easy you can try, the reversible baby blanket! I am sure no number of blankets will be enough for a baby and with this pattern, you can whip up a number of them within few hours.
This is another 15 minutes sewing project for a baby that can again be done by any beginner seamstress. You can give it a try, I bet you can never go wrong.
Use cool and vibrant color cotton fabrics in different designs on one side and soft fleece or flannel on the other for a cool summer baby blanket. Use fleece in different designs on both sides for a winter blanket. You can also choose the colors and prints and sew the blanket for a baby boy or baby girl.
4) Baby Bib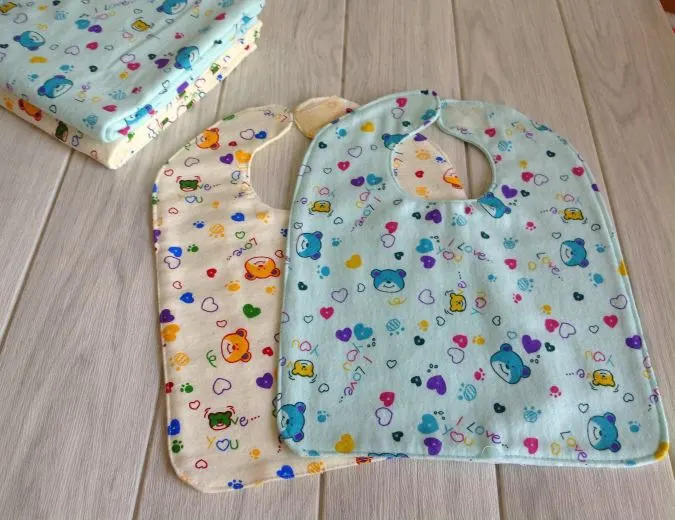 This is again an important baby accessory that no new mom can do away with. It is a must-have to protect those cute little clothes when you are feeding the baby. I have also seen some babies wearing it all the time to catch the baby drools!
I have made this baby bib sewing pattern reversible for enough protection. The bib fastens with a Velcro, which makes sewing easier and also easy for on and off.
You may use flannel on both sides for maximum absorption. Replace flannel with cotton fabrics in different prints and colors to sew a variety of bibs to match your little one's clothes.
This is again one of the things to sew for babies, which is beginner-friendly. It can also make wonderful gifts for a baby shower.
5) Baby Pinafore.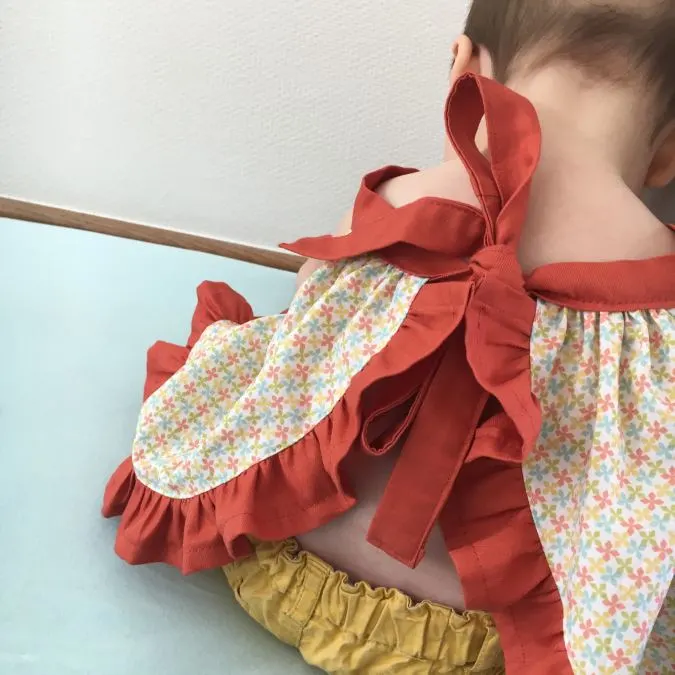 Here is a back open pinafore design that everyone loves. It is a sewing pattern inspired by one of the dresses my daughter had when she was a baby.
It is a lovely pinafore that can make little babies look cute and girly! This is the pattern I love the most. It is one of the best choices if you are planning to sew your own baby clothes.
The tie-back closure is something that makes it very easy for mothers for quick on and offs. The ruffle that runs along the back looks stylish when you tie the straps in a bow.
This pinafore is one of the sewing patterns for babies that does not require much labor and the end product is sure to be eye-catching. The free baby sewing project comes with a full-body template, which makes cutting and sewing easier.
6) Baby Diaper Cover.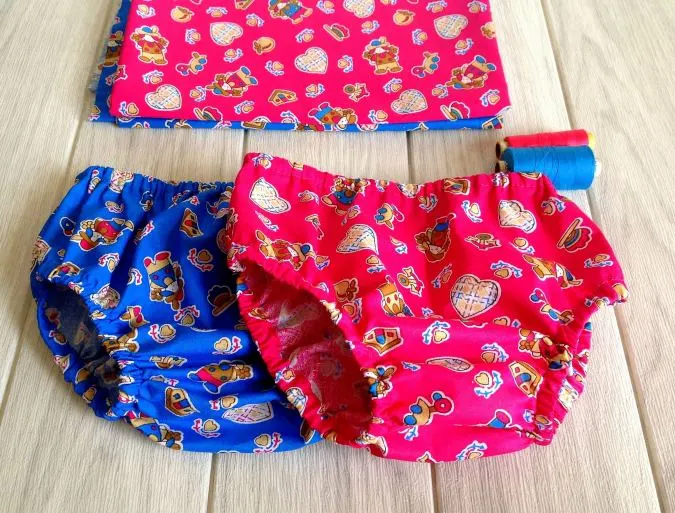 You may be thinking that I have left out a pattern that is important for a baby. I guessed it right, the diaper cover pattern. This is again a must-have element in a baby's wardrobe.
Here I have an easy sewing project that would help you make diaper covers in just 4 steps. The pattern comes with a full template which makes sewing easier and faster. And, the pattern comes in different sizes, starting from newborn to 2 years of age.
Now you can make matching diaper covers with those little baby dresses and make your little one even more adorable and cuddly.
7) Baby Ruffled Romper
Rompers are the best choices when it comes to dressing up babies. You don't have to search for matching tops and bottoms for your little baby. All you need is just a one-piece outfit to dress up your little one and make her look awesome.
This is a ruffled romper sewing pattern that can be sewn with or without the ruffles along the chest line. There are templates for the romper shorts, which makes it easier for seamstresses of any level of expertise.
There are a lot of ways you can sew this baby romper pattern. You can use pompoms along the hemline of the shorts and the hemline of the ruffle.
You can also mix and match different fabrics for the romper bodice, shorts, and ruffles to make an array of rompers to spruce up your little one's summer wardrobe. The baby romper pattern can also be used to whip u great baby birthday gifts too!
8) Baby Bloomers
This is a puffy bubble bloomer sewing project that you can make for your little one or as a gift for a baby shower. This pattern has printable templates which makes it easy to sew.
Just 5 steps and your bloomer is done. There is little sewing involved and the result is sure to delight you.
This free baby sewing pattern gives good coverage for your little baby's diaper, is comfortable, and would look great too. Sew it in matching fabric with her little top to create a cute ensemble.
9) Baby Booties
No baby pattern collection can be complete without a baby booties pattern right? Well, here is a booties pattern that can surely excite you, the unisex booties! This is one of the baby accessories that is sure to become a staple in your baby's wardrobe.
Sew these comfy and cute baby shoes for those teeny tiny feet and watch your little one catch all the attention he/she deserves.
This fabric booties sewing pattern for babies will help you whip up cute little booties in matching fabrics with her dress. There are templates and detailed instructions to make it is an easy sewing pattern.
10) Baby Crinkle Ribbon Toy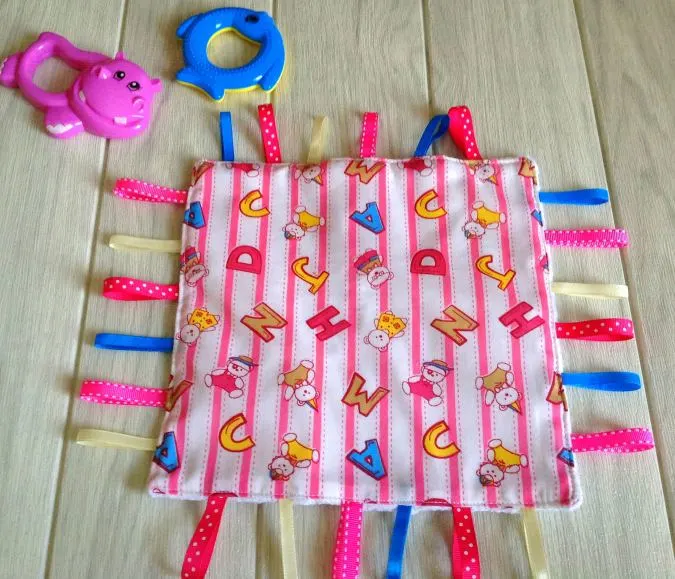 After all the free baby sewing patterns for outfits, isn't it time for a baby toy? Well here is a tag toy sewing pattern your little one would love to play with.
This DIY baby sewing tutorial uses ribbons, crinkle material, and fabrics of different textures and colors to excite and please the baby's different senses.
The crinkle inside the toy gives a sweet sound when she plays with it. You can choose different colored ribbons for the tags for her to look at. What more can you ask for when it is just a square design which can be made in minutes!
11) Vintage Baby Romper
If you are looking for DIY baby clothes patterns, here is a vintage style pinafore perfect to give your little baby girl the dressed feel. Vintage clothes are the loveliest to dress up a little one.
The ruffly girly look gives the design all the cuteness it needs. This baby pinafore pattern is a side-open one and has extra-long ties that can be tied in a bow.
The free baby sewing project comes with templates for the bodice, skirt, and ruffle sleeve to make sewing easier for you. Use your creative instincts to mix and match fabrics and use different trims to sew beautiful boutique-style pinafores for your little one.
12) Baby Dress with Collar
This is one of the baby clothing patterns that mothers would love to sew for their little ones. This sewing pattern with the peter pan collar would look great on any little one.
The front open design makes it very easy on and off. The fact that it can be made in the top and dress lengths make the dress pattern even more desirable.
You can sew it in dress length or in top length to pair with my diaper cover or bubble shorts patterns. This baby dress pattern has templates for the bodice, skirt, and collar to make sewing this dress/ top a breeze for you.
Here again, you can play with different fabric designs, add trims, use fabric-covered buttons, etc to sew different outfits that look unique!
13) Blanket with Animal Ears
This is another blanket pattern that can be a perfect baby shower gift. The double-sided design with the hood would give the baby all the cuteness he/ she needs.
You may sew it plain for a quick- sew or sew the animal ears to add loads of cuteness to your little munchkin. There are choices for cat ears, rabbit ears, and bear ears that can make sewing this pattern fun and interesting for you.
14) Reversible Hooded Baby Blanket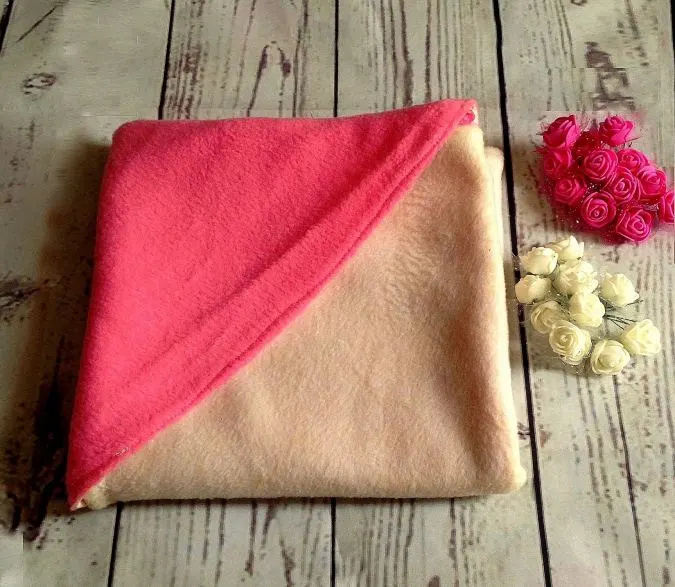 This is again one of my famous sewing patterns for babies. I had designed this pattern during my initial blogging days and as such the photographs do little justice to the design. This is a hooded blanket pattern that is reversible.
People love to sew this baby blanket pattern because you can use both sides with the hood. You may use different fabrics on both sides of the blanket body and for the hood. Just flip the hood over to the other side and you get a two-in-one hooded blanket!
15) Peasant Dress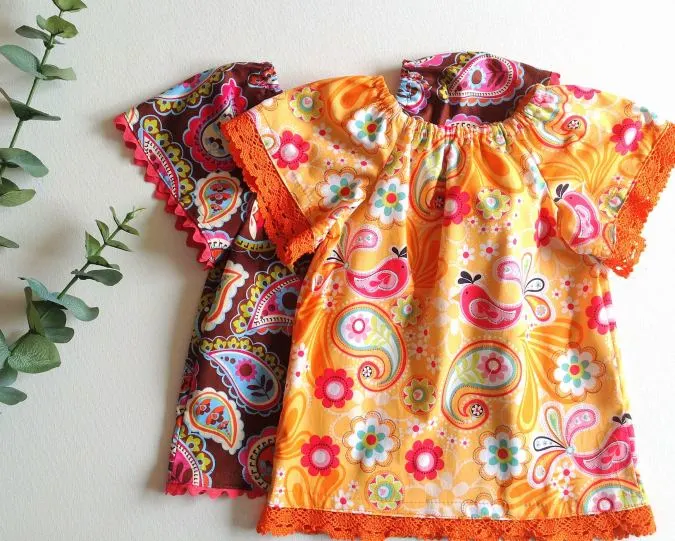 Here is an all-season wear dress, I am sure every little girl must have had at some point, the peasant dress. This dress sewing pattern comes with long and short sleeves which makes it just right for all seasons.
This peasant dress sewing pattern has an elasticized neckline and sleeves that make it roomy and comfortable for little kids. The absence of zippers or buttons makes this DIY dress sewing project, perfect for a beginner seamstress.
There are ways to customize the dress by adding trims and mixing and matching fabric prints and colors. This peasant dress sewing pattern comes from sizes 6 months to 6 years and can make a perfect handmade gift for babies, toddlers, and little girls alike.
16) Baby Leggings Pattern
Here is a must-sew for all babies and kids, the very useful leggings pattern! This is an all-season wear and a staple in any baby wardrobe.
If you are looking for baby leggings patterns that are simple and quick to sew, this is just right for you. This is a knit sewing pattern that you will love for your little munchkin. If you are not confident about sewing with knits, I have given all the instructions to make sewing with knits a breeze.
17) Baby Dress with Sleeves
If you are looking for baby dress sewing projects with sleeves, here is a dress pattern for you!
The baby dress pattern comes with a half and a full-sleeve option. This is again a classic style dress with is sure to upgrade your little baby's wardrobe!
18) Unisex Baby Romper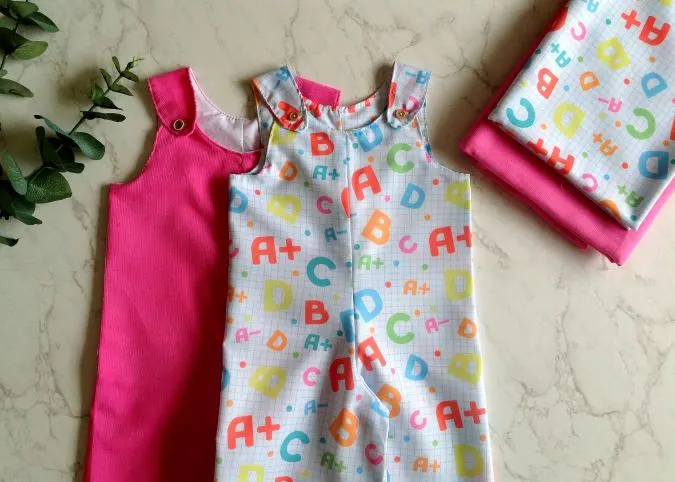 Here is a baby romper pattern for little boys as well as girls. You can make it as shortalls for summer and make it as longalls to be paired with a full sleeve t-shirt for the colder months.
This baby romper sewing pattern comes with shoulder buttons for closure and as such, it is very easy on and off. That makes it the perfect choice when you plan to sew for a baby.
This is a simple summer romper pattern that can be tried by all sewists with different skill levels.
19) Baby Bonnet Sewing Pattern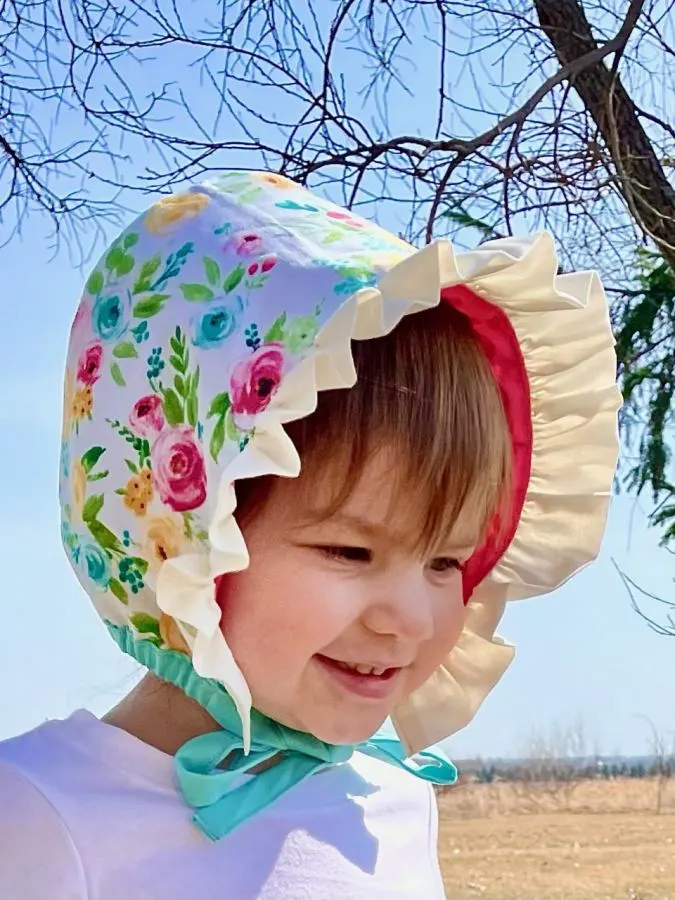 This is a lovely baby bonnet pattern that can give your little one the classic look she deserves. It also serves as a hat to cover her reddish cheeks under the scorching sun.
This one of my free baby sewing projects comes with multiple options; You can use two different fabrics for the inside and the outside for a two-in-one bonnet. You can either sew it with the beautiful ruffle or use lace instead to get a beautiful vintage-style bonnet.
The free pattern comes in different sizes and can be used to sew beautiful reversible bonnets for newborns, babies, and toddlers.
20) Flutter Bloomers
This baby flutter bloomers pattern is not as hard to sew as it looks. You can easily sew it if you have made my diaper cover pattern before.
You can make it plain or add a cute sash and tie it in a bow to accentuate the ruffle. The bloomers can match with peasant tops, crop tops, and the like. It can look lovely paired with solid colored onesies too!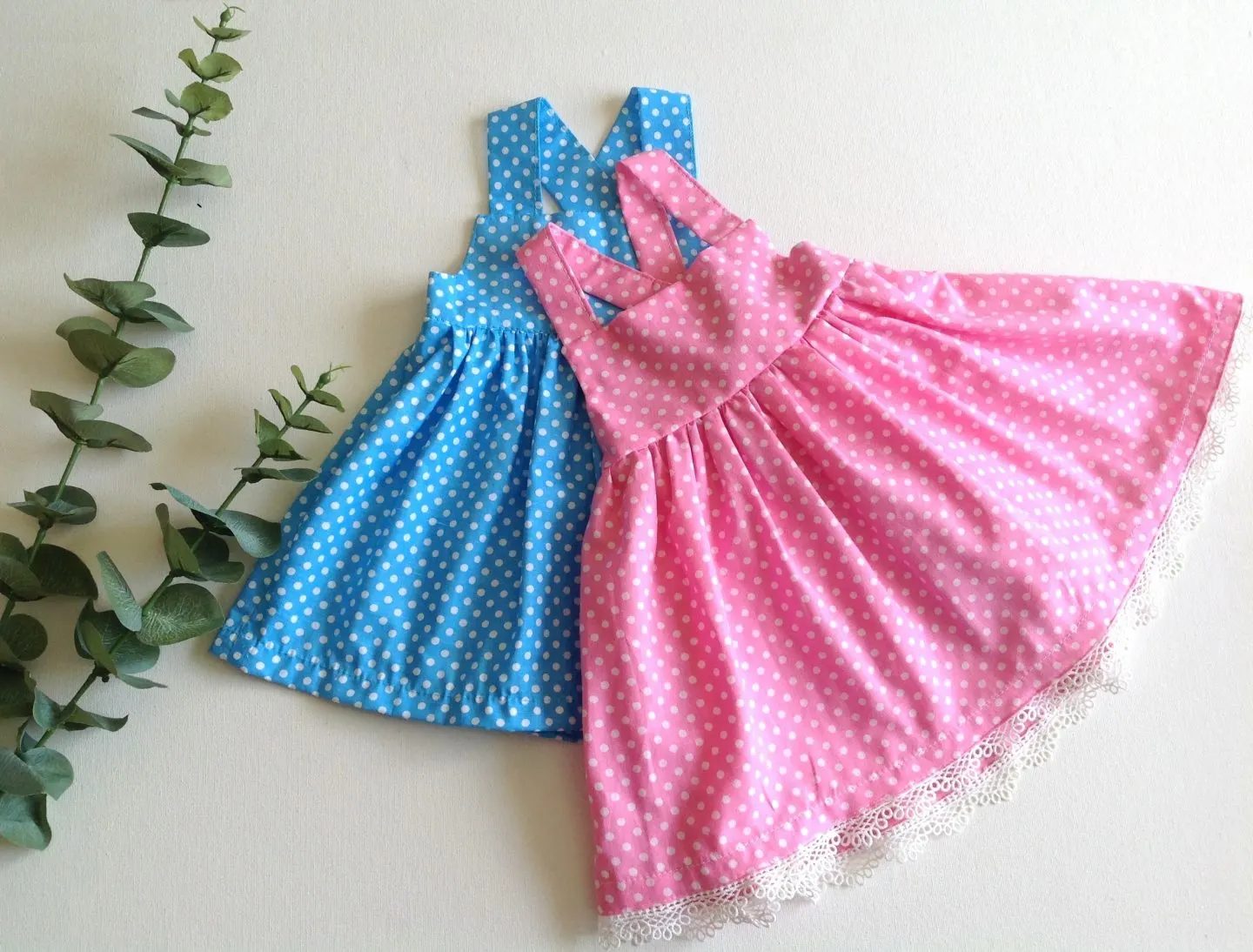 Here is a baby sundress pattern you will surely love. This is an easy baby sundress with a bare-back design that fastens by buttoned straps. The elasticized back bodice gives the dress the perfect fit it needs.
You can make it in dress and top lengths to suit your little one's needs. Pair it with my bubble bloomer, flutter bloomer, or my easy diaper cover patterns for an awesome ensemble!
I shall keep adding more patterns to the round-up, as I design new baby patterns!
For more of my free patterns, click here.
For hundreds of free patterns and DIYs, visit allfreesewing.com.
Pin it for later here,