Have you thought of sewing leggings for your baby or toddler at home? Here is a step by step tutorial with a downloadable template to help you make easy baby leggings in just 5 steps!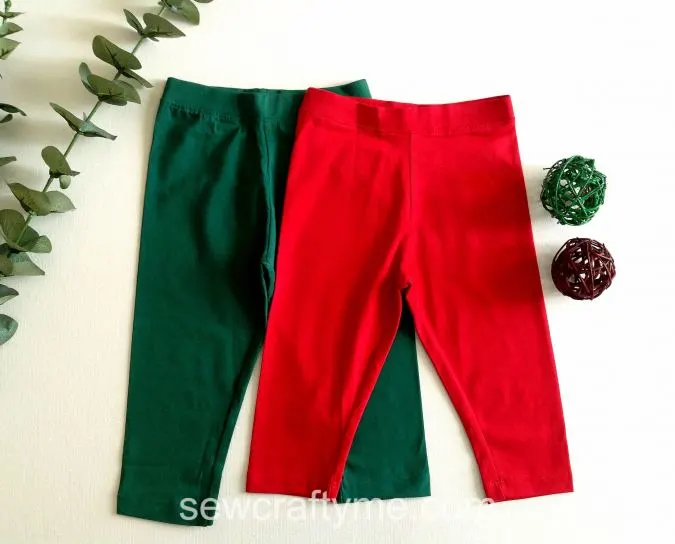 Leggings are a must-have for babies, aren't they? What if you can sew it yourself for your baby or toddler? You can easily make it the way you like or with prints and the colors you choose right?
I have been away from the baby pattern world after summer and I wanted to come up with something my readers would love to sew for all seasons. That is how I designed this easy baby legging in just 5 steps.
If you are looking for baby leggings patterns that are simple and quick to sew, you are at the right place. This is a knit sewing pattern that you will love for your little munchkin. If you are not confident about sewing with knits, here I have given all the instructions to make sewing with knits a breeze.
The baby pants pattern comes from newborn to 24 months in size. You can make it more stylish by adding the trims you like. Pompoms are my favorite but you may add rickrack or lace, the choice is yours!
Since it is the holiday season, I have made the leggings in Christmassy colors. Don't they look cute? Now grab your notions and your fabric and sew baby leggings for all your little ones and even the kids of your friends and family!
If you would like to see all my baby patterns in one place, click on the picture below: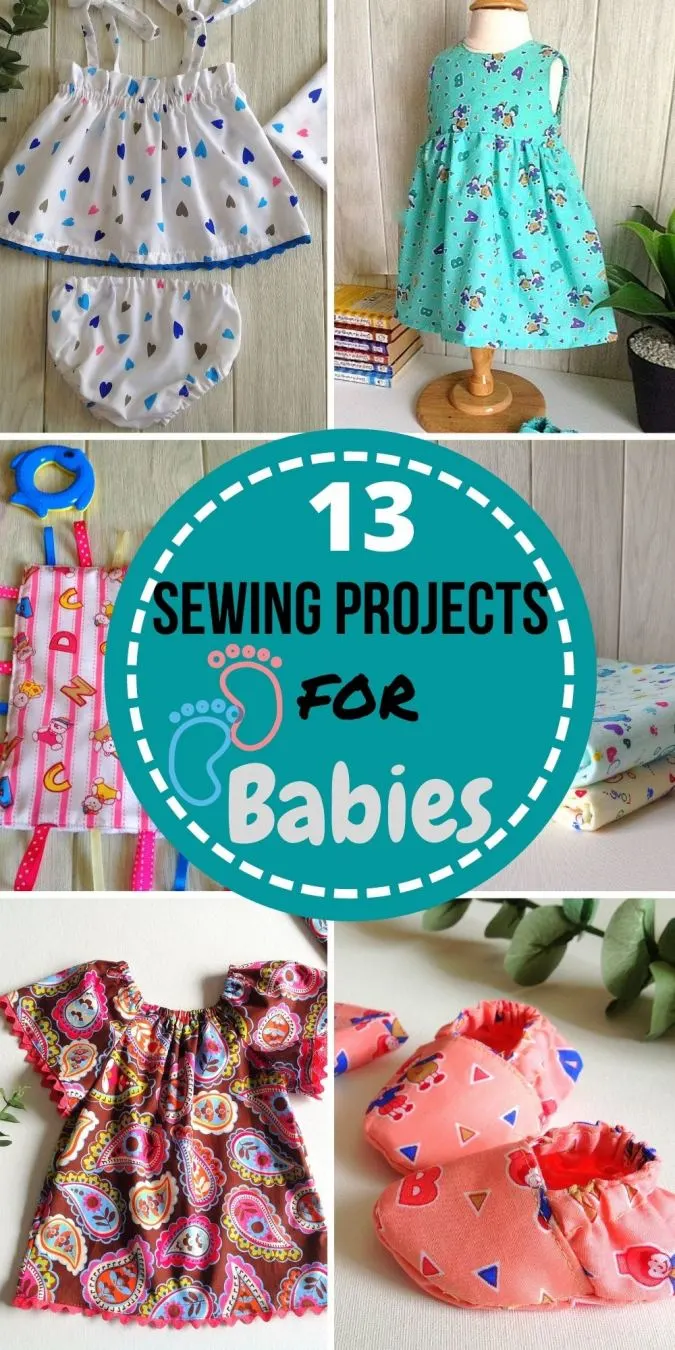 You can follow the written pattern below or purchase an ad-free PDF for just $ 3.99. Add to cart here.
Easy Baby Leggings in 5 Steps ( Sewing Project)
Supplies Needed
Interlock knit, jersey knit or cotton knit for the leggings body and ruffles- requirement specified in the table-1 below.
¾ -inch elastic for the waist- requirement specified in the table-1 below.
Enter your e-mail address and click the subscribe button to download the free template.
Guidelines for Sewing with Knits.
Spread out your knit fabric on a large flat surface for cutting. This prevents it from getting stretched and distorted.
Secure the pattern pieces by using ballpoint pins or pattern weights. This would keep the knit fabric underneath from moving and would keep it in place.
Use polyester thread or a cotton-polyester thread to allow for stretch.
A ball-point needle is a must for sewing with knits.
Use a straight stitch for the side seams. Try stitching on a double layer of scrap before sewing on your actual fabric.
Take care not to stretch the fabric while sewing. Hold the fabric up to keep it flat near the machine. If you have an option in your machine to reduce the pressure of the presser foot, that would be great too.
Since knit fabrics do not ravel, you don't need a serger. But if you need a professional finish and you have just an ordinary machine, you may go ahead and use the zigzag stitch for the finish.
*All the fabrics used here are 60- inches wide.
*The fabrics shown here are only for illustration purposes and as such may vary from the original.
*The seam allowance is 3/8-inch unless otherwise specified.
*I suggest you read the entire pattern once before starting to get a general idea.
Approximate Finished Measurements
Table-1
Pinch to zoom for mobile users.
Fabric Requirements
Table-2
Step-1: Cutting The Pieces
Step-2: Sewing The Crotch Seams
Step-3: Sewing the Inseam
Step-4: Attaching the Waist Elastic:
Next, we quarter mark the elastic.
Let's attach the elastic to the leggings.
Step-5: Finishing the Lower Hem:
The two pictures below are for illustration purposes and as such may vary from the original.
Pin it for later here,
For more of my free patterns, click here.
For hundreds of free patterns and DIYs, visit allfreesewing.com
Now you have learned to make cute baby leggings in 5 easy steps. They are great for your baby and can make wonderful handmade gifts for a baby shower!