Use this easy baby girl dress sewing pattern to sew classic style dresses for your baby or toddler. This DIY tutorial comes with free templates for four sizes to make sewing easy for any beginner seamstress.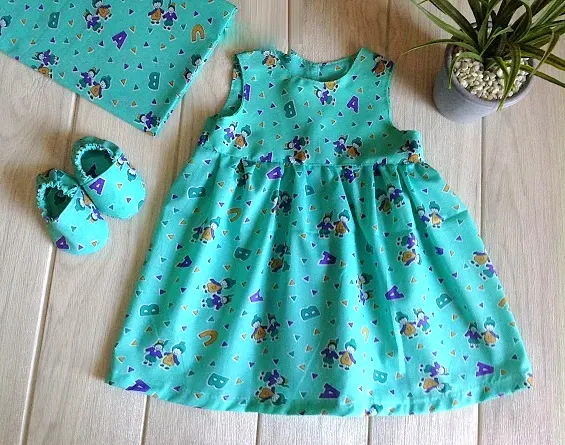 The sewing for baby saga continues and this time it is an easy baby dress pattern. I have a few people expecting this summer and a pile of stash mounting up. So, I definitely need to sew a lot of little things.
Summer is around the corner and babies definitely need a lot of summer dresses. I love the sight of the little one wearing a cute little baby dress. It becomes even cuter if she wears matching accessories.
This is a very easy baby girl dress sewing pattern, which does not take much time or fabric to sew. You can complete it quickly to get a boutique-style baby dress! Templates are available for newborn babies to 12-month-olds.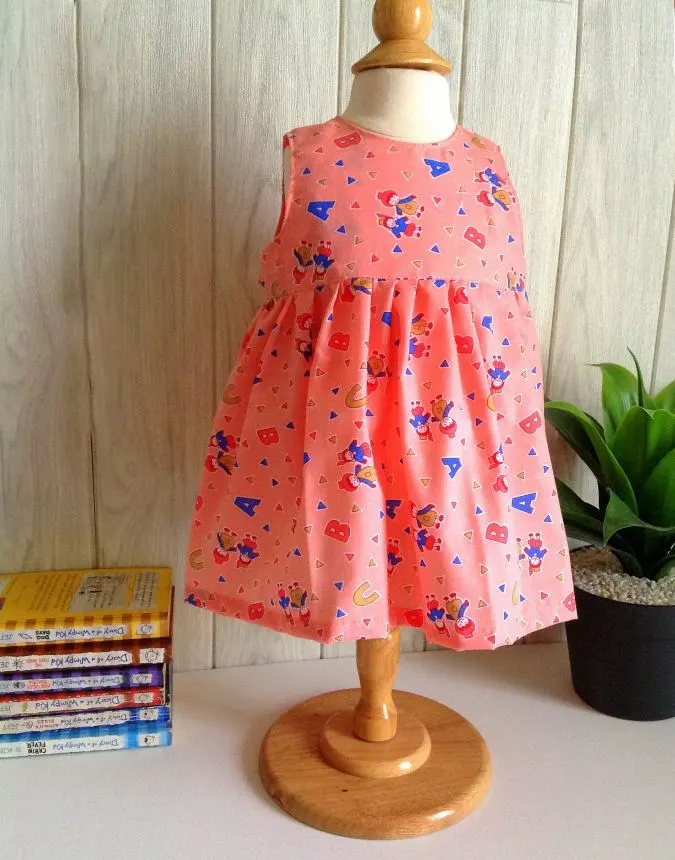 This classic style baby dress pattern is great for toddlers too! Given the template and the easy instructions, now you can learn how to make the dress the easy way!
I have kept this free baby girl's dress sewing pattern simple for a quick sew. You can add lace, ribbons or rickrack to make it prettier and more girly.
The choice is yours. Make a matching diaper cover, a pair of booties, and a headband to make her look like a little princess!
If you love to see more of my baby patterns, find them here,
Free Baby Booties Sewing Pattern
Reversible Baby Bib in 5 steps.
Reversible Baby Blanket in 15 Minutes.
Reversible Hooded Baby Blanket.
Easy Baby Girl Dress Sewing Pattern
You can follow the written pattern below or purchase an Ad-free PDF for just $3.99, Add to Cart here. The pattern will be e-mailed to you.
Materials Required
Medium- weight cotton fabric for the dress- requirements specified in the table-2 below.
Enter your e-mail address in the box below to download the template.
All the fabrics used here are of 44/ 45 inches width.
The seam allowance is 3/8-inch unless otherwise specified.
I suggest you read the entire pattern once before starting to get a general idea.
All seams are to be finished by zigzag or serger.
The fabric should be pre-washed to prevent it from shrinking later after cutting and sewing.
Approximate Finished Measurements.
Table-1.
Ages
Finished Chest

(inches)

Finished Length

(inches)

Newborn
18
14
3 Months
19&1/2
15&3/4
6 Months
20&1/2
17
12 Months
21&1/2
18&1/4
Fabric Requirements.
Table-2
Ages
Fabric for

Dress

(yards)

Newborn
1/2
3 Months
5/6
6 Months
1
12 Months
1&1/6
Measurements
Table-3
In the table below, "l" stands for the length and "W" stands for the width of the fabric piece to be cut.
Ages
Front Skirt Piece

(inches)

Back Skirt Piece

(inches)

(cut 2)

New-born
10.5L x 20W
10.5L x 11W
3 Months
10.75L x 22W
10.75L x 12W
6 Months
12L x 23W
12L x 13W
12 Months
13.25L x 24W
13.25L x 14W
Cut the templates for the bodice front and bodice back from the PDF above.
Sewing
Sew the front and back lining pieces together, just as the bodice pieces.
Our bodice is done. We move on to the skirt.
Let's join the front and back skirt pieces together.
Next, we need to gather the skirt. Turn the upper thread tension of your machine to zero and stitch length to the longest to get a basting stitch.
Let's attach the skirt to the bodice.
Turn the machine settings back to normal.
We need to hem the lower edge of the dress.
Let's attach the Velcro or the buttons.
So, now you can make a classic style dress with my easy baby girl dress sewing pattern even if you are a beginner!
For more of my free patterns, click here.
For hundreds of free patterns and DIYs, visit allfreesewing.com.
Pin it for later here,
So come on, grab your notions, your fabric, and get ready to sew this easy baby dress sewing pattern!
If you would like to watch a video tutorial of the dress being made, click below: