This flutter baby dress pattern is so much fun to make! This is an easy 15-minute baby dress that can be made from a rectangular piece of fabric. It is super comfy and perfect for summer! I love the dress in stripes and polka dots but you could make it in solid colors and prints too.
With everything going on right now, isn't it a great time to relax with a new sewing project? It would help you keep engaged and give you a mood boost when you see the final product. It can be a great stash buster too, as it does not involve too much fabric. Make the pattern in different colors and prints for your little one to wear, all week long.
These flutter baby dresses are so easy that with the cutting done, you can whip them up in almost 15 minutes! No gathering required and no buttons or hooks to sew. Just a rectangular piece and a piece of elastic would do all the magic! Of course, there are straps to be sewn, but you can replace the straps with gross-grain ribbon if you are looking for a very quick- sew dress.
The flutter ruffle formed along the chest line without much of a hassle gives the baby dress all the prettiness and the girliness it needs. You can add lace, pompoms, or rick rack trims along the hemline to make it prettier!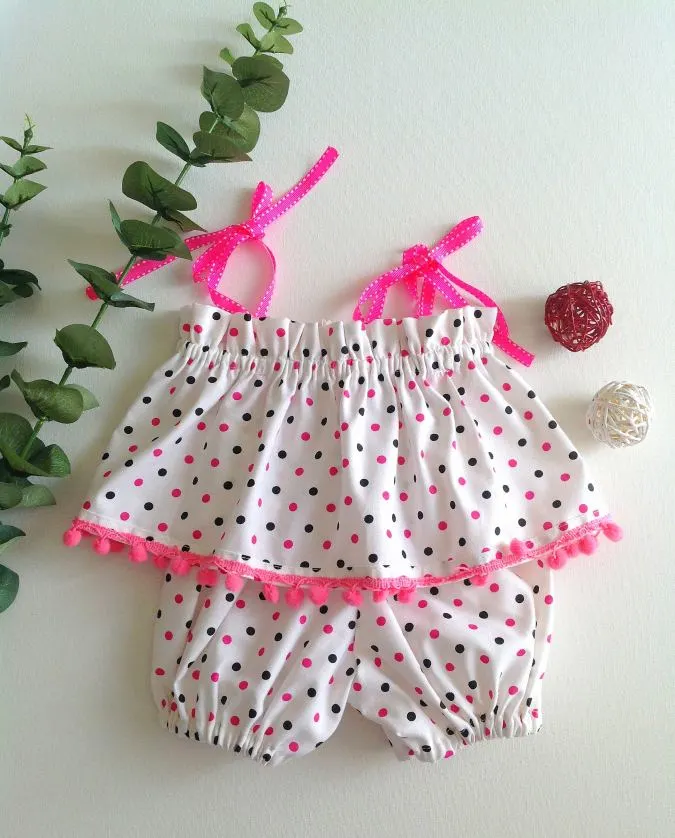 You can also sew this as a flutter baby top to go with my baby bloomers and my baby diaper cover patterns. In fact, I found the pattern cuter paired with puffy bloomers and diaper covers.
I have many more free baby patterns. If you would love to see them, find them here:
Easy Baby Girl Dress Sewing Pattern
Free Baby Booties Sewing Pattern
Reversible Baby Bib in 5 steps.
Reversible Baby Blanket in 15 Minutes.
Easy Baby Blanket with Animal Ears.
Reversible Hooded Baby Blanket.
You can follow the written pattern below or purchase an Ad-free PDF for just $2.99, Add to Cart here.The pattern will be e-mailed to you.
The tutorial has been edited a few times to include the suggestions of my readers.
15 Minute Baby Dress from a Rectangle
Finished Length:
Table-1
Note: Pinch to zoom the tables if you are on mobile.
Materials Required:
Medium- weight cotton fabric in a desired print and color- requirement specified in the table below.
3/8- inch elastic- requirement specified in the table below.
Sewing Notions.
Fabric Requirements:
Table-2
Measurements:
In the table below, "L" stands for the length of the fabric and "W" stands for the width of the fabric piece to be cut.
Table-3
Let's do the upper elastic casing of the dress.
Next, we do the casing for the elastic.
Let's do the lower hem of the dress.
Here you can add the trim along the hemline if you like.
Next, we need to do the straps.
Our dress is done!
For more of my free patterns, click here.
For hundreds of free patterns and DIYs, visit allfreesewing.com.
Pin it for later here,