If you're looking for easy hand sewing projects to sew, here is a plethora of hand sewing crafts you will love. In this round-up post, you will find sewing projects for your home and every member of your family!
There is something I have never mentioned here in my blog before. It is that I love hand sewing projects over machine sewing ones. Hand sewing crafts are things I do to relax. They are projects I would do in front of the TV watching a movie or documentary.
In fact, my first sewing lessons from my mom were the different hand-sewing stitches. My initial projects like sewing doll dresses, hankies, and skirts were all hand sewn. I did all of them so neatly and easily at the age of 12 that my parents were sure I would be a great designer and seamstress in the future.
Here I have put together 17 sewing ideas that can be done by hand. Almost all of them can be done by machine and hand. I may not have mentioned so in all the original posts but you can sure do the projects by hand too.
You can sew your projects very neatly with your hand by using running stitches, backstitches, and other stitches used in different areas according to the requirements.
Normally, while making hand-sewing projects, people prefer small items so that they can be completed quickly. Therefore, I have put together tutorials for small items made from rectangular pieces. These can be great hand sewing projects for beginners.
If you would like to see a collection of easy things to sew for beginners, click on the picture below:
Hand Sewing Projects You Will Love
15 Minute Scrunchie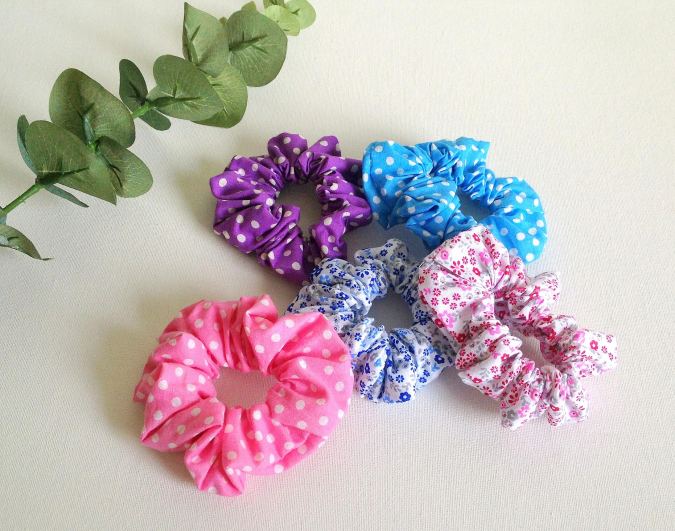 Do you find your fabric scraps mounting up? Maybe you have a ton from the dresses you made for yourself or your kids. Now you can make these adorable scrunchies and put your scraps to use. My tutorial will teach you how to sew these scrunchies in just 15 minutes or so.
All you need are pieces of scraps and some elastic to make them So, what are you waiting for? Just learn the technique and sew matching scrunchies for yourself and your kids!
Hand- Sewn Face Mask
Our lives have taken a sudden turn and we are all forced to wear something we rarely wore before, a face mask. You can see thousands of face mask patterns on the internet but this is a facemask specifically for the hand- sewing community.
This face mask pattern comes in child and adult sizes and can be made from just two rectangular pieces of fabric and two pieces of elastic. There are no templates to download or darts to be sewn, which makes it a perfect beginner project.
Hand Warmers
Here is a very quick yet useful hand sewing project you will definitely love, a hand warmer. These hand warmers require very little sewing and as such, you can make them in minutes.
They can be used to warm your hands and feet during the colder months. Once heated in the microwave for 60 seconds, they can stay warm for almost an hour.
Drawstring Bag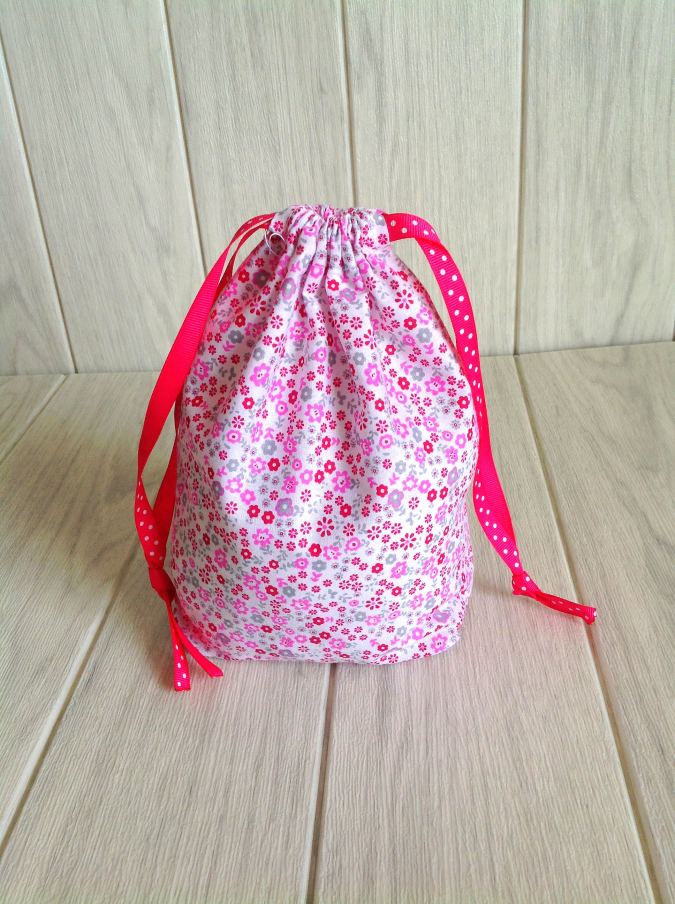 If you are an avid traveler like me, you definitely need to carry a lot of things. This drawstring style bag is perfect to carry your little things neat and organized.
These drawstring style bags are made from just two rectangular pieces of fabric and are very easy to sew. You may use back stitches for the side seams and slip stitches to sew the casing.
Ear Saver for Face Mask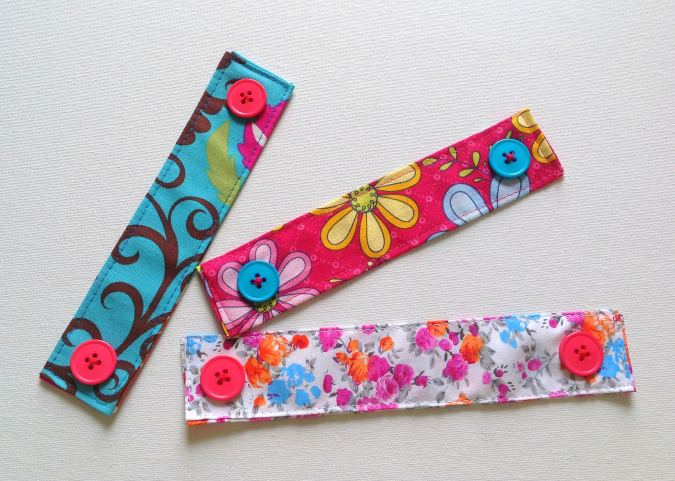 This is yet another project that is very necessary in today's times. This is an ear saver that protects your ears from getting sore or chaffed when worn for a long period of time.
This ear saver is made from just one piece of fabric and two buttons. Just replace the machine stitches with backstitch or even slip stitch to sew the ear saver shut.
Fabric Bows
Here is something we all like to sew, a fabric bow. Bows can be used to accentuate anything you make, may it be dresses, bags hair accessories, or more. These bows can be made in minutes and with fabric scraps.
Use back stitches to replace the machine stitches and you can make a number of them in an hour!
Hanging Towel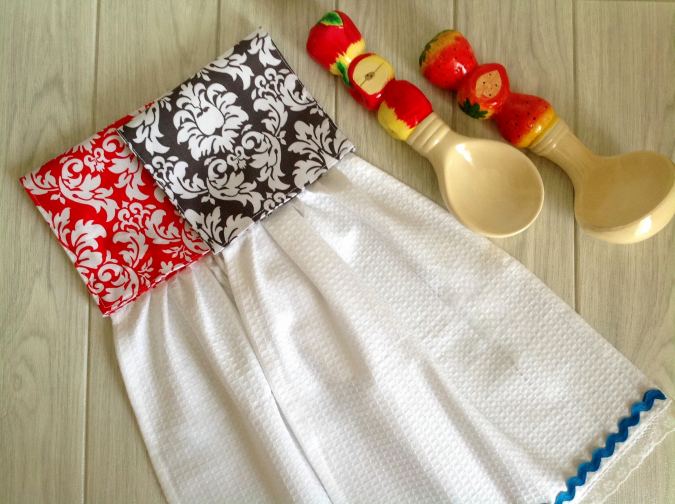 This is also a very simple and useful sewing project that is sure to adorn your home. This hanging towel pattern would help you sew towels that do not slip or fall away. The towel is attached to a holder that would keep it in place.
Here again, you may use back stitches and slip stitches wherever necessary to sew the hanging towel.
Flower Hair Clips
If you would like to make hair clips that look like store-bought ones, you are at the right place. This is a DIY tutorial that will help you make hair clips for your little one in minutes.
These clips are made with gross grain ribbon and buttons. You can easily change the color of the ribbons and buttons to sew matching hair clips for your little one.
Tooth Brush Holder
This is again a sewing project for someone who is a frequent traveler. These brush holders are perfect to organize your toothbrushes, tubes of toothpaste, and other little toiletries neatly. What more can you ask for when you can easily toss it in your washing machine once dirty to make it fresh and clean once again?
You just need a washcloth to make this toothbrush pouch. Use backstitches to sew a sturdy one in minutes.
Reversible Bag
This is a two- one bag pattern that you can sew for your little girl. You can try sewing the bag with leftover fabric scraps from her dress to make a matching one.
This sewing project does not require much-complicated sewing and such you can easily sew it by hand. Just make sure to use different fabrics on the two sides to make a totally different look on both sides.
Easy Sundress for American Dolls
If you would like to sew an easy sundress for your little girl's American doll, you can try this pattern. This is one of the most famous doll patterns I have. This is extremely easy to sew with delightful results.
You may use back stitches, slip stitches, and basting stitches wherever necessary to sew an awesome-looking dress for an AG doll.
Sling Bag
This is a very pretty yet useful sling bag that you can make from your old jeans. The seams on the sides of your jean leg are retained and all you are to sew are a few straight line stitches that you can easily sew by hand.
Of course, you need to sew the straps but you can easily sew them by backstitch, running stitch, or slip stitch.
Gaiter Face Mask
This is a multipurpose gaiter mask sewing pattern that requires very little stitching. The gaiter is made with knit fabric and it can be used as a gaiter, a face mask, a ponytail holder, a bandana, or even as a cowl.
Make a number of them for yourself or as handmade gifts for your loved ones.
Grocery Bag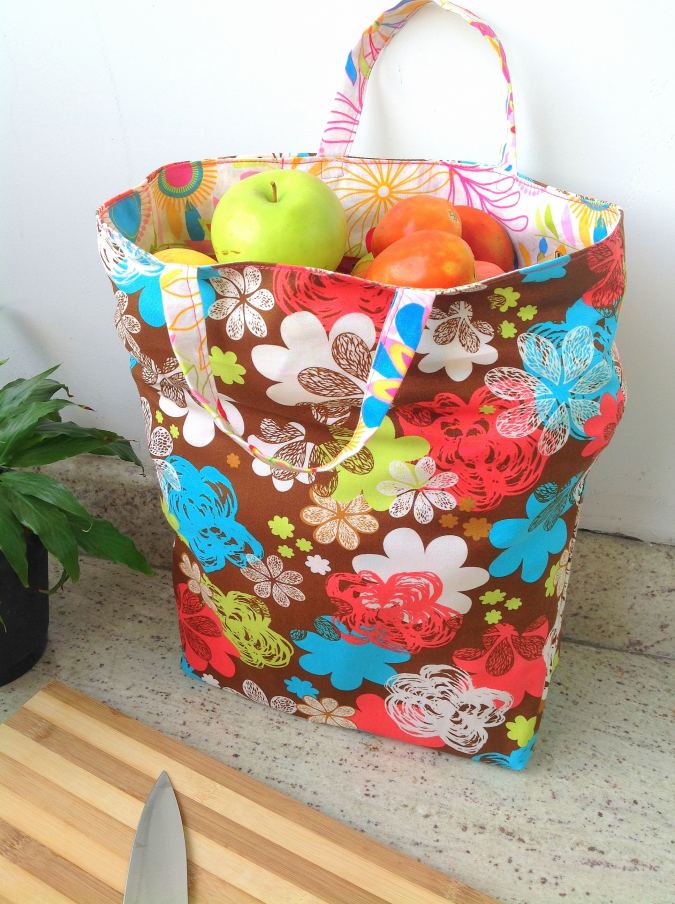 This is another bag pattern that can be tried by hand. This is a double-sided bag that can be used for your grocery shopping. You can choose to sew it with or without pockets.
And yes, there are straps to be sewn but it is no big deal, you can easily sew them as they are not very long straps.
Fabric Covered Buttons
How about these fabric-covered buttons to adorn your garments? In fact, I have used it in all my sewing patterns. The ornamental touch would be impressive and the garment turned stunning!
In my tutorial, I have given instructions to make the button by hand or with a button maker. You can easily make neat fabric-covered buttons by hand to go with your dress, bag, or any other thing you are making.
Plaid Fabric Pumpkins
This is one of the cutest things I have made by hand. there is no better hand sewing pattern I can offer you for Fall and Thanksgiving.
These plaid pumpkins are made from a single piece of fabric. There is very little sewing involved and you can make it in minutes! There are measurements and instructions to make it in three different sizes and that come as a bonus!
Christmas Ornaments
Another of my hand- sewing project for the festive season is the Christmas ornaments tutorial. This tutorial involves hand sewing five Christmas ornaments that you can hang on your Christmas tree.
These adorable ornaments are made with felt. Felt does not fray and is easy and quick to work on for any beginner seamstress. The tutorial comes with templates and instructions to make all five Christmas ornaments. I bet you will enjoy making them!
Pin it for later here,
For more of my free patterns, click here.
For hundreds of free patterns and DIYs, visit allfreesewing.com.
Now you have learned how to make beautiful hand sewing projects that are fun and interesting. They can be made for yourself or as gifts for family and friends too!