Who doesn't like quick and easy sewing patterns in today's busy life? For those who love easy handmade gift ideas for their loved ones, but don't have the time to sew complicated ones, this round-up post is the right place. Here you will find a lot of easy sewing projects from talented bloggers all over the internet.
These simple sewing patterns are all free and beginner-friendly. They are so easy and quick that you can complete them in 30 minutes or so. With the holiday season fast approaching, this DIY sewing pattern round-up offers the best collection for you to sew.
25 Easy Sewing Patterns
1) Snack Pouch
Snack pouches by Heather Handmade.com
Do away with the plastic bags and make these reusable fabric pouches to carry your snacks. These DIY snack pouches are easy to make. They are also lined with waterproof fabric, making them easy to clean.
2) Mini Fabric Bins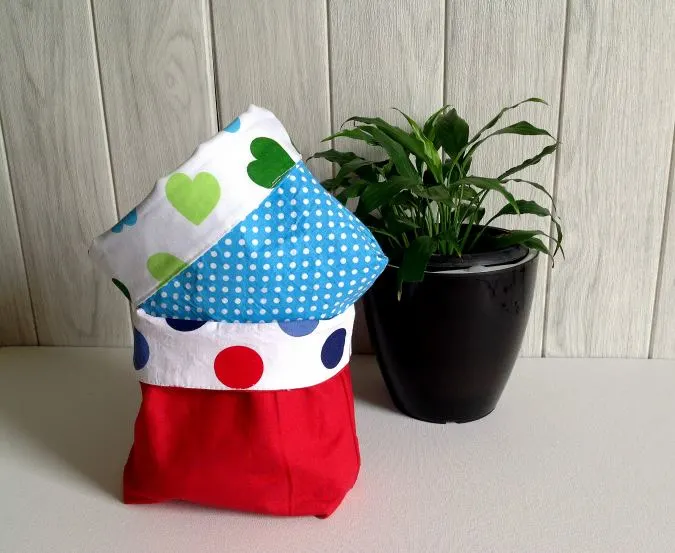 Reversible Fabric Baskets from Sewcraftyme.com
This is one of the easy patterns to sew. It will help you organize the things on your desks or shelves in style. This is a reversible basket sewing pattern that is beginner-level and fun to sew!
3) Reversible Pocket Placemat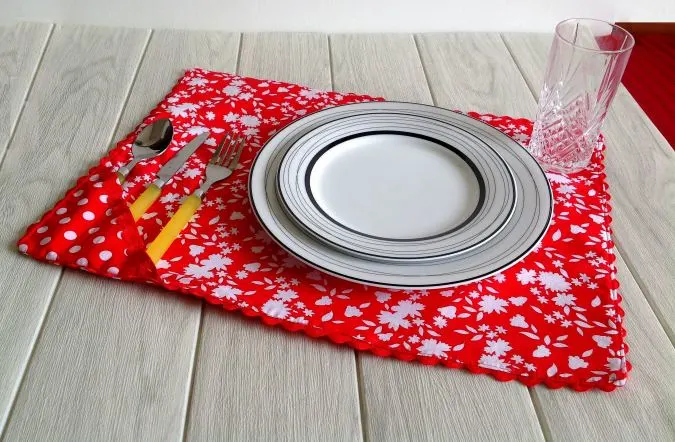 Reversible Pocket Placemat from Sewcraftme.com
Jazz up your dinner table with this colorful and cute pocket placemat sewing project. Now, you can arrange your cutleries neatly and in style with this pocket placemat. Use different fabrics on both sides to match different requirements and occasions.
4) DIY Seatbelt Pillow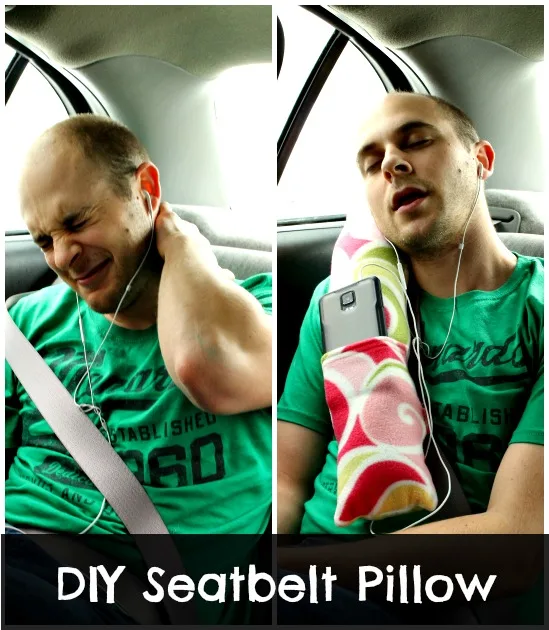 DIY seatbelt pillow from So Sew Easy.com
Make your car road trips comfortable with this DIY cozy seatbelt pillow sewing pattern. These pillows are made with fleece and are designed with pockets to keep your mobile phone tucked away while sleeping in the car.
5) Ruffled Apron for Kids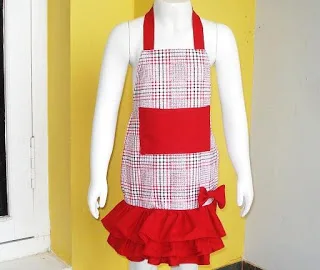 Ruffled Apron for Kids from Sewcraftyme.com
Here is something to sew for your little one, the beautiful ruffled apron. This easy apron sewing pattern is designed with a large utility pocket for storage. The ruffles along the hemline make it cute and more desirable.
6) DIY Tortilla Warmer
DIY Tortilla Warmer from Sewcraftyme.com
Learn how to sew an easy reusable DIY tortilla warmer to warm your tortillas in the microwave and keep them soft and warm till you finish your meal!
These tortilla warmers are great for your home or as hand made gifts for your loved ones.
7) Hanging Kitchen Towel
Hanging Kitchen Towel from Sewcraftyme.com
Make these cute hanging kitchen towels and stop worrying about your towels shifting and falling off. This hanging kitchen towel is one of the beginner sewing patterns you will surely love. These towels are also great to add some color and flair to your kitchen.
8) Easy Eyeglass Case
Easy Eyeglass Case from Scattered Thoughts of a Crafty Mom.com
This eyeglass case is something we all need to carry our sunglasses or our reading glasses in style. This is an easy sewing pattern for someone looking for sewing projects to make and sell.
9) Mobile Holder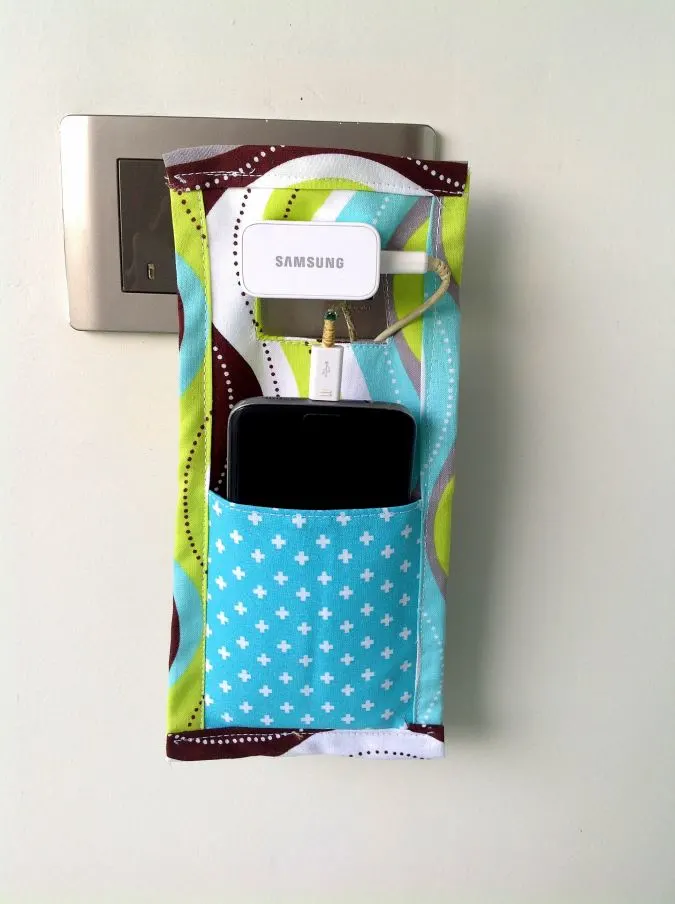 Mobile Holder Pattern from Sewcraftme.com
Keep your mobile phone and your charger wires, neatly tucked away in this cute little mobile and charger holder. This is again one of the simple sewing patterns, which will help you keep the messy charger wires away and in style.
10) Reversible Fabric Basket
Reversible Fabric Basket from Me Sew Crazy.com
This beautiful reversible fabric basket can hold all of your little things, while still displaying your favorite fabrics. This is completely machine washable and when you get tired of one side, you can flip it over for a completely new look.
11) Easy Envelope Pillow Cover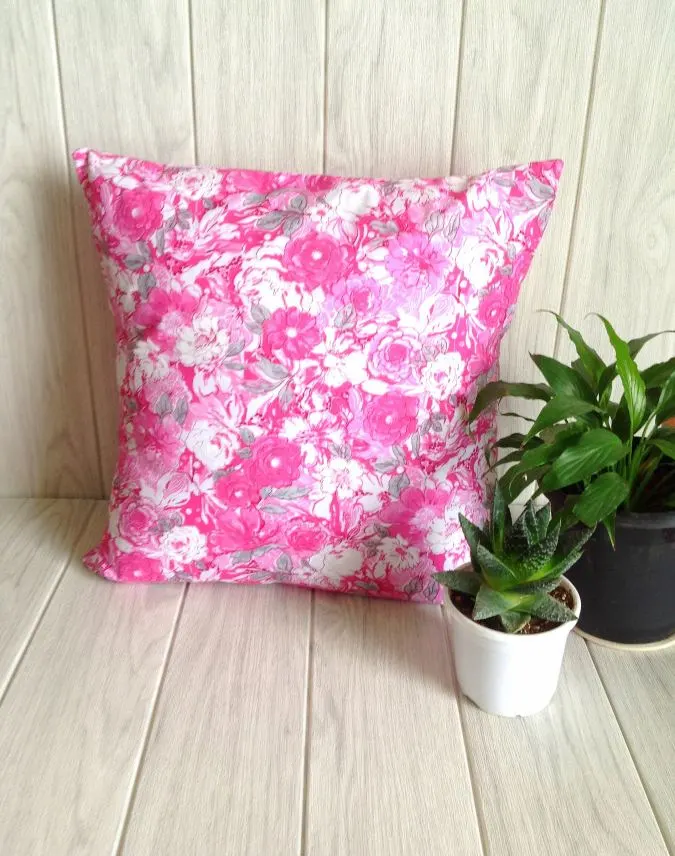 Easy Envelope Pillow Cover from Sewcraftme.com
Make these stylish throw pillow covers to adorn your sofas, armchair, and beds. This is a very easy sewing project, which can be tried by a beginner seamstress. They require very little fabric and very little of your valuable time.
12) Utensil Basket Tutorial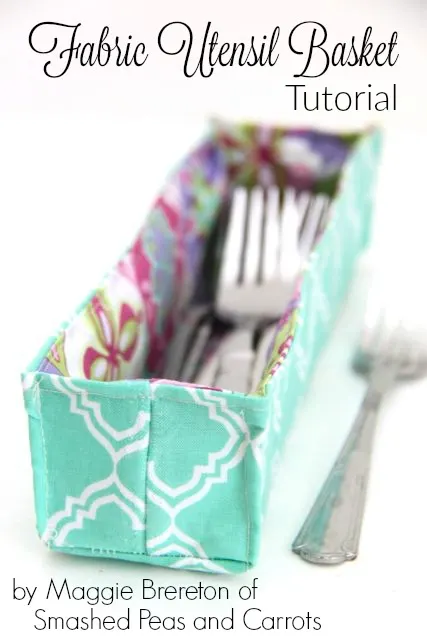 Utensil Basket from Smashed Peas and Carrots.com
Arrange your cutleries neatly and in style with these easy utensil baskets. Made with a beautiful fabric outer and a coordinating lining, these are perfect to arrange and display your cutlery collection in style.
13) Round Drawstring Pouch
Round Drawstring Pouch from Sewcraftyme.com
Learn how to make a DIY drawstring pouch with this easy sewing tutorial! This is a cute little reversible drawstring pouch pattern, that can be used to store your little things.
This DIY drawstring pouch can be opened and closed quickly by just pulling the drawstring and as such, they are very useful and handy even for storing coins.
14) Fabric Headband
Fabric Headband from Sewcraftyme.com
Compliment your little girl's designer outfit with this fabric headband and let your little girl look stunning this season! What more can you ask for, when you can make them in matching fabrics with her outfits? This is an easy sewing pattern for a headband, will help you make headbands from baby to adult sizes.
15) DIY Bowl Cozy Two Ways
DIY Bowl Cozies from Sewcraftyme.com
These bowl cozies are easy to make. They are perfect to use up all your fabric and batting scraps. They keep the soup warm and offer perfect protection for your hands from getting burnt.
16) Easy Peasy Skirt
Easy Peasy Skirt from Sewcraftyme.com
Yet another easy sewing project for your little girl. As the name suggests this is an easy skirt pattern, suited for all levels of expertise. Quick to work up and ultra-girly, this skirt can be made with two different fabric prints. Experiment with different colors and prints to make it your own.
17) Pocket Tissue Cozy Tutorial
Pocket Tissue Cozy Tutorial from Skip to My Lou.com
This is a great way to carry your Kleenex packets neatly. These pocket tissue cozies can be made from a few fabric scraps and can be made quickly. They can be great handmade gifts too.
18) How to Make a Cactus Pillow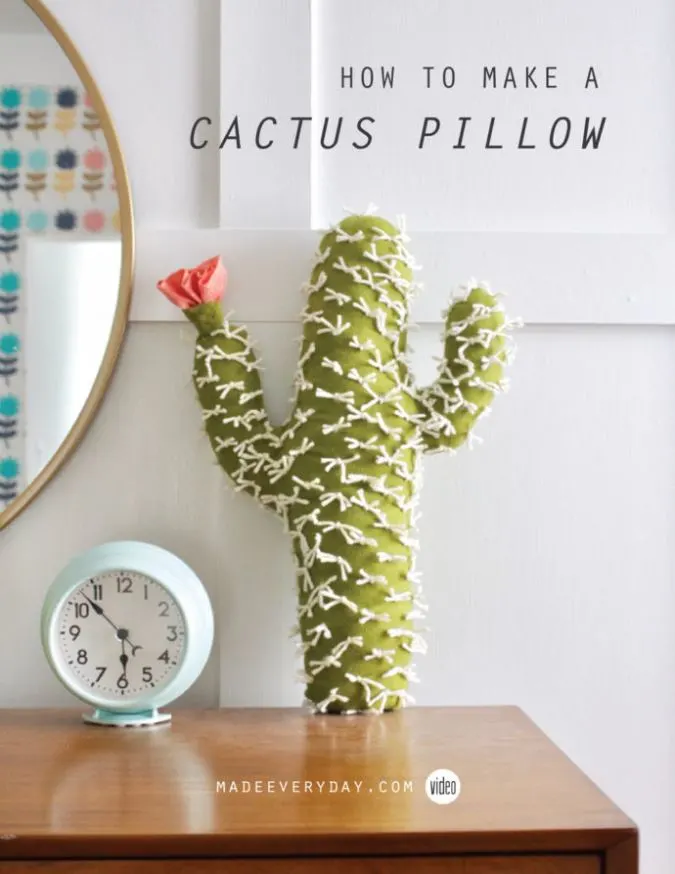 Cactus Pillow from Made Everyday.com
I love everything in the shape of a cactus, be it a pincushion, pillow or anything else. This is a very beautiful cactus pillow sewing video tutorial, which you will enjoy. These cactus pillows are great for cuddling and made in different prints and colors, they can be great accessories to decorate your home.
19) Felt Crayon Roll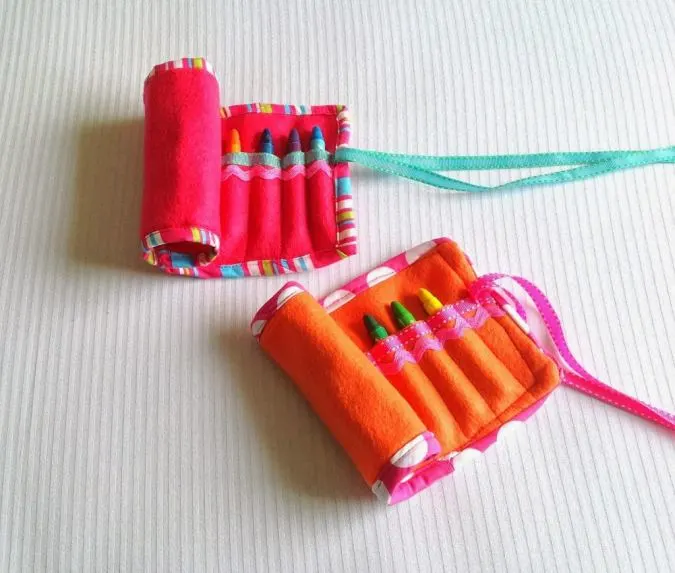 Felt Crayon Roll from Sewcraftyme.com
Sew these colorful felt crayon rolls for your little one to keep her busy coloring all day long. These crayon rolls are very easy and quick to make and can be carried wherever you go. They can be rolled, tied, and kept in your handbag or purse. These crayon rolls are also easy to use for your little one; she can easily slip the crayons down the casing with her little fingers.
20) Skirt with Sash
Skirt with Sash from Made Everyday.com
This is again one of the easy sewing patterns for girls. This easy DIY skirt sewing tutorial will teach you how to sew awesome skirts with a sash that can be tied in a bow. This cute skirt is an awesome way to dress up for a holiday party, fall wedding, or just for a day out shopping with mom.
21) DIY Baby Hat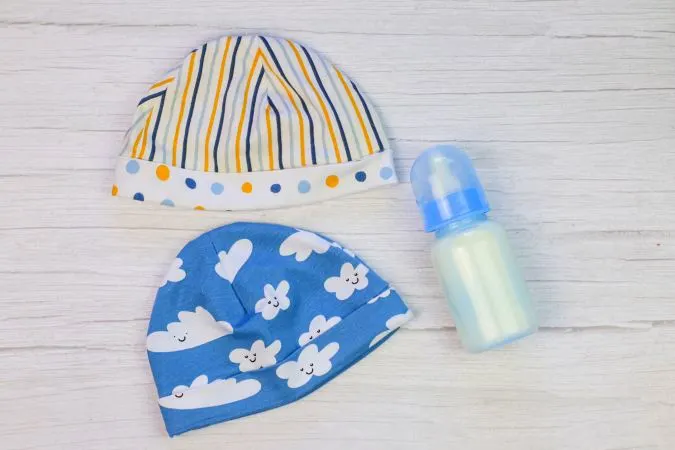 DIY Baby Hat from Sewcraftyme.com
Sew something cute for the little one in your life or as baby shower gift. This baby hat sewing pattern is designed with a fitted top and a cuff that can be rolled up for more cuteness. This is an easy sewing project that is fun to whip up.
22) Duck- Hooded Towel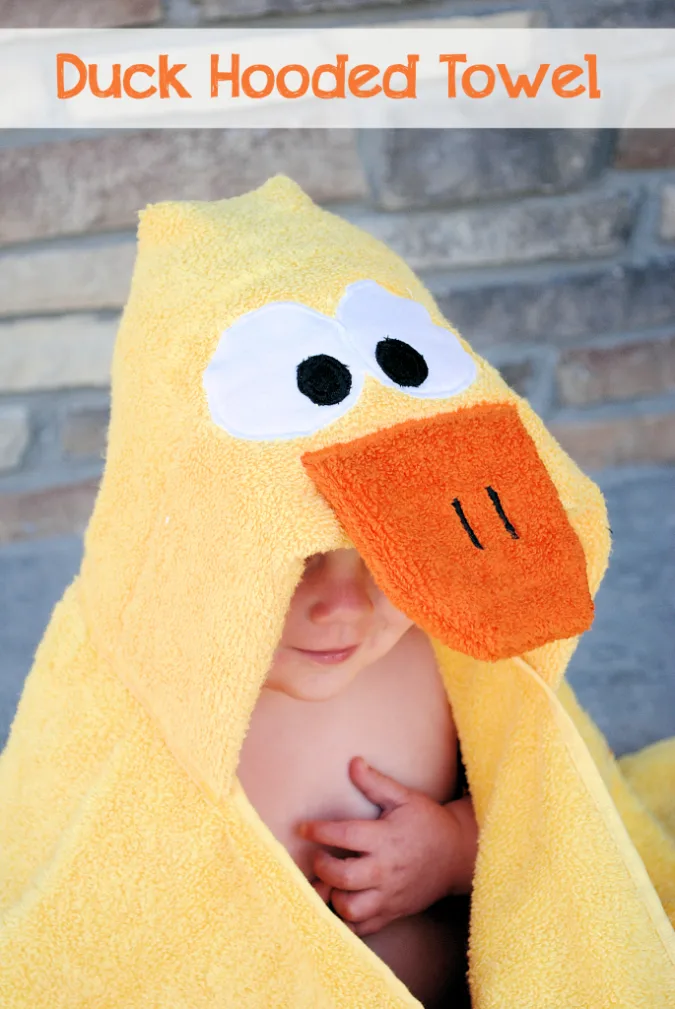 Duch Hooded Towel from Crazy Little Projects.com
This is a cute hooded towel sewing pattern for babies, toddlers, and kids. This is an easy and fun sewing tutorial which can be a fascinating gift for your little one.
23) Mini Zipper Pouch
Mini Zipper Pouch from Crazy Little Projects.com
This easy sewing tutorial will teach you how to sew a cute little zipper pouch that can be used to carry your coins, cash, cards and more. This is so easy and fun to make that you can make one for everyone you know.
24) Reversible Fleece Blanket
Reversible Fleece Blankets from Sewcraftyme.com
Learn how to sew a double-sided blanket with fleece to cuddle up on your couch in the colder months. Sew it plain for a quick- sew or add trim details to make it look vibrant. This is a very easy project, perfect for a beginner seamstress.
25) Easy Peasy Potholders
Easy Peasy Potholders from Mary Martha Mama.com
Give your leftover fabric scraps a new life with these easy peasy potholders. This is a very easy sewing project, which can help you whip up a number of potholders in one evening.
Pin it for later here,
Watch my video tutorial for five sewing projects that can be done in 10 minutes here,
For more of my free patterns, click here.
For hundreds of free patterns and DIYs, visit allfreesewing.com.