Learn how to knit a blanket in a variety of ways with this round-up tutorial. All these tutorials are easy and fun for beginner and experienced knitters alike.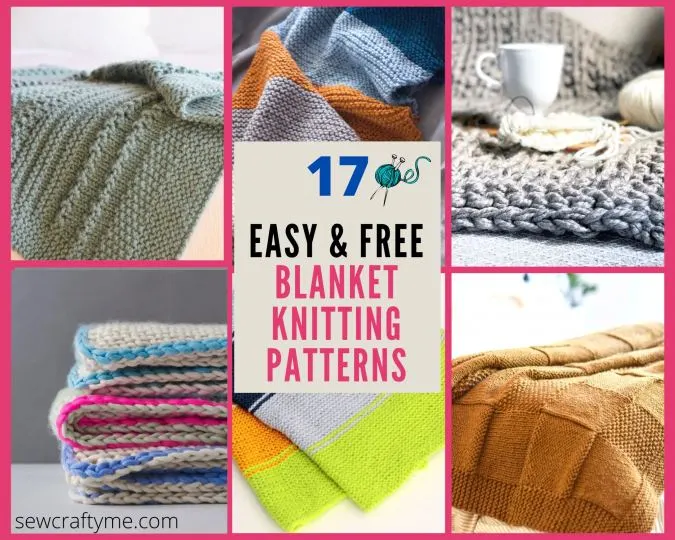 Knitted blankets are the most comfortable and inviting choice for snuggling up on the couch or in bed. They can also be used as a throw or wrap for added warmth and comfort on colder days.
These free patterns for blankets to knit can be made in a variety of colors, patterns, and styles to suit your preference. Make them in unique colors and designs to make a statement!
If you would like to see how to make blankets without sewing or knitting, click on the picture below to see 5 ways to make them!
Before you get started on the 17 different knitted blanket patterns, let me give you a basic idea about the types of knitting yarn and needles.
What are the Different Types of Yarn for Knitting Blankets:
There are many different yarns that can be used to knit blankets, including wool, acrylic, and cotton. Wool is a natural fiber that is warm and insulating, making it a popular choice for blankets.
Acrylic yarn is synthetic and can be more affordable, but may not be as warm as wool. Cotton yarn is soft and breathable, making it a good choice for summer blankets or for those who are sensitive to wool.
Types of Knitting Needles:
Knitting needles come in various materials, including metal, wood, plastic, and bamboo, and in different sizes and types, such as straight needles, circular needles, and double-pointed needles.
Circular needles are the best for blanket knitting projects because they can hold the entire blanket. But, if you are a beginner knitter, straight needles that are long enough to accommodate the blankets are the easiest to use.
In addition to the material and the type, the size or the diameter of the knitting needles is also important. Fine yarns need only thin needles but if you are using chunky yarn, you would need a higher size needle. Generally speaking, the range between sizes 6 and 8 would be the ideal size for a blanket.
Learn How to Knit a Blanket with 17 Easy Step-by-Step Tutorials
If you are a beginner knitter, looking to perfect your continental knitting skills, this easy-knit blanket pattern is just right for you. Make the blanket in velvet yarn to create soft squishy blankets for your little baby. Or a little larger one for yourself as a throw.
For any beginner knitter looking for an easy knitting pattern, I would say this is a perfect choice. The blanket is worked by holding two skeins of yarn at the same time to get a cozy chunky blanket.
This is a striped knit a blanket pattern that can be made in multiple colors. You can make it in nude shades to get a blanket that looks like a store-bought one.
3) Square Knit Blanket Pattern
This DIY Knitting project will teach you how to knit squares for a blanket and join them to make a chunky knit blanket. Here you can learn the basic knitting stitches and it is also a great project to use up any leftover yarn you have from your earlier projects.
This chunky knit blanket tutorial with step-by-step instructions and a video tutorial is the best choice if you are looking to make a blanket in multiple shades.
4) Seamless Knit Squares Blanket Pattern
This is a knit squares blanket that is seamless. You don't have to worry about joining the squares, you can knit the blanket in one piece.
This is an easy and calming pattern that does not have any hard stitches but with adorable finished product.
You can make this blanket in any size you want. There are instructions to make it from a baby-size to a large adult-size blanket.
5) Winter Cuddler Throw Blanket Pattern
If you would like to knit a blanket by working a variety of stitches, this DIY project is the right choice for you. Well, you don't have to worry if the stitches are hard. They are all easy and you will have fun while you work through them.
The knitting pattern comes with step-by-step instructions to make the blanket in lapghan and throw blanket sizes.
6) Bouncing Baby Blanket Pattern
This is a baby blanket pattern that can be knitted fast if you use a bulky weight yarn. This is a striped blanket pattern that gives you plenty of options to mix and match colors and shades.
If you are looking for a stress relief project, here is a fun DIY knitted blanket project for you. This blanket pattern with a tasseled edge will help you make an awesome end product that can make a statement.
This chevron textured design makes it perfect to drape over your shoulders for a cozy feel. The fringes along the edges give the blanket the perfect flair and style.
8) Not-Quite Colorblock Blanket
This is again one of the knitting patterns for beginners you would definitely fall in love with. This blanket pattern has a color block design that makes it fun to make and use.
Look at this blanket design, isn't it adorable? I am fascinated by the design and texture and am so eager to make it.
You can head over to the tutorial and see how easy it is to make it! So come on, grab your knitting notions and let's get started right away!
If you would like to knit a cuddly soft baby blanket, this is just the right tutorial for you. This is a knitting project you can take everywhere you go.
You can mix and match different color yarns and that makes it a great stash-buster DIY project.
11) Modern Baby Blanket Knitting Pattern
This is a baby blanket that is made by knitting diagonal seed stitches. This is one of the knitting patterns that can be enjoyed by a beginner knitter as well as an experienced one.
There are not many complicated knitting stitches involved and you just need to know how to knit and purl. The fact that it can be completed quickly if made with a worsted weight yarn, makes it a great choice for handmade baby shower gifts.
12) Squishy Knit Throw Blanket Pattern
This is a squishy knit throw blanket pattern, that is perfect for the colder months. This is again a beginner-level pattern that can be knitted easily and quickly.
This DIY chunky blanket makes great handmade gifts for friends and family.
This is one of the free knitting patterns for beginners I loved very much. The blanket pattern is designed with a border, giving you options to mix and match colors.
This is a speedy project you can have fun while making.
This is a pattern that you can have fun with. The stripe design along the corners would help you make a stylish finished product that is unique.
It is an adorable cozy blanket that is incredibly fast to knit.
15) Double Seed Stitch Baby Blanket
This double-seeded stitch baby blanket pattern is all you need for your little baby. This knitted blanket is made by a combination of knit and purl stitches to create a border.
The fact that it can be made easily and quickly make it a perfect choice for knitters with beginner skill levels.
16) Bulky Throw Blanket Pattern
This is a bulky knitted blanket pattern. This knitting tutorial with step-by-step instructions will teach you how to knit three panels that are then sewn together to form a large blanket.
17) Fan Afghan Knitting Pattern
Add a dash of color and warmth to your room by knitting this beautiful afghan. This is again a tutorial, you can have fun while making.
You did it! You have taken your pile of yarn and transformed it into a beautiful, handmade blanket! Make sure to give yourself a big pat on the back – knitting a blanket is no small feat.
Take time to admire your handwork, and snap some photos so you can share your creation with friends and family. And don't forget, your finished project means more time snuggled up with something that feels great and looks amazing!
Pin it for later here,