This is a collection of 6 easy and best face mask sewing projects you will love. Each mask pattern is different and I am sure there is one for everyone!
So, masks have now become an inevitable part of our lives and according to health experts, we cannot do away with it at least till the middle of next year.
I have been designing, DIYing, and sewing different types of masks for different people, season, and expertise levels. From simple paper towel masks and no-sew masks to stylish scarf masks, I have been enjoying what I have been doing.
There are masks you can make in less than 10 minutes but still highly effective. Most of these masks have filter pockets and nose wire casing to ensure maximum protection possible.
These pockets are all designed in such a way that you can remove the filters and wires for washing purposes.
When I mention my masks, a special mention is required for my hand- sew mask which I have made specifically for those who don't have a machine or don't know how to use it. This has been my most famous mask pattern to date.
These DIY mask-making tutorials do not require a high level of expertise. Most of them require just straight line stitches and can be made with your leftover scraps. They are so fun and interesting to sew that you would want to make all of them!
I loved designing and making all of them. What I loved most is that I could make masks and donate them to people who actually need them.
If you would like to see my other sewing patterns related to face masks, click on the pictures below:
6 Easy and Best face Mask Sewing Projects and More
1)Face Mask Pattern with Filter Pocket:
This is a face mask sewing project which is very simple yet highly effective. This is a five-ply mask design, with four layers of fabric and a removable filter in between.
There are options to make the mask with elastic or ties. There is also a removable nose wire casing for better fit and protection.
This is a very easy mask sewing tutorial which can be made even by a beginner seamstress. The mask pattern comes in adult and child sizes.
There are no templates to download, you need just a few rectangular pieces and a few straight line stitches and you are done!
2) How to Hand Sew a Face Mask in 15 Minutes:
I know there are a lot of people out there who do not have a machine or don't know machine sewing at all. But, they may be good hand sewers. This face mask making tutorial is for them.
Here again, there are no mask templates to download. The mask is made from just two rectangular pieces of fabric. You may use elastic or ties as per your preference.
All you need is some ironing and some running stitches to put together the hand-sewn mask in just 15 minutes or so.
So, if you would love to make your own masks, you don't have to wonder how to make a mask without a sewing machine. You can easily make this hand-sewn facemask with this easy sewing tutorial.
3) How to Make a Gaiter Face Mask: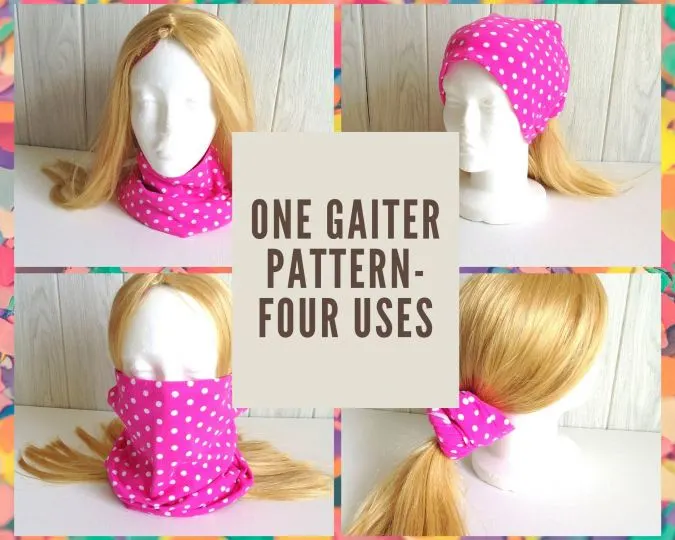 If you need a multipurpose project, here is something you can try, the four- in- one gaiter face mask. Well, to be precise, this gaiter can be put to more uses than even four.
It can be used as a gaiter, a facemask, a ponytail holder, a headband, and even a muffler or neck warmer.
This neck gaiter pattern instructions come with ear holes, a removable filter casing, and also a removable nose wire casing.
If you have the fear of sewing with knits, you don't have to worry. This sewing pattern has detailed guidelines to sew with knits.
This is a lovely DIY face mask sewing project to vouch for if you love something soft and comfy on your face.
4) Easy 3D Breathable Face Mask:
So, we all know that face masks have to be good fitting and should provide the necessary protection. But they need to be breathable and comfy too.
So, I have come up with a 3D face mask pattern which provides a good fit but traps a pocket of air in front of your nose for maximum breathability.
This mask DIY sewing project again comes with a removable filter pocket and nose wire casing. You can also make them with ties or elastic. This mask design also comes with downloadable templates from child to adult sizes.
Here is a face mask that all ladies will love, the scarf face mask. This is an innovation, combining the comfort and necessity of the face mask with the stylishness of a scarf.
You can wear the mask when you go out and tuck it in when you don't need it.
Here also there are templates for the mask to make it easy to sew. There is no compromise on the functionality of the scarf face mask as it is also designed with filter pockets and nose wire casing.
There are directions to sew trims along the edges of the scarf, which makes it more desirable.
Wait! don't go away! if you don't have the time to sew but you would like to make masks for yourselves, I have something for you too! You can make this no-sew mask in just 7 minutes or so!
Well, you might be wondering how to make a mask without sewing. Here I have an easy tutorial on how to make a no-sew mask from t-shirts.
The tutorial comes with a downloadable template to give the mask the best fit possible. You don't have to sew the ties too, just cut your t-shirt in long strips, pull it and you have a soft stretchy tie ready!
7) 5 Minute Mask from Paper Towel:
Finally, here is a mask that involves no sewing and not even fabric. But I thought I would post it here for my readers who love to DIY other than sewing.
Can you believe it? It is made from just folding our very own kitchen paper towel. For all my masks with removable filter pockets, I have recommended paper towels as filters due to their high filtration efficiency.
Well, here is a mask you can make from the very same paper towel in just 5 minutes. All you need is a paper towel, some hair ties, a washi tape, and just 5 minutes of your time to get this 3D face mask ready.
For more of my DIYs, click here.
For hundreds of free DIYs, visit DIY and Crafts.com
Pin it for later here,
So, that is all about my easy and best face mask sewing projects and I love all of them. You can choose whichever suits your needs and expertise and start making them!