Learn how to make doll clothes with this beautiful collection of doll sewing patterns. Here you will find tutorials for different types of doll dresses, rompers, shorts, and much more. Join me as I take you through a tour of these awesome patterns!
Making doll clothes has been my passion right from childhood days. Over the years, I have seen the preference for the type of dolls change for little children. But, I have managed to design doll clothes for almost all of these dolls.
When my kids were little, they used to play with Barbie dolls, and apart from the doll dresses they received as gifts, I seldom bought doll dresses for them. They were always expensive and me being an experienced seamstress with a passion for sewing doll clothes, chose to sew them instead.
I always save the scraps from kid's dresses to sew little things including dolls' dresses. I am trying to point out that you don't need a lot of fabric to sew doll clothes. You can always sew matching clothes for your little girl's AG doll with the leftover scraps from her dress.
Here I have a plethora of doll sewing patterns, that will help you sew adorable clothes for your little one's AG doll. Each of these 18″ doll clothes patterns is written with clear and explicit instructions to help you make doll clothes easily. The round-up post includes dresses, skirts, pinafores, shorts, rompers, and so on. I shall be adding more as I release new doll patterns!
If you would like to see the DIY tutorial for making doll chairs and tables, click on the picture below.
If you would like to purchase an Ad-free version including all the 11 patterns below, for just $12, Add to Cart here. The patterns will be e-mailed to you in PDF format.
11 Ways to Make AG Doll Clothes
1) Free 18- Inch Doll Dress Pattern
This is the first doll dress pattern I designed. The doll dress can be made from rectangular pieces that can be easily assembled, making this pattern a favorite among my beginner readers. There are options to mix and match fabrics for the ruffle and straps to create variety.
2) Midi/ Maxi Dress For Dolls:
This halter-style doll dress can be made in midi and maxi lengths. It has a tie-back design that makes it easy for on and off. You can keep it simple and plain for a quick- sew or add embellishments like a rick rack or lace to bring the store-bought feel.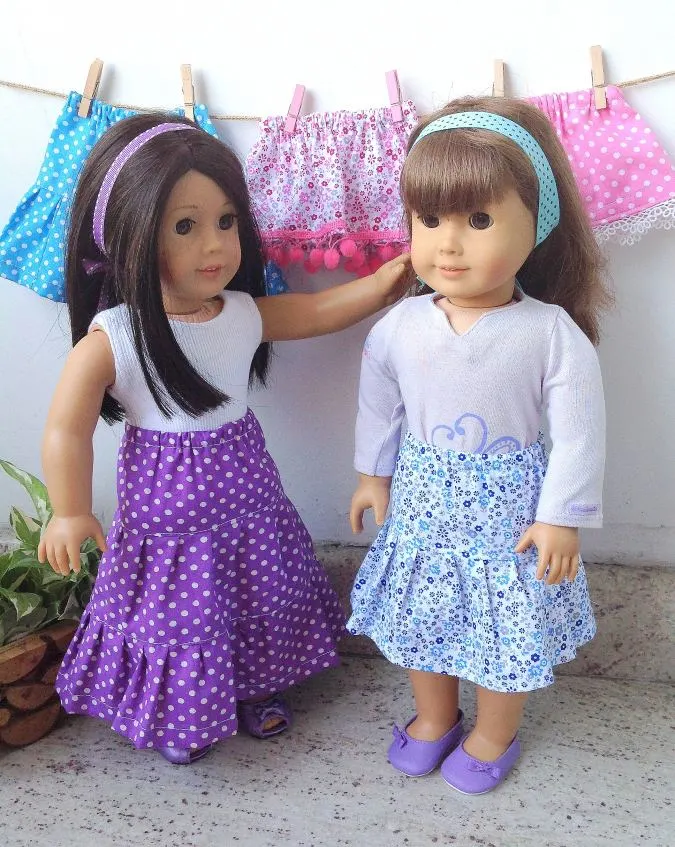 I don't have to mention why it became an instant hit among my readers. The name clearly suggests that. This is one of the simplest and quickest American Girl doll patterns that gives you all the directions you need to make doll skirts in a jiffy. Make it in mini, midi, and maxi lengths to add variety to your little girl's doll wardrobe.
Well, peasant dresses are a favorite in every little girl's wardrobe, and if she has a matching one for her AG doll, there would be no limits to her joy. This is a beautiful doll peasant dress sewing pattern with ruffles along the hemline. Make them in bright colors (like me) to bring in the summer fun.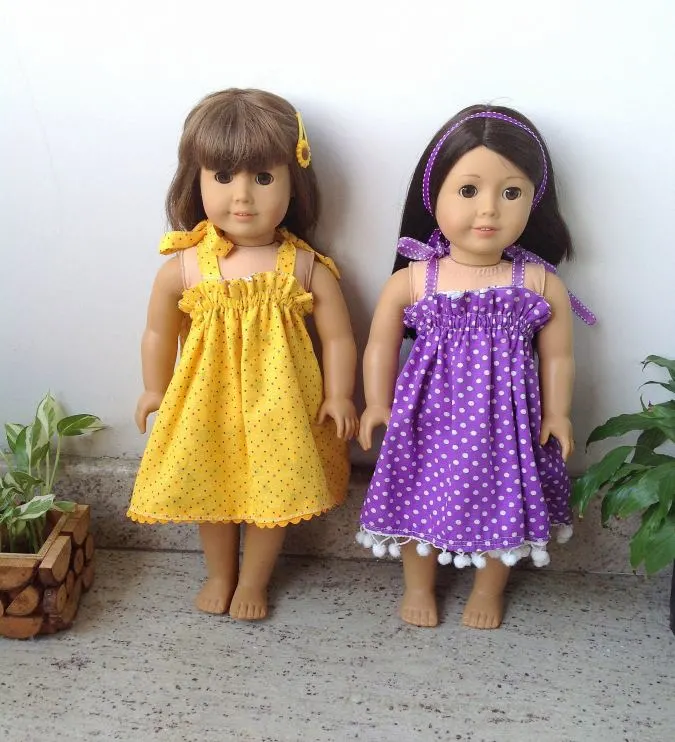 This is again one of my free 18 inch doll clothes patterns, you will find nowhere else on the internet. This two-in-one dress is designed with flutter sleeves along the chest and tie straps along the shoulders to make it more adorable.
Doesn't this dress with a classic style yoke look adorable? What if you can get the pattern pieces and the sewing tutorial free? Well, try the pattern as a handmade gift for your loved little one and I am sure she will adore it!
7) Doll Romper
No American Girl doll clothes patterns collection can be complete without a romper. This is a simple bubble romper pattern that can be made for your little girl's doll. Mix and match different fabrics for the top and shorts part to create boutique-style doll rompers.
I know Valentine's day is over but here is something awesome you can sew for the AG doll with matching pinafores for your little girl, a doll heart pinafore for her doll! With a heart-shaped bib, this beautiful pinafore is also a unique doll pattern that you will not find anywhere else.
I believe no doll sewing patterns collection can be complete without a pillowcase dress for dolls. This lovely pillowcase dress can be made in two ways; one with panels of contrasting fabrics or as a simple pillowcase dress.
10) Doll Shorts
This is also a staple in any AG doll closet. These shorts can be made with a contrasting hemline and waistband for a more colorful look. The elasticized hemline offers the perfect fit for your AG doll!
11) Doll Pinafore
Do you want to sew something to pair with the above doll shorts pattern? Then sew this doll pinafores to go with it. This is a back-open pinafore pattern with a lovely ruffle that runs along the entire hemline. It is a miniature replica of one of my best-selling pinafore patterns for girls.
For more free patterns, visit allfreesewing.com
Pin it for later here: