How do you like these fruity paper fans? The watermelon fan and the citrus fans? Don't they look fun and colorful? Aren't you tempted to make them yourself?
These DIY fruit paper fans would be great summer crafts for your kids. They can also be great fun crafts with popsicle sticks and paper for adults too!
This summer, keep your kids engaged in crafting these cool and colorful paper fans. Cut paper pieces, glue them here and there, give a few touches with the coloring pens and lo you have colorful paper fruit fans ready.
These fruit fans are made by attaching popsicle sticks to paper. Do away with the popsicle sticks, glue the ends of the fan together, and lo you get colorful fruit fans for a fruit theme birthday party!
If you would like to see a kid's craft on paper plate animals, click on th picture below: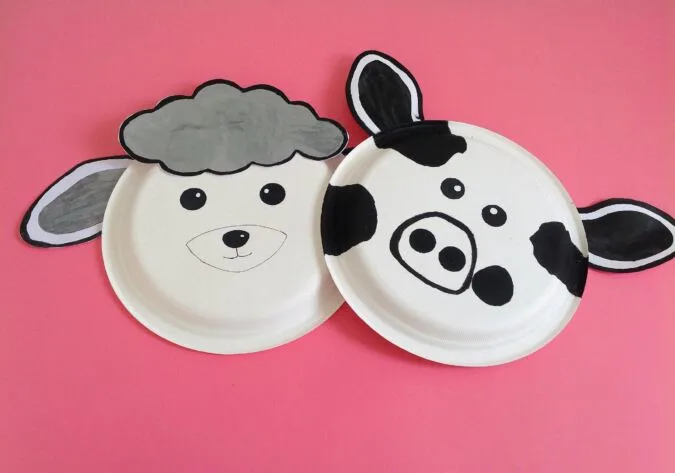 Fruit Paper Fan Craft for Kids
Supplies Needed:
Red cardstock paper- Two A4 size sheets.
Dark green and light green colors- One A4 size each.
Popsicle sticks 7- inches long- Two.* You may need four if you are using a shorter one and you glue two together to get a long one).
A small piece of yarn or embroidery floss in a matching color to tie the fan along the center.
Black coloring pen.
Scissors.
Glue stick.
**You will be making the fan by joining two papers, folded in accordion style.
Repeat on the other red piece, with the remaining green paper strips and the coloring pen.
Next, we need to fold the fan, accordion style.
Repeat on the other piece.
Citrus Paper Fan
For the citrus fruit fan, you need:
2 orange or yellow strips for the fan body.
4 white paper strips, 0.5 inches wide and 7.5 inches long.
4 white strips 0.5- inches wide and 7- inches long.
Pin it for later here,