Looking for easy and fun crafts to keep your little one engaged and entertained? Here are 40 summer craft ideas for preschoolers that are fun and easy for your little one.
Each of these crafts needs very little supplies and most of them can be made from things around your home. These are all fun and colorful summertime crafts, that your little one would enjoy making and I am sure you would love the end product too!
40 Summer Craft Ideas for Preschoolers
1) Fun and Easy Paper Plate Fruit Crafts for Kids
Looking for a fun and engaging summer craft activity for preschoolers? Look no further! These paper plate fruit crafts are perfect for keeping little ones entertained and excited.
With these simple and easy crafts, kids can create their very own fruit masterpieces with minimal adult supervision. From vibrant watermelons to juicy oranges, this summer craft for preschoolers is not only fun but also educational, encouraging creativity and fine motor skills. Let the fruity fun begin!
2) Fruit Paper Fan Craft for Kids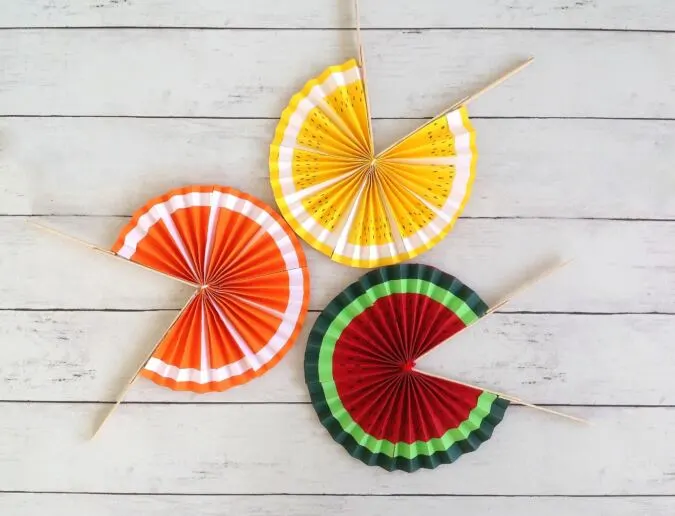 Get ready for a fun and engaging summer craft activity with these DIY fruit paper fans! Perfect for kids and adults alike, these colorful fans are easy to make and provide hours of entertainment.
Simply cut out paper pieces, glue them together creatively, and add some vibrant touches with coloring pens. Before you know it, you'll have a collection of cool and colorful fruit-themed fans that are ready to keep you cool all summer long. Let your creativity shine with this delightful craft project!
3) Paper Towel Roll Minions Craft
Create your own adorable Minions with just a paper towel roll and some basic craft supplies! This free DIY craft project is perfect for unleashing your kid's creativity and adding a touch of whimsy to her study table.
Simply paint the paper towel roll yellow, add googly eyes, and use colored paper to create their iconic goggles and hair. Let your imagination run wild as you personalize each Minion with unique expressions and accessories. It's a fun and easy craft for Minion fans of all ages!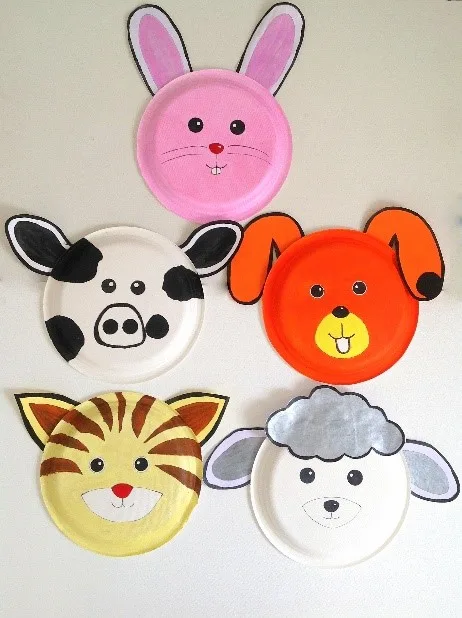 Here again, is a fun paper plate craft activity for kids, Paper Plate Animals Craft! This free DIY project is perfect for children of all ages. Using simple materials like paper plates, colored paper, scissors, and glue, kids can create their own adorable animal faces.
From cows and sheep to dogs and rabbits, the possibilities are endless. This craft not only encourages creativity and imagination but also improves fine motor skills as children cut, glue, and decorate their paper plate animals. Get ready for an exciting and wonderful crafting adventure!
5) DIY Paper Feather Wall Hanging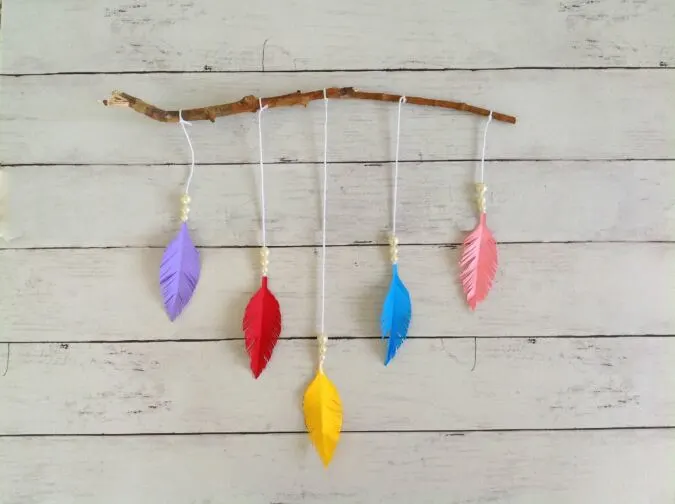 Discover the joy of crafting with this delightful tutorial for creating a paper feather DIY wall hanging. This fun and creative project is perfect for both kids and adults, allowing them to explore their artistic side while creating a stunning decorative piece for any space.
Follow the step-by-step instructions to make beautiful paper feathers that mimic the elegance of real feathers, and learn how to assemble them into a captivating wall hanging. Unleash your imagination and enjoy a rewarding crafting experience with this wonderful tutorial.
The Paper Plate Ocean Craft is a fun and engaging activity designed specifically for preschoolers. This hands-on craft allows children to explore and learn about the wonders of the ocean while unleashing their creativity.
Here again, using simple materials like paper plates, markers, and construction paper, preschoolers can transform their plates into vibrant ocean scenes. They can draw colorful fish, and beautiful coral reefs, and even add glitter and stickers for an extra touch of sparkle.
The apple basket craft is an excellent activity for kids during the fall season. It serves as both a fun craft and an educational tool, making it perfect for preschoolers and kindergartners.
Engaging in this craft allows children to enhance their fine motor skills while having a great time. The process of creating the apple basket involves cutting, coloring, and assembling various materials.
8) Tissue Paper and Paper Plate Turtle Craft
Create a fun and easy turtle craft with kids using simple materials like tissue paper and paper plates. The kids can easily make it by gluing colorful tissue paper pieces to the plate to get the turtle shell ready.
This adorable tissue paper and paper plate turtle craft come with downloadable templates, making it as fun and exciting as ever.
9) Popsicle stick chick magnets
Introducing Popsicle Stick Chick Magnets, a delightful craft activity designed to spark creativity and fun for kids! Your little ones can easily follow the tutorial and create adorable chick magnets using popsicle sticks, craft paint, googly eyes, and magnetic strips.
Let their imaginations soar as they assemble and decorate their very own feathered friends. These charming chick magnets not only make for fantastic fridge decorations but also serve as an excellent way to introduce young minds to the joys of crafting and imaginative play.
10) Recycled Cardboard Tube Cacti
The Recycled Cardboard Tube Cactus is a fun and eco-friendly summer craft project perfect for kids! This summer craft tutorial would teach them to create adorable cactus characters using recycled cardboard tubes.
Kids can unleash their creativity by painting and decorating the tubes to resemble different types of cacti. This hands-on activity promotes recycling awareness and artistic expression while providing hours of imaginative play for children.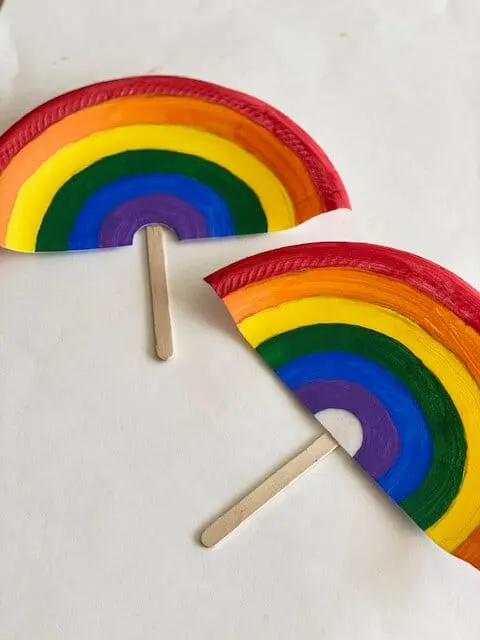 Introducing the ultimate solution for keeping kids cool and entertained during the hot summer days – Rainbow Paper Plate Fans! This exciting and simple recycled craft project is guaranteed to bring joy and relief to children everywhere.
With just a few basic supplies, including paint, a paper plate, and a popsicle stick, kids can unleash their creativity and create vibrant and cheerful fans. These delightful fans are not only a fun craft activity but also serve as a practical tool for beating the heat.
This easy octopus craft is perfect for preschoolers, requiring just a few basic materials. All you need is some colored paper or cardstock, a pen or pencil, and glue. This adorable activity is a great addition to a sea life theme or to celebrate World Ocean's Day.
The simplicity of the craft also allows for easy adaptation, making it suitable for creating a squid craft as well. Let the children's creativity flow as they bring these marine creatures to life!
13) Popsicle Stick Tractor Preschool Farm Craft
The Popsicle Stick Tractor Preschool Farm Craft is a delightful educational activity designed for preschoolers. This craft allows young children to explore the world of farming and tractors through hands-on creativity.
Using colorful Popsicle sticks, children can construct their very own mini tractors. With the guidance of a teacher or parent, they can assemble the sticks and add wheels with glue. This engaging craft promotes fine motor skills, imaginative play, and introduces children to basic concepts of farming and agriculture.
14) Paper Plate Jellyfish Craft
Create a whimsical underwater scene with this delightful Paper Plate Jellyfish Craft. Transform a plain paper plate into a mesmerizing jellyfish using simple materials.
Hang your finished creation from the ceiling or display it on a wall to bring a touch of aquatic charm to any space. This craft is perfect for children and adults alike, offering a fun and imaginative way to explore the wonders of the ocean.
15) Easy Paper Bag Bird Nest Craft
Create a charming and simple paper bag bird nest craft with just a few materials! If your little ones love animals and birds, this is perfect summertime craft for them.
Fill the nest with colorful paper eggs or soft feathers for a delightful touch. Admire your adorable and eco-friendly bird nest craft that can serve as perfect spring or nature-themed decorations as well!
16) Colourful Spring Paper Plate Flower Craft
Introducing the Enchanting Spring Paper Plate Flower Craft, an exciting and interactive project tailored for small hands. This lively activity invites children to tear, crumple, and attach vibrant paper pieces onto a simple paper plate, offering a fantastic opportunity for fine motor skill development.
This fun process will charm toddlers and preschoolers, while older children can explore their creativity by crafting intricate designs and patterns. This craft is perfect for families with diverse age groups and abilities, as each individual can engage and relish the activity in their own distinct manner, fostering a delightful and inclusive experience.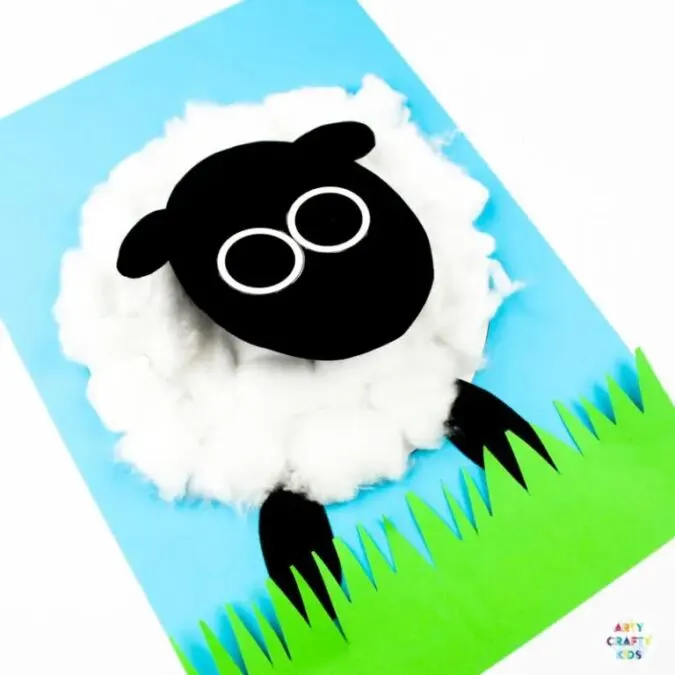 Introducing the delightful 3D Spring Lamb Craft! This craft exudes a playful charm that is sure to captivate children. The adorable lamb's bouncy nature adds an extra element of fun to the experience, making it a cherished favorite among kids.
Let your kid's imagination spring to life as they embarks on this delightful crafting adventure!
Crafted with care and creativity, these bird binoculars are designed to enhance your child's bird-watching adventures. Each pair is uniquely decorated, allowing children to express their individuality and artistic flair.
From vibrant colors to imaginative patterns, these binoculars are as unique as the birds they'll spot. Encourage your child's curiosity and foster a deeper connection with nature through this engaging summer craft for pre-schoolers. Let their imagination soar as they explore the world of birds with their very own Bird Finder Binoculars. The joy and wonder of discovery await!
Paper Plate Snail is a delightful and imaginative activity that brings joy and creativity to children. With this fun craft, children can let their imaginations run wild as they design snails with hilariously silly shells.
Using simple materials like paper plates, paints, and craft supplies, kids can transform ordinary objects into extraordinary creatures. Whether it's adding googly eyes, colorful patterns, or even glitter, each snail becomes a unique masterpiece.
Introducing our adorable Butterfly Handprint Cards! These charming creations are not only delightful to behold but also carry a heartfelt personal touch. Each card is made using your child's handprint, making it a truly special keepsake. The vibrant colors and intricate details of the handprint butterfly bring a sense of joy and wonder.
Whether it's for a birthday, Mother's Day, or just to brighten someone's day, these cards are sure to leave a lasting impression. Give the gift of creativity and sentiment with our Butterfly Handprint Cards Kid's craft!
This simple shape pencil craft is a fun and creative summer craft for pre-schoolers. To make it, you will need some colored construction paper, scissors, glue, and a pencil. This craft not only helps develop their fine motor skills but also introduces them to basic shapes in a hands-on and engaging way.
22) DIY Tambourine Craft for Kids
Looking for a fun and creative craft activity for kids? Look no further than this exciting DIY Tambourine craft! This hands-on project is perfect for children to explore their artistic side while making their very own musical instrument.
Using simple materials like paper plates, jingle bells, and colorful decorations, kids can personalize their tambourines and let their imaginations soar. With easy-to-follow instructions, this craft will provide hours of entertainment and encourage musical exploration. Let the rhythm begin with this delightful DIY Tambourine craft for kids!
Introducing the innovative Cardboard Laptop Craft! This creative and eco-friendly project allows you to construct your very own laptop using recyclable cardboard materials. With its step-by-step instructions, your kids enjoy a fun and engaging crafting experience.
Customize your kid's laptop's exterior with vibrant colors, patterns, or even your own artwork. The Cardboard Laptop Craft encourages resourcefulness, imagination, and sustainability, making it a perfect activity for both kids and adults. Unleash your creativity and assemble a unique, functional, and environmentally-friendly laptop today!
24) Toilet Paper Roll Binocular Craft
The Toilet Paper Roll Binoculars Craft is ideal for young bird watchers or aspiring adventurers, providing them with their very own binoculars to embark on exciting explorations. Made from recycled materials, it promotes environmental consciousness and creativity.
Suitable for children of all ages, this kid's summer craft is both fun and educational, fostering imaginative play and outdoor exploration. Get ready for endless hours of discovery and excitement with these adorable toilet paper roll binoculars!
25) Cotton Pad Turtle Craft for Preschoolers
The Cotton Pad Turtle Craft is a fun and engaging activity designed specifically for preschoolers. This summer craft idea for preschoolers allows young children to unleash creativity while developing fine motor skills.
Using basic materials such as cotton pads, glue, and googly eyes, preschoolers can easily create their own adorable turtle. They will enjoy sticking cotton pads together to form the turtle's body and adding googly eyes for a playful touch. This hands-on craft encourages imagination and provides a wonderful opportunity for preschoolers to explore textures and shapes.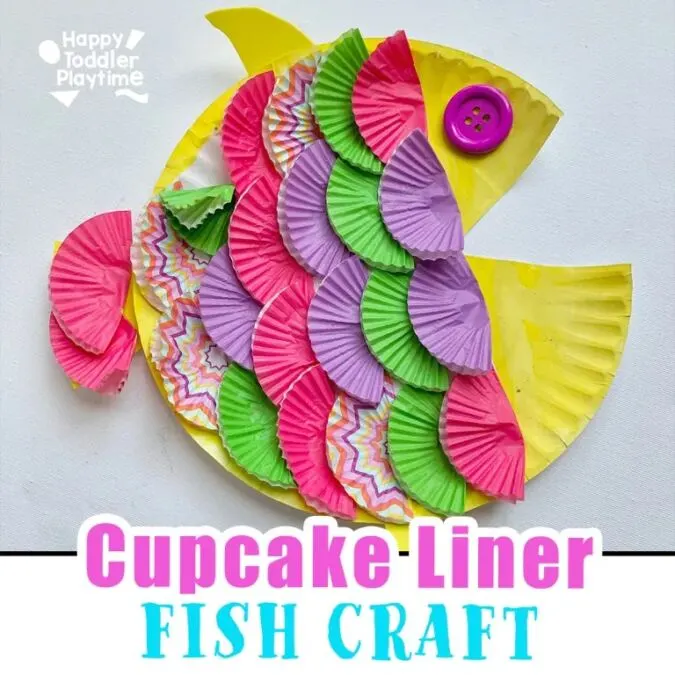 The Cupcake Liner Fish Craft is again a delightful and engaging summer craft project designed specifically for preschoolers. This activity can be enjoyed throughout the year, offering endless creative fun.
By using colorful cupcake liners, children can transform them into fins, giving their fish a charming and vibrant appearance. This adorable under-the-sea craft allows kids to explore their imagination and develop fine motor skills.
27) Milk Carton School Bus Craft for Kids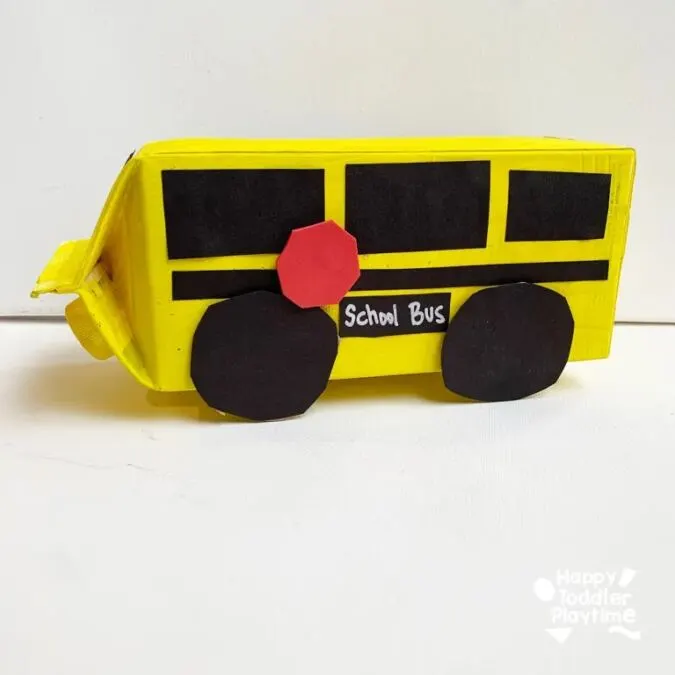 The Milk Carton School Bus Craft is a delightful educational activity perfect for preschoolers and kindergartners. This simple craft allows children to transform recycled materials into charming school bus.
By encouraging creativity and hands-on participation, this craft promotes fine motor skills, environmental awareness, and reinforces the concept of transportation in a playful and interactive way.
28) Handprint Apple Tree Craft
The Handprint Apple Tree Craft is a delightful and easy-to-make project that can be enjoyed both at home or in a classroom setting. This craft allows children to showcase their creativity and imagination with just a few supplies.
By using their handprints as tree trunks, children create a unique apple tree design. The craft encourages fine motor skills, hand-eye coordination, and artistic expression. It's a fun activity that celebrates nature and fosters a love for arts and crafts.
The paper mushroom craft is a delightful and whimsical DIY project that brings a touch of nature indoors. With just a few simple materials, kids can create these charming paper mushrooms that resemble the real thing.
Using colorful construction paper or cardstock, kids can cut out mushroom cap shapes and attach them to sturdy paper stems. Once completed, these paper mushrooms can be used as decorations, placed in a fairy garden, or used as props in imaginative play.
Engage your kids in a delightful Thanksgiving activity while you focus on preparing the grand feast! These charming Thanksgiving hats are the perfect craft for little ones. Let their creativity soar as they design and personalize their own festive headwear.
From colorful feathers to vibrant fall leaves, they can adorn their hats with all things autumnal. With easy-to-follow instructions and a variety of materials provided, these hats will not only keep your children entertained but also add a touch of holiday spirit to their attire. Let the Thanksgiving fun begin!
These popsicle stick star wands are delightful and whimsical crafts that add a touch of fun and festivity to the 4th of July celebration. With just a few basic craft supplies, kids will be able to create these enchanting wands in no time.
While we'll outline the materials we used, your kids can feel free to get creative and substitute any materials they have readily available at home. Get ready to embark on a crafting adventure that will bring joy and sparkle to patriotic day!
Experience the joy and excitement of celebrating Independence Day with a safe and whimsical twist! Introducing our vibrant and playful pom-poms, the perfect alternative to traditional fireworks.
Their fluffy texture and vibrant colors add a touch of magic to the 4th of July celebrations. Now, with the safety of our toddler in mind, we've crafted a special sparkler-inspired pom-pom for little ones to twirl and enjoy. Let your child's imagination soar as they embrace the festivities with their very own dazzling sparkler!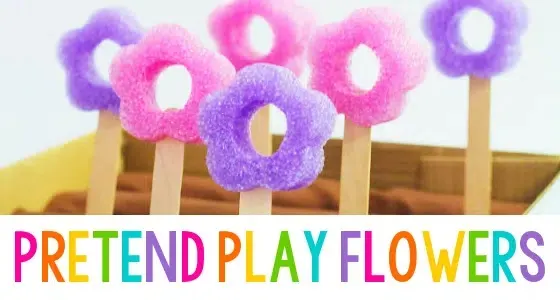 Step into the enchanting world of the Pretend Play Garden, where imagination blooms and adventure flourishes! This vibrant play space invites children to explore a magical garden setting, complete with colorful flowers.
Young adventurers can pretend to plant and tend to their own flowers, interact with friendly insects, and embark on exciting quests. With each step, their creativity blossoms, fostering a love for nature and imaginative play. The DIY Pretend Play Garden is a delightful haven where children's imaginations take root and flourish.
34) DRAGONFLY CRAFT FOR PRESCHOOLERS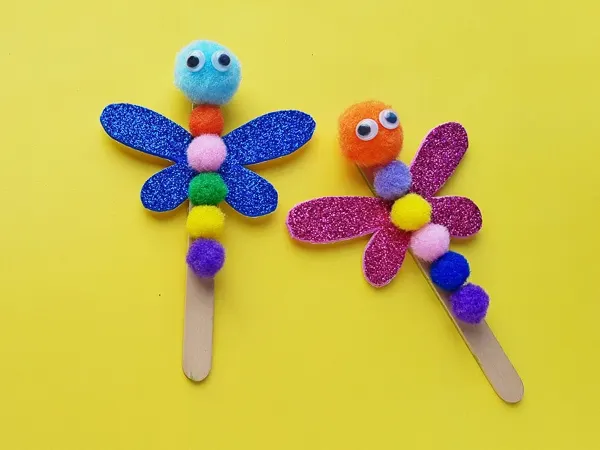 Introducing the enchanting dragonfly craft, a specially designed summer craft for preschoolers! This delightful project combines colorful pom poms, sparkly glitter foam, and charming googly eyes to create a whimsical masterpiece.
As children embark on this imaginative journey, they'll be captivated by the vibrant colors and adorable features of their dragonfly creation. With its cute and endearing design, this spring craft is sure to bring joy and excitement to young minds.
35) HOW TO MAKE SPRING CRYSTAL FLOWERS WITH KIDS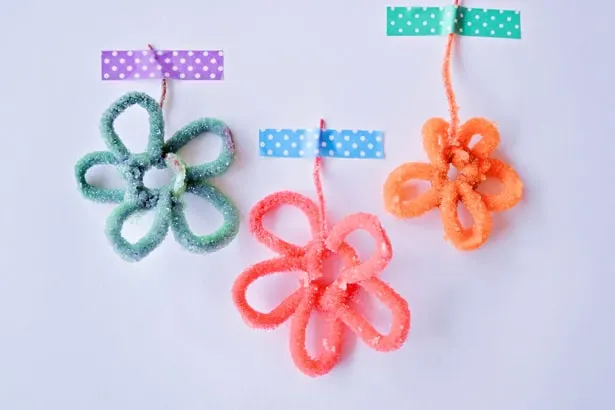 Making spring crystal flowers with kids is a fun and creative activity that combines science and art. Get your kids excited about crafting with spring crystal flowers!
This easy summer craft requires minimal raw materials, making it perfect for little ones. Watch their creativity bloom as they create dazzling flower designs that capture the essence of the season. Let the crafting fun begin!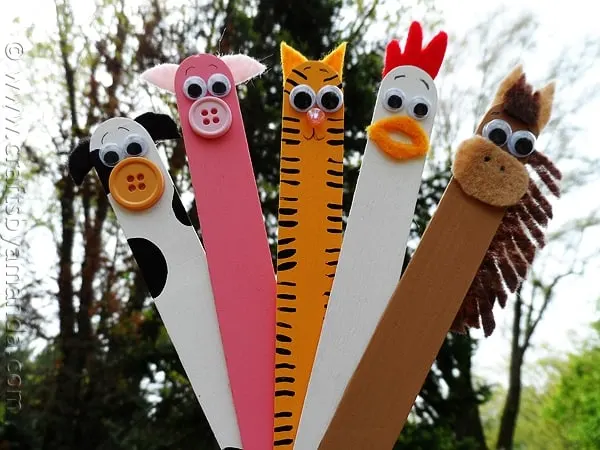 Craft sticks, with their versatility and affordability, offer endless possibilities for creative projects. In this barnyard-themed creation, these humble sticks transform into an adorable menagerie of animals. Delightful cows, horses, pigs, chickens, and more come to life in the form of craft sticks.
Each character showcases the ingenuity and imagination that can be brought to life with these simple yet versatile surfaces. Explore the boundless potential of craft sticks and let your kid's creativity soar as you craft your own charming barnyard scene
37) QUICK CRAFT: CRAFT STICK BRACELETS
Let your little ones embrace their creativity with craft stick bracelets—a delightful summertime craft! This kids' craft project is fun and easy, requiring only craft sticks and a dash of imagination. Watch as their smiles grow while they design and wear their own unique bracelets. It's crafting fun for sunny days!
38) CRAFT STICK HARMONICAS…A FUN PROJECT FOR KIDS!
Craft Stick Harmonicas are a delightful and engaging project perfect for kids! This hands-on activity combines creativity with music, making it both educational and entertaining. By using simple materials like craft sticks, rubber bands, and wax paper, children can construct their very own miniature harmonicas.
They will enjoy decorating the craft sticks and assembling the components, and then experience the joy of playing their homemade musical instruments. Craft Stick Harmonicas promote fine motor skills, artistic expression, and a love for music, providing hours of fun for young ones.
Looking for an easy and fun summer craft for kids? Try making a craft stick wreath! This simple and creative project involves arranging colorful craft sticks in a circular manner.
It's a fantastic way to keep kids engaged and inspired during the sunny season!
Make sure to try out this adorable pom-pom caterpillar craft, which is an absolute must for toddlers and preschoolers! It serves as an ideal craft project to accompany the beloved tale of "The Very Hungry Caterpillar."
You'll create a delightful scene with a caterpillar nestled on a green leaf, showcasing its signature nibbled bites. Simply follow the easy step-by-step instructions provided below to craft your own enchanting caterpillar masterpiece!
Hope you and your kids loved my collection of 40 adorable summer craft ideas for preschoolers that I listed here. Have a happy summer!
Pin it for later here,