Girls skirt sewing patterns are something I love. It gives me a sense of satisfaction to complete sewing something so easily and quickly. They are great as beginner sewing projects too, as they usually don't involve much-complicated sewing.
So, if you have little humans around your home or you have a little one's birthday coming up, you can easily whip up one! Mix and match vibrant fabrics to dress her up in fancy clothing and pair it with a simple tee or top for summer play, the options are endless!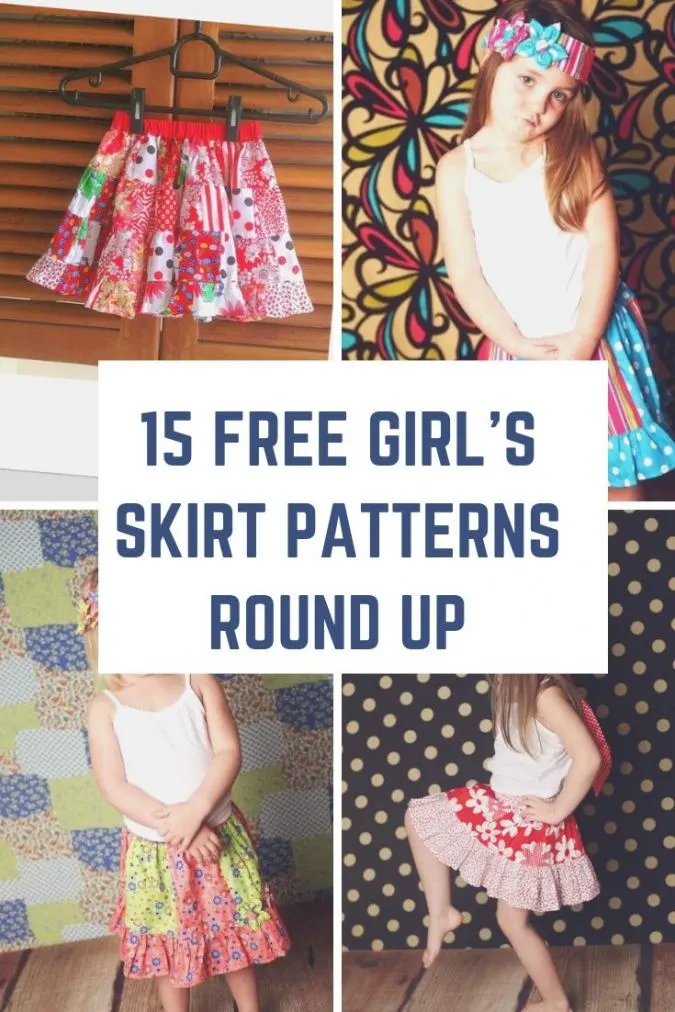 Here I have put together 15 girl's skirt sewing patterns, that are easy to sew. They are cute and pretty for your little fashionistas.
They are all free patterns and most of them are available in multiple sizes. You can complete almost all of them in an hour or so!
15 Girls Skirt Sewing Patterns Round-Up
1) Simple Circle Skirt
Simple Circle Skirt by Crazy Little Projects
This is a perfect summer skirt pattern for your little girl. It is quick and easy to sew and can be done by a beginner seamstress. What more can you ask for when you get directions to sew these skirts in any size or age!
2) Flexible Waist Skirt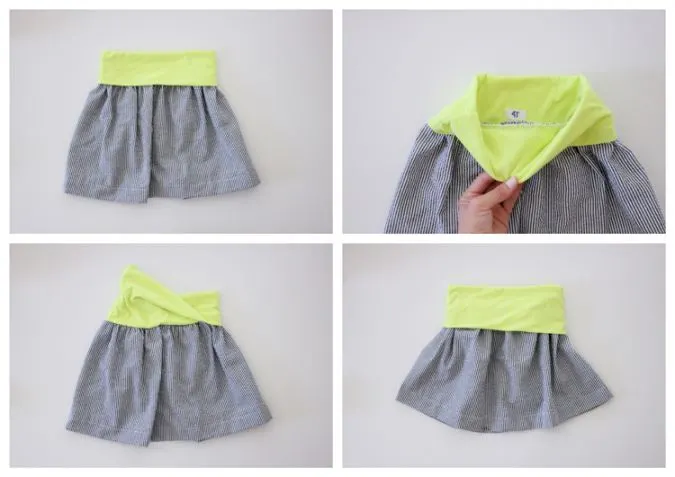 Girl's Flexible Waist Skirt by Delia Creates
This is an adorable skirt pattern, available from newborns to juniors in size. The pattern has explicit instructions and complete charts for yardage and measurements.
The skirt pattern has a yoga knit waistband, which not only makes it comfortable but also allows it last longer as the child grows.
3) Easy Peasy Skirt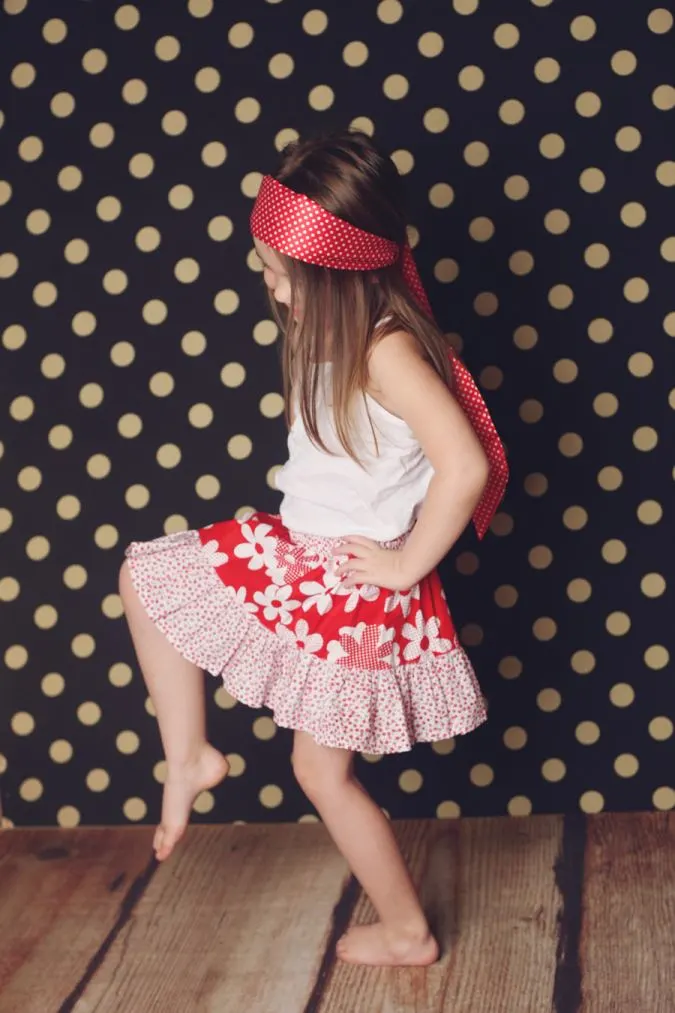 Easy Peasy Skirt from Sewcraftyme
This is a cute girly skirt with extra wide ruffles. This is also a girl's skirt pattern, which is very easy and quick to work up. The pattern is available from size 2 to 10.
You can mix and match fabrics for the ruffle, skirt body, and waistband to sew a designer style skirt!
4) Easy Draw String Skirt
Easy Draw String Skirt from Melly Sews
This is an easy drawstring skirt sewing pattern with pockets. The pattern has a measurement chart and instructions to sew skirts from 6 months to women's sizes!
5) Te In Between Skirt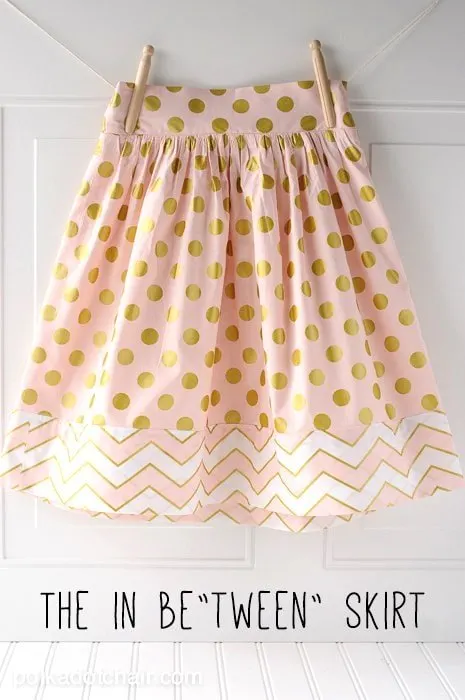 The In Be Tween Skirt by Polka Dot Chair
One of a kind skirt pattern, perfect for the in be "tween" years! The skirt has a flat front for a better fit and an elastic waistband for easy on and off! Let your tween pair it with a t-shirt to wear it to school or even for church.
6) Little Girl's Skirt from Old Jeans
Little Girl's Skirt from Old Jeans by Skip to My Lou
If you have a little girl who has outgrown her old jeans, don't throw it away. Turn it into a cute little skirt with this easy and quick tutorial.
There is not too much to sew as most of the seams in the jeans are used as it is. So, what are you waiting for? grab your notions and get ready to whip up this refashioned skirt in minutes!
7) Paneled Skirt
Paneled Skirt from Sewcraftyme
Yet another scrappy skirt pattern that is a stash buster. Easy to put together, this pattern has instructions and complete yardage and measurement charts from sizes 2 to 10 years.
8) Reversible Pompom Trim Skirt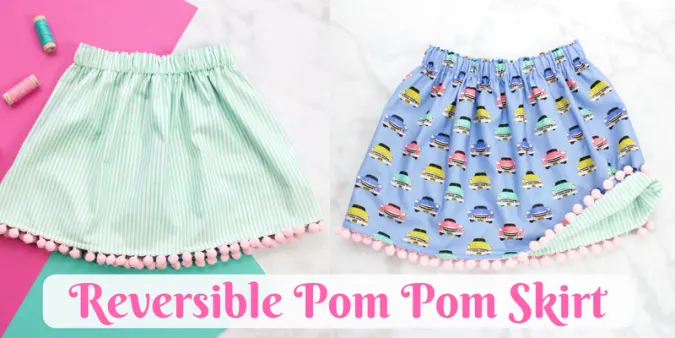 Reversible Pompom Trim Skirt from Sweet Red Poppy
Maybe you are so busy but still, you need to sew something cute and desirable. Here is the right project for you.
This is a skirt pattern, you can complete in one sitting. This is skirt pattern is reversible and the pompom makes it even more desirable!
9) The $5 Tulle Ruffle Skirt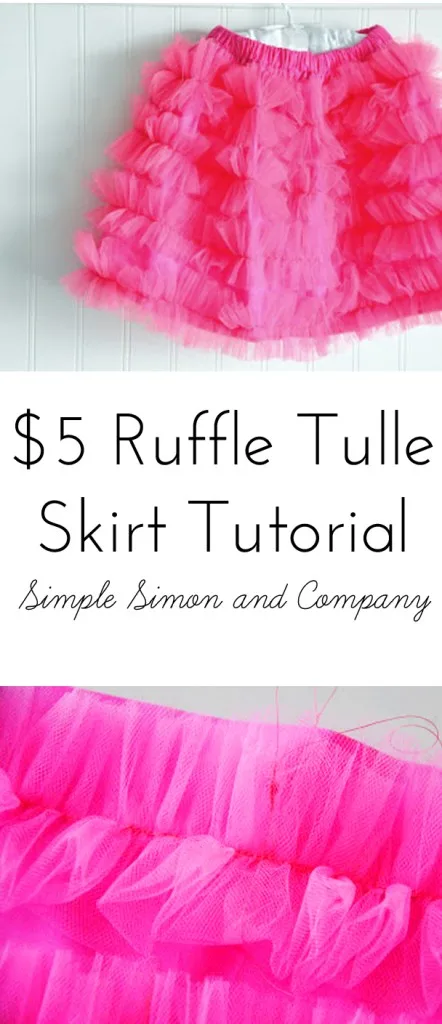 $5 Tulle Ruffle Skirt from Simple Simon and Co
Tulle is fun to work with. It makes the finished product look awesome, plus you don't need to spend time and energy finishing the edges! Sew this tulle skirt with multiple ruffle layers and watch your little one's eyes sparkle.
10) Scrap Skirt
Scrap Skirt from Sewcraftyme
Yet another scrap buster project that is adorable. This skirt pattern is fun to whip up and has a lot of options to mix and match fabric colors and prints.
11) Tulle Overlay Skirt
The Tulle Overlay Skirt from Me Sew Crazy
I adore this skirt pattern. Love the design with the cotton lining and the tulle overlay. This is a pretty skirt, perfect for tweens. Easy sewing project, with delightful results!
12) Shirred Skirt
Shirred Skirt by Make it and Love it
This is another skirt I love. The shirring along the waistline makes it unique and cute enough. It also gives the necessary fit for the skirt.
13) Reversible Skirt
Reversible Skirt by Sewcraftyme
Here is a skirt sewing pattern that will give you instant gratification, the reversible skirt! This skirt is so simple that it can be a perfect beginner sewing project.
All you need are a few fabric pieces and a few straight line stitches, to whip up this two- in- one skirt.
14) Flat Front Skirt
Flat Front Skirt by Scattered Thoughts of a Crafty Mom
Maybe you love the look of a flat front, yet you need the comfort of an elastic waist. Then, this skirt pattern is the right choice.
Available from sizes 2 to 16 years, the lower panel gives options to mix and match fabrics and renders it glamorous enough!
15) Circle Skirt in 20 Minutes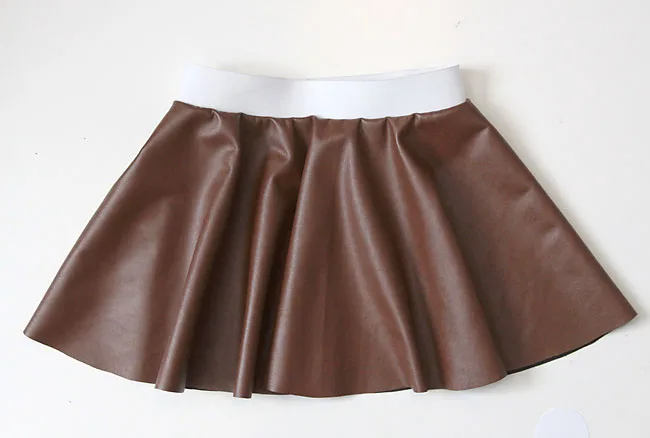 Circle Skirt in 20 Minutes from Its Always Autumn
The circle skirt pattern, that is fun to sew and to wear. With simple instructions and explicit photographs, you will learn to sew the skirt in 20 minutes!
If you would love to see more of my girl's patterns, click here.
If you would love to see more free patterns, visit allfreesewing.com
Pin it for later here,