Have you ever tried to sew your own dress? If you're looking for some fabulous free dress patterns for women, you've come to the right spot!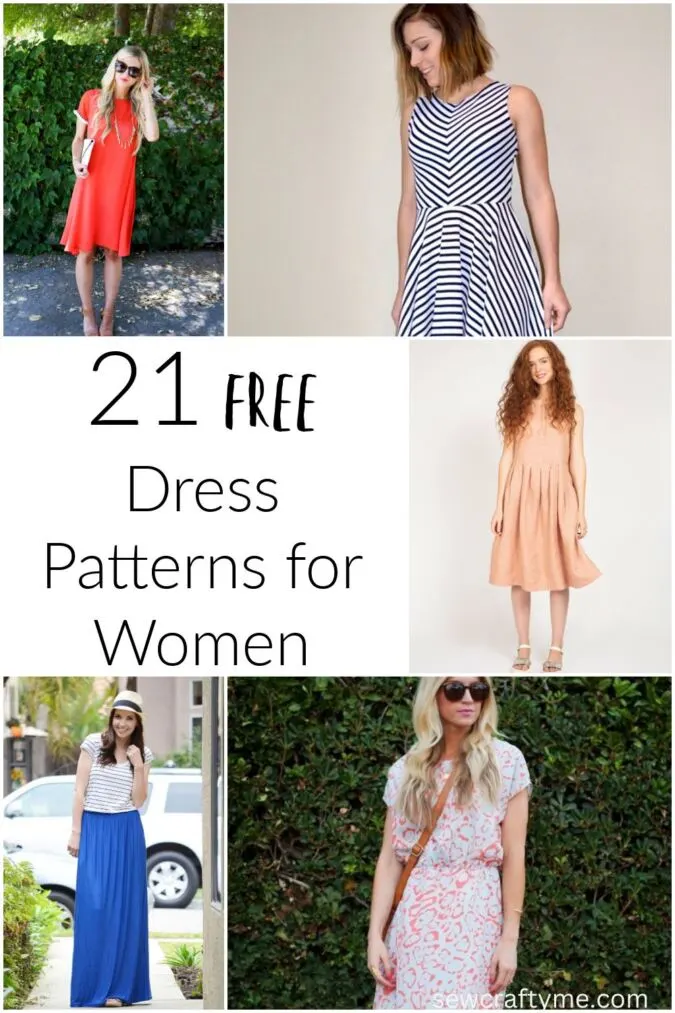 These women's patterns for dresses are easy to follow, and there is something for nearly every occasion. Whether you're looking for a holiday dress, a summer dress, or something more formal, there is a women's dress pattern here to choose from.
Follow the guide below to find a women's dress sewing pattern you love and enjoy – both making and wearing!
If you would like to learn how to draft your own peasant top, click on the picture below: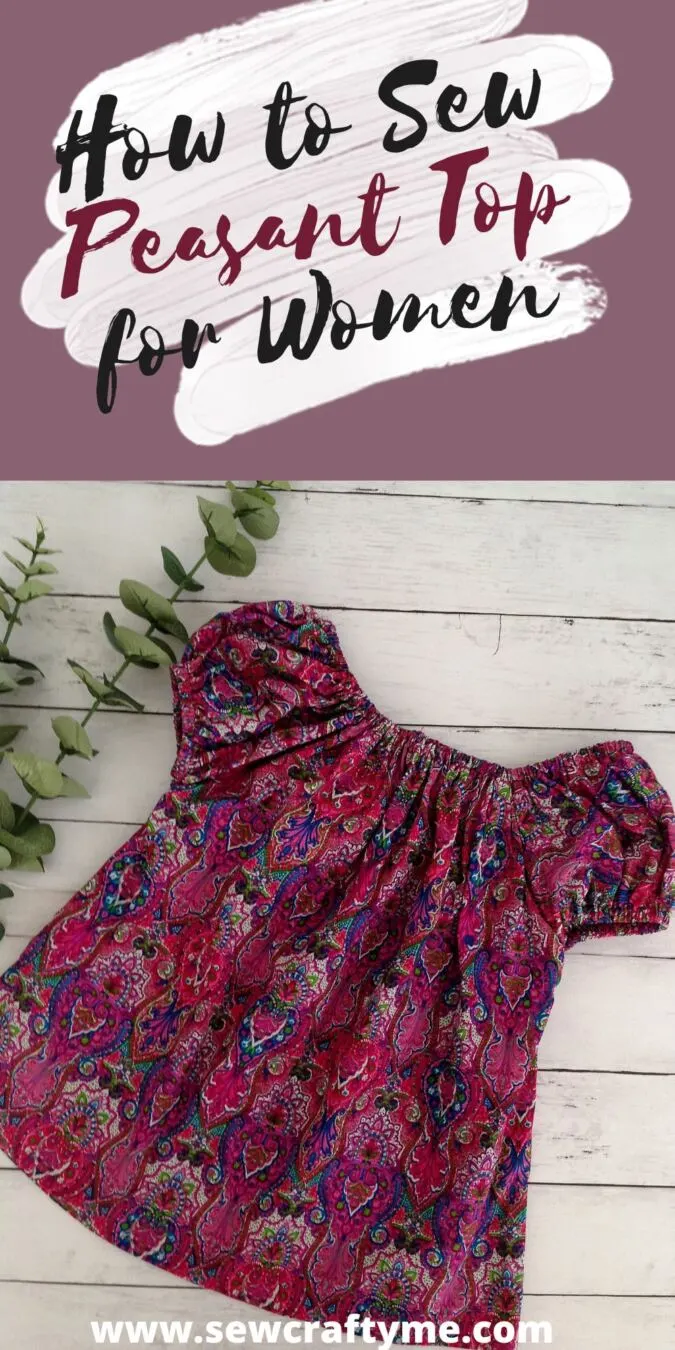 21 Free Dress Patterns for Women
1. Shirred Maxi Dress from Happiestcamper.com
This shirred maxi dress is a great sewing pattern if you love using and sewing different fabrics. If you would like to learn shirring with elastic thread, you are at the right place!
This maxi dress pattern has two hem options and can be made in an hour. So, would you like to start making it right away?
2. Striped Dress from The Littlestudio.com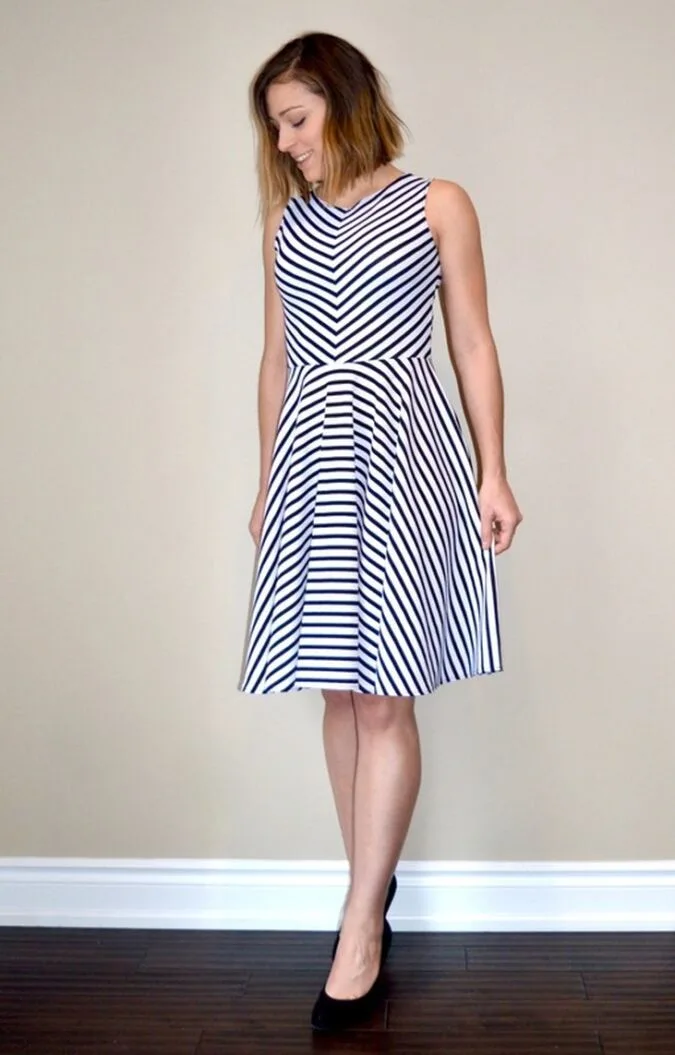 This striped women's dress sewing pattern is so awesome, you will just fall in love with it. There is a downloadable template for the bodice that makes sewing the dress a breeze.
You can experiment with fabrics with different stripe widths and colors to create a great casual wardrobe option for the warmer months!
3. Red Swing Tassel Dress from Leannebarlow.com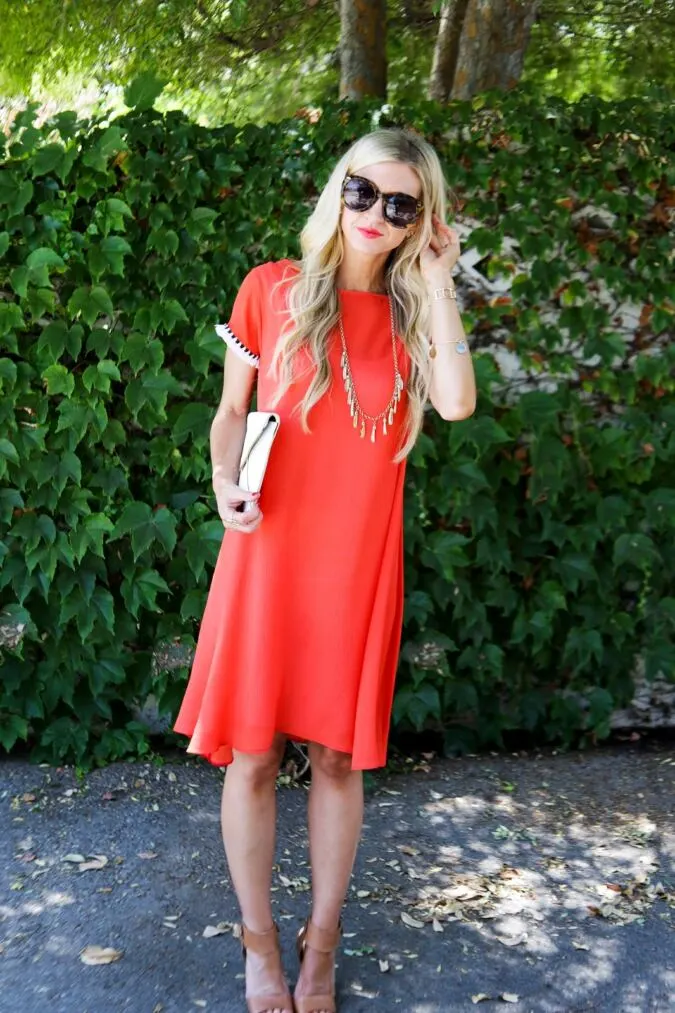 This is one of the dress patterns for women that do not have a separate yoke. This swing dress pattern is designed with tasseled lace on the sleeves to make it even more flattering.
Make this lovely dress in lightweight fabrics like chiffon or georgette for a flowy swing dress.
4. Side Slit Maxi Dress from Leannebarlow.com
This side-slit maxi dress is one of the more playful sewing projects on the list, making it great for brunches, beach days, and more!
This women's clothing sewing pattern comes with a loose design for the top and dolman sleeves to make it comfortable for wear
5. Spaghetti Strap Dress from The Happiestcamper.com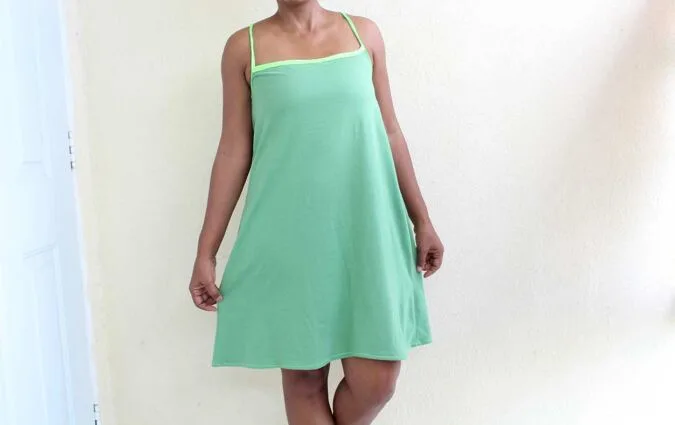 Are you looking for a women's dress pattern that is comfortable to wear yet would make you look cute? Then, follow this easy sewing tutorial to make a spaghetti strap dress.
The close-fitting chest and the loose hanging waist of the dress would make your figure look flattering.
This tutorial comes with step-by-step instructions and a downloadable template, which makes it easy to whip up the dress in an hour or so.
6. DIY Little Black Dress from Merricksart.com
Black dress is a classic fashion staple that has stood the test of time. It is perfect for any occasion, whether it be a formal event or a casual dinner.
Pair it with heels, a clutch, and a piece of statement jewellery to make yourself look chic. This sewing pattern for a woman's dress will help you make the dress easily.
7. Curtains to Flapper Dress from Trashtocouture.com
This little flapper dress pattern would be a great option for those needing a dress for a night out!
8. T-Shirt Dress from The Happiestcamper.com
This t-shirt dress makes a great casual summer day outfit and is perfect for lounging!
9. Ruched Body-con Tulip Hem Dress from Sewbakedecorate.com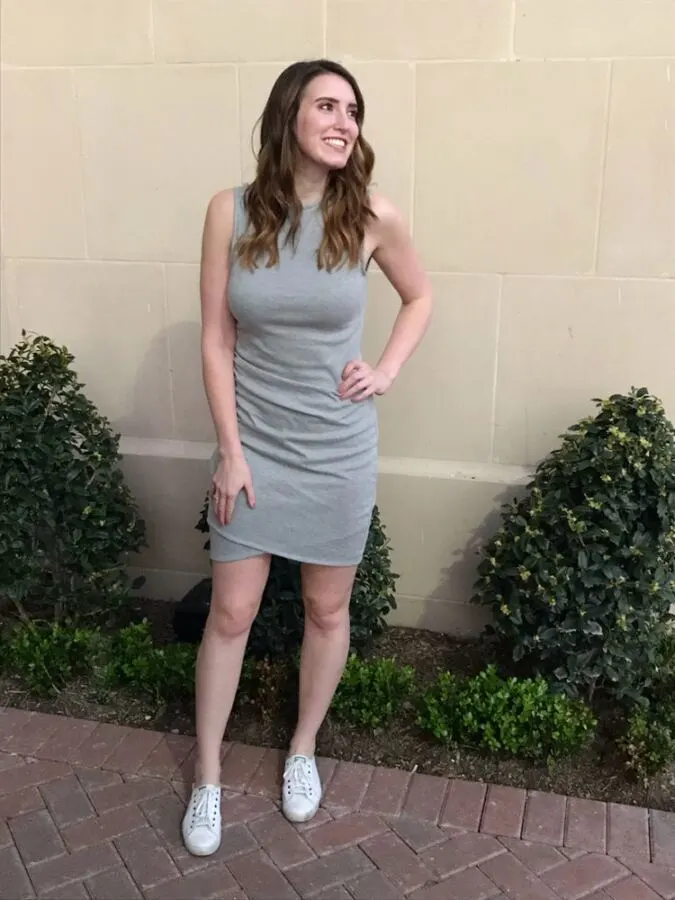 This free dress pattern is sure to wow! This dress is great for many occasions and can be made to fit for any event!
10. Slip Dress from The Happiest Camper.com
Check out this easy-to-follow the step-by-step tutorial to create your own slip dress that you can flaunt all summer long!
11. J Crew Inspired Dress from Tearosehome.blogspot.com
This classy dress for women is a great addition to any wardrobe! It's inexpensive to make and will definitely have people asking you where you got it!
12. Midi Wrap Dress from Merricksart.com
This midi wrap dress is a great boost to any fashion-lover's wardrobe. It's great for both spring and summer and can be accented with cute accessories to boot!
13. Peasant Maxi Wrap Dress from Cottonandcurls.com
This maxi wrap dress is beautiful and can be made festive for any holiday you wish to celebrate!
14. Fiore Midi Dress from Fashionwanderer.com
This classy free dress pattern is a great option for those looking to diversify their wardrobe on a DIY scale!
15. Birthday Dress from Tashacouldmakethat.com
This sewing pattern for a birthday dress is sure to make you feel special. Adding it to this list of free dress patterns for women was a must – everyone deserves to celebrate in style!
16. Summer Swing Dress from Merricsart.com
This DIY sewing project is great for people looking to add a classy summer dress to their roster!
17. Flapper Dress from TheHappiestcamper.com
Another great take on the flapper dress, this sewing tutorial shows you how to make beautiful and bold ruffles.
18. Birthday Kimono Dress from Leannebarlow.com
This sewing tutorial for a classy birthday kimono dress is a fun project to add a little creative expression into your birthday celebrations!
19. Hot Mess T-Shirt Dress from Theprettyprudent.com
This fun repurposing of a t-shirt makes a great outfit to spend your spring and summer in!
20. Tiered Maxi Dress from Thehappiestcamper.com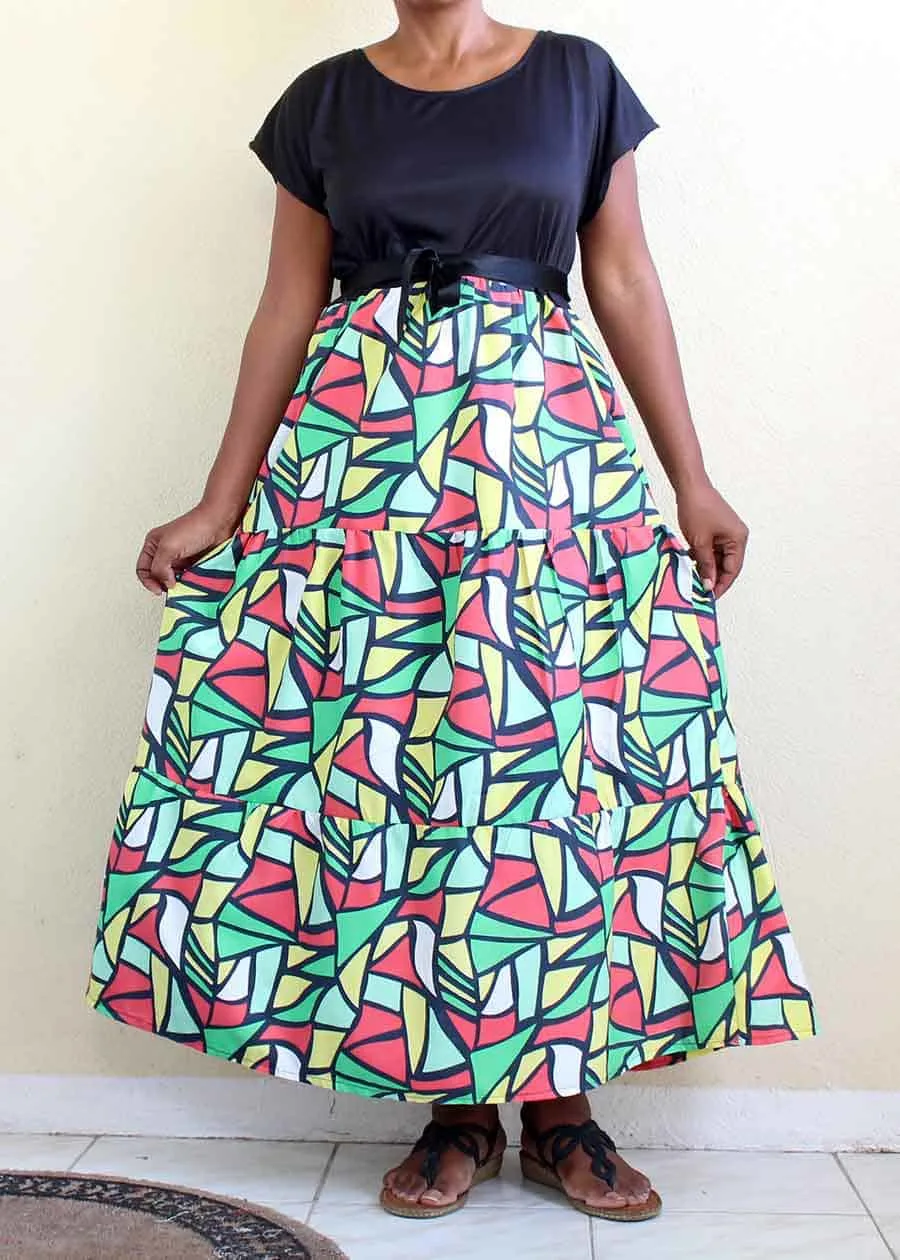 This tiered maxi dress can be made with so many different fabric options. It's easy to make and customize!
21. Pleated Summer Dress from Peppermintmag.com
This pleated summer dress is an easy to create fashionable wardrobe addition for anyone!
There you have it – 21 wonderfully beautiful free dress patterns for women. Sewing your own dress is both rewarding and fun, and these women's sewing patterns can offer you a one-of-a-kind boost to your wardrobe.
Which of these women's clothing sewing pattern are you most excited to try? Let us know in the comments below or start a discussion with us via social media to show us your projects!
Pin it for later here,