Looking for something to sew for winter? Then choose from these easy and cozy DIY blanket sewing patterns and get going. Each of these blankets is different and unique. You get to choose from 15 blanket sewing projects meant for babies and adults. There are blankets for boys and girls too!
So, what are you waiting for? Choose one of these patterns to sew blankets and bring in the feel-good cozy vibes this season!
15 Ways to Sew a Blanket
Easy Fleece Blanket
Easy Fleece Blanket from Scattered Thoughts of a Crafty Mom.com
This is the easiest blanket you can sew. Cut the fleece to the desired size, fold the edges and sew down using a zigzag stitch. Now you have a blanket to snuggle with or give as a gift!
2. Reversible Fleece Blanket
Reversible Fleece Blanket from Sewcraftyme.com
Learn how to sew a double-sided blanket with fleece to cuddle up on your couch in the colder months. Sew it plain for a quick- sew or add trim details to make it look vibrant. This is a very easy project, perfect for a beginner seamstress.
3. No-Sew Fleece Blanket
No- Sew Fleece Blanket from Adventures of a DIY Mom.com
This is again a very easy double-sided blanket, which requires no sewing. Just layer two large fleece pieces, cut fringes around, join them using an easy technique and you are done! This technique on how to make a blanket can be used even by those who don't know sewing at all!
4. Reversible Baby Blanket
Reversible Baby Blanket from Sewcraftyme.com
Need a quick gift for a baby shower? Here is a tutorial on how to sew a double-sided baby blanket you will love. Just two rectangular flannel pieces, two easy stitches and you are done!
5. Self- Binding Minky Blanket
Self- Binding Minky Blanket from Make It and Love It.com
Make these cozy blankets for your little one to snuggle with while in the crib and watch him sleep better! This self- binding blanket is designed with plus- sign appliques which give it the store-bought feel.
6. DIY Animal Roll-Up Blanket
DIY Animal Roll- Up Blanket from Make It and Love It.com
Sew something for the little one in your life using this easy sewing tutorial. This animal roll-up blanket is easy and fun to whip up. They can be great as hand-made gifts too.
7. Upcycled T-Shirt Baby Blanket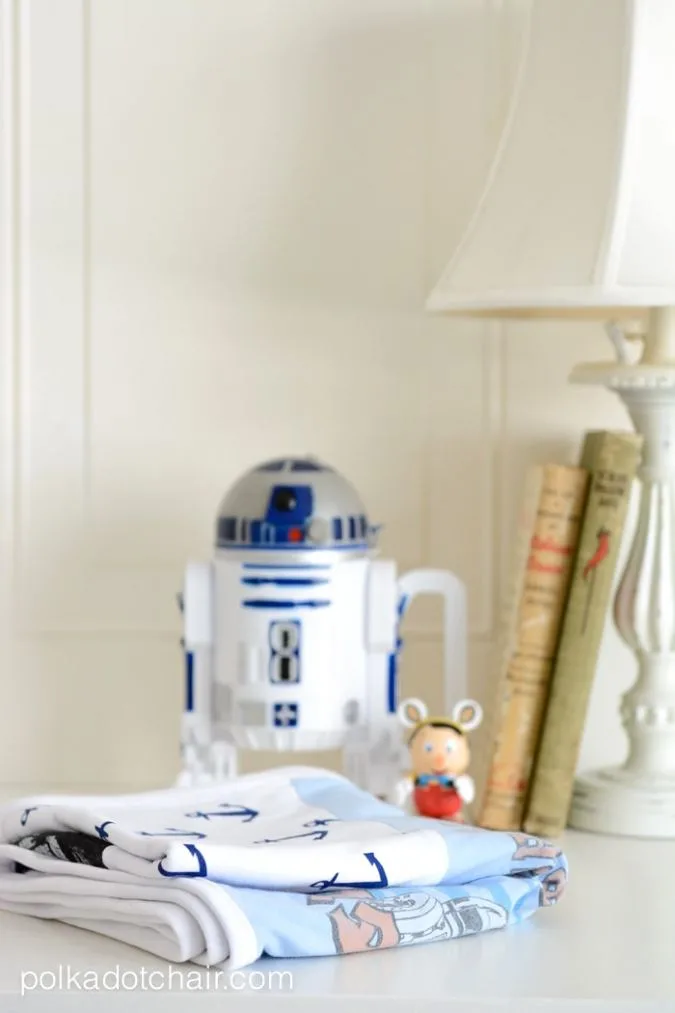 Upcycled T-Shirt Baby Blanket from Polkadot Chair.com
Upcycle your's or your little one's old t-shirts to make a t-shirt blanket that is cozy and light at the same time. Use t-shirts of different colors and prints to sew a colorful one.
8. Reversible Hooded Baby Blanket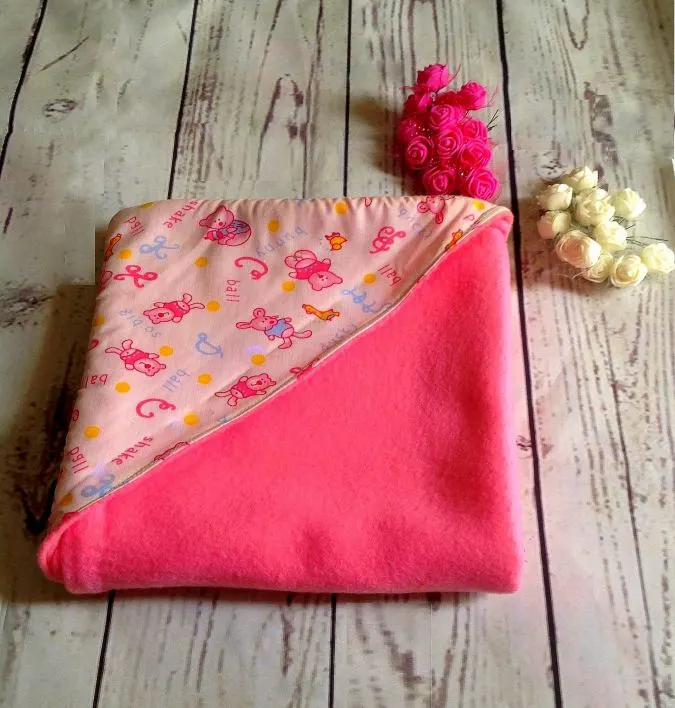 Reversible Hooded Baby Blanket from Sewcraftyme.com
Keep your little one warm and cozy with these reversible hooded blankets. Sew with cuddly fleece on both sides to keep your baby warm and cozy or replace fleece with cotton on one side to make a lighter and brighter blanket.
9. Patchwork Picnic Blanket Pattern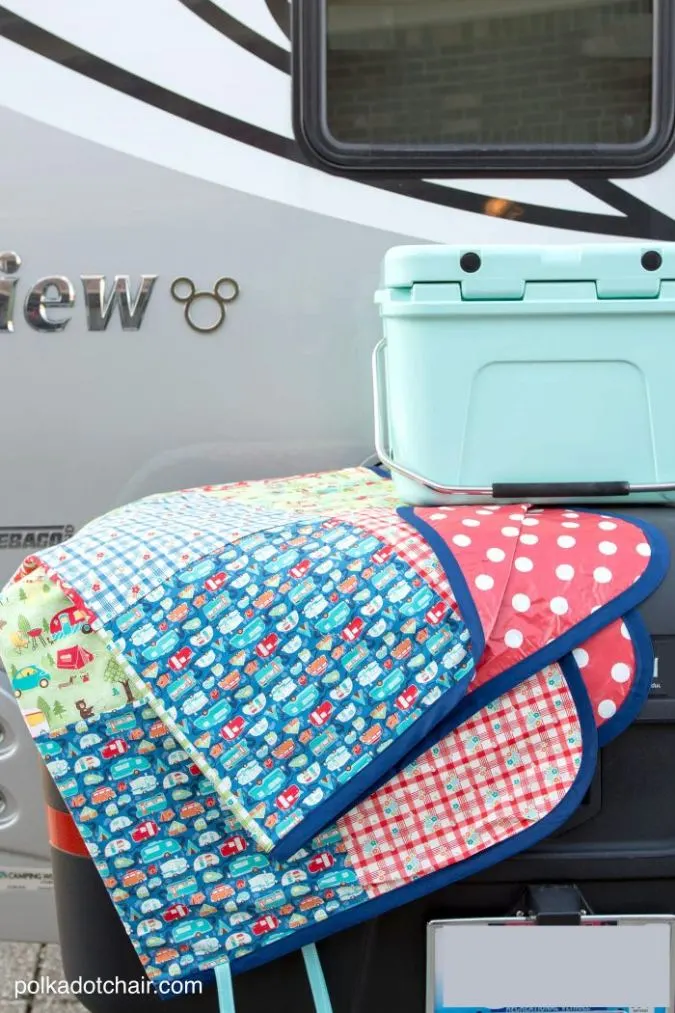 Patchwork Picnic Blanket Pattern from Polkadot Chair.com
Sew these waterproof blankets to be used on the ground like a traditional picnic blanket or on the top of a picnic table. Designed with a patchwork front and a vinyl backing, these blankets are great for your road trips!
10. No-Sew Stamped Blanket
Stamped Blanket from Swoodson Says.com
Follow this simple DIY tutorial and turn your boring fleece into stamped blankets using simple potato stamps and fabric paint. These blankets would make a quick DIY gift for teens and tweens too!
11. Star Wars Fleece Quilt
Star War Fleece Quit from Crafting Cheerfully.com
Make these reversible quilted blankets with the star wars droid pictures as a gift for your little handsome. This is a quilted blanket design that uses the no-sew star wars fleece throw kits from Joann's store. The blogger gives directions to sew a blanket, large enough to cover a twin bed.
12. Ruffle Baby Blanket
Ruffle Baby Blanket from Coral and Co.com
Make cozy cuddly blankets for the little one in your life with this easy ruffle blanket sewing pattern. This pattern is designed with satin ruffle along the edge to make it cute and extra soft.
13. Diy Picnic Blanket
DIY Picnic Blanket from Crazy Little Projects.com
This blanket sewing tutorial is perfect if you want to sew one for your summer fun. They serve great if you want to make one to sit on at the park. The straps make it easy to roll it up and carry or store.
14. Watermelon Baby Blanket
Watermelon Baby Swaddle Blanket from Me Sew Crazy.com
Sew these baby swaddle blankets to wrap your little one in that fruity look or as gifts for baby shower gifts. These blankets with the watermelon design are one of its kind and are easy to sew.
15. Patchwork Blanket
Patchwork Blanket from Sewcraftyme.com
Are you worried about your fabric scraps mounting up? Then sew this cozy and colorful blanket to use up a bunch of your leftover scraps. This is a beautiful DIY blanket sewing pattern with a flannel backing. This blanket can also be used as a playmat and also to line your car seat or pram.
Pin it for later here,
To view more of my free patterns, click here.
To get more free patterns, visit allfreesewing.com