Learn how to make adorable pajamas for your little ones with this kids' pajama pattern. These pajamas can be made with or without cuffs. This tutorial comes with step-by-step instructions and free templates to sew the kids' PJs from 12 months to 5 years.
This is an extension of my earlier tutorial, easy baby leggings in 5 steps. The only difference is that I added a cuff to the leggings and made them available in higher sizes.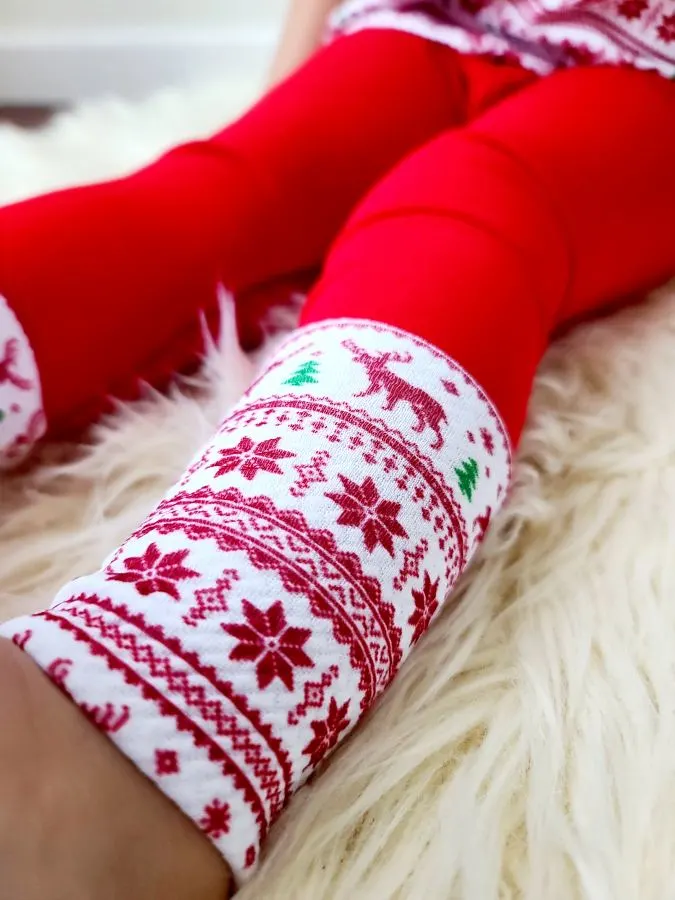 The Christmas season is fast approaching and it is high time we grab our Christmassy fabrics and start sewing t-shirts and Pajamas for our family. These Christmas PJs for kids make a great Christmas gift for all the children in the family to wear on Christmas eve.
You can make this Pajama pant pattern in coordinating fabrics with my t-shirt pattern to make your kids look adorable in them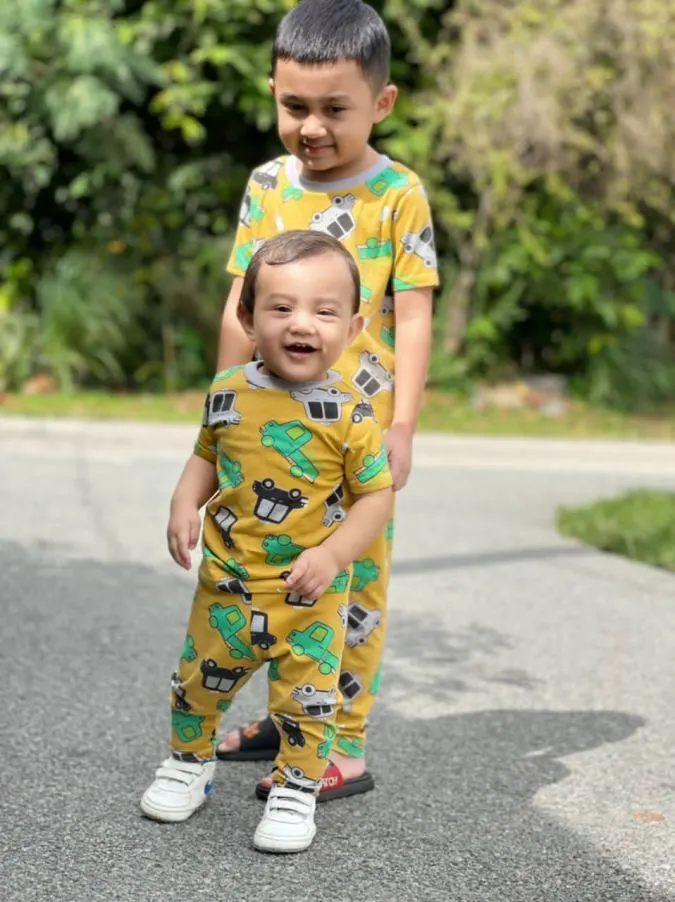 This kid's pajama pants sewing pattern is not as hard to sew as most of my beginner readers might think. You can easily sew them if you have a ballpoint needle and you have some practice with knit scraps. So, join me as I take you through the fun tutorial.
If you would like to purchase the pattern as an ad- free PDF, for $ 4.99, Add to Cart Here
Kids' Pajama Sewing Pattern
This is an extension of my earlier tutorial for baby leggings. I have just given the steps for adding the cuffs. You can refer my tutorial for baby leggings, for the rest of the instructions.
Supplies Needed
Interlock knit, jersey knit, or cotton knit for the leggings body (you may use any other knit with 50% stretch) – requirement specified in the table-2 below.
¾ -inch elastic for the waist- requirement specified in the table-2 below.
Jersey knit, interlock knit or rib knit (you may use any other knit fabric with 75% stretch)- 1/6 yard
Sewing Notions.
Template. * Enter your e-mail address and click the subscribe button to download the pattern pieces for the pajamas.
If you would like to read about the guidelines while sewing with knits refer to my kid's t-shirt tutorial.
*All the fabrics used here are of 60- inches width.
*The fabrics shown here are only for illustration purposes and as such may vary from the original.
*The seam allowance is 3/8-inch unless otherwise specified.
*I suggest you read the entire pattern once before starting to get a general idea.
Approximate Finished Measurements
Table-1
The pattern is for snug-fit pants. If you would like a more relaxed fit, choose a size up.
Fabric Requirements
Table-2
Adding The Cuff
Let's attach the cuff to the lower edge of the leggings.
Pin it for later here,