Explore our collection of 20 free boys sewing patterns and start creating custom-made clothes for your little guy. From shirts and shorts to jackets and pants, find the perfect design for your next project.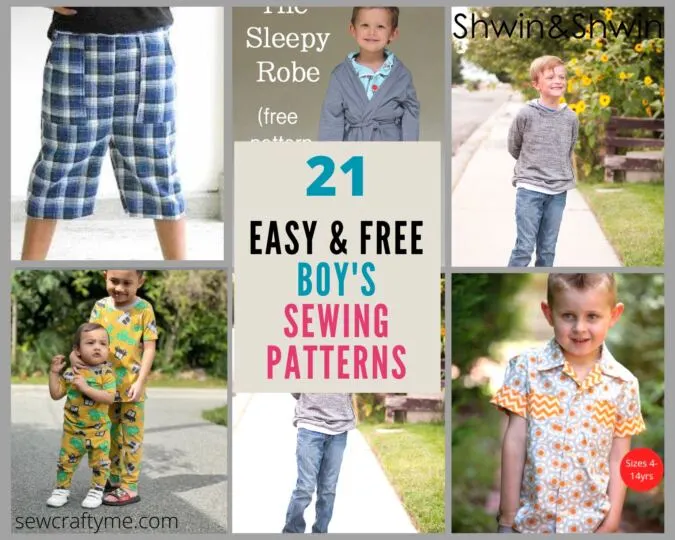 I am a sewing pattern designer who focuses mainly on patterns for girls. My patterns are designed for baby girls, older girls, and women. I have hardly released boys' sewing patterns, except for a few unisex patterns.
There are not many patterns that can be designed for boys except for trousers, shorts, shirts, hoodies, and t-shirts.
Here I have compiled 21 free patterns to sew for boys from all around the web. These sewing patterns are all free to use and most of them come with downloadable pattern pieces. So come on, grab your boy's sewing pattern, and get started!
21 Fun and Easy Sewing Patterns for Boys
I start with the basic t-shirt pattern You have the choice to sew this t-shirt pattern with short, 3/4th, or long sleeves, and with or without cuffs.
Designed for children aged 12 months to 5 years, this pattern is easy to sew and requires just a few steps. Moreover, the pattern includes comprehensive guidelines for sewing with knit fabrics.
How do you like this boy's Bermuda shorts sewing pattern? This DIY tutorial would help you draft a boy's shorts in any size.
This sewing pattern comes with front pockets and is simple enough for even novice seamstresses to tackle. Whether you want to use it as nighttime wear with a t-shirt or create festive holiday shorts with Christmas prints, the possibilities are endless.
These raglan-style t-shirts are easy to wear, quick to sew, and look great on everyone, so says the designer.
The pattern also has options to customize the tee with SVGs for the holiday season.
Here is one of the easy projects to sew for baby boys. You can sew it as shortalls or as longalls. This pattern is so easy that you can make it in just 5 steps! Doesn't that make it a perfect beginner sewing project?
This romper sewing pattern comes with shoulder buttons for closure and as such, it is very easy on and off. The fact that it can be made for girl babies too comes as an added advantage.
Aren't sweatshirts great for little boys? They look adorable and comfy too. What if they come with a hood?
The pattern for this sweatshirt features a hood design, and the detailed step-by-step instructions and well-drawn pattern pieces make it easy to sew, even for someone who is a beginner in sewing.
How about sewing a robe for your little gentleman? It is comfy, cozy and is great for the cooler weather.
It comes in four sizes and can be made with almost all types of fabrics, including knits, jersey, fleece, or even wovens.
Here again, the step-by-step instructions and the downloadable templates make sewing the robe an easy task.
Do you want to sew up something easy but sassy for your little guy? Then look no further, here is a super cute, super easy vest pattern for you.
This pattern can be easily whipped up, following the DIY tutorial. The pattern comes with downloadable pattern pieces for 12 months old, but you can use the pattern as a guideline for cutting higher sizes.
Small shorts are something I love sewing. There is no extensive cutting and sewing involved and often the finished product looks so store-bought and so awesome!
This boy's sewing pattern would teach you how to draft a shorts pattern from a pair of shorts. You can use this method for pants too.
If you want your little gentleman to dress up in the real western feel, sew this western shirt for him! This is the perfect boy's shirt pattern for spring and summer.
The pattern comes from 18 months to 6 years in size and is complete with step-by-step instructions and downloadable templates.
10. Lapped Front Infant Hoodie
If you would like to sew a hooded sweatshirt for your little baby, you are at the right place. This pattern has no zippers or buttons and as such, it is easy to sew and wear.
Though the designer has made it for a boy baby, it is a unisex pattern and you can sew it for baby girls too!
If you are somebody who hates to throw away things and loves to recycle projects, here is something for you. This sewing project will teach you how to transform a shirt into an awesome-looking baby romper.
Here you would be keeping the original buttons and button plackets and as such you will be free from these tedious tasks. Now doesn't that sound appealing as an easy but satisfying project?
Would you love to learn how to sew a very basic shirt for your little boy? In this tutorial, you will learn how to make a boy's shirt for 6 months to 2 years in size.
The patterns come with explicit instructions and downloadable templates that would help you make an awesome finished shirt, that looks like a store-bought one.
If you would love to sew a button-up shirt for your little man, here is another shirt pattern from the same designer. Here you will learn how to sew the shirt with half sleeves or long sleeves.
There are also options to finish the sleeves with sleeve cuffs, sleeve packets, or by hemming.
These are the perfect summer shorts you can try for your little boy. These shorts are designed with knits and hence they are the most comfortable to wear during summer.
The pattern comes from 2 to 5 years in size and it comes with side pockets that make it even cuter and more useful!
No boys' pattern collection can be complete without a boxer brief right? Well here is just the right pattern for the boys' boxer briefs for you.
These boxer briefs are so easy that the designer claims she made 6 in an evening. The pattern comes in size 5/6 and has a slim fit.
This is an awesome sweater sewing pattern for your little boy, that has unlimited options to make it according to your taste.
The pattern comes from 18 months to 6 years in size. And, if you have tried making a t-shirt before, you can easily make this sweater.
Have a look at these explorer pants with back pockets and an extra detail along the hem. Aren't they adorable?
Here learn how to sew these little boy's pants that come with step-by-step instructions and a downloadable template.
Who doesn't like a hoodie on your little one? It looks lovely for both girls and boys, right?
Well, a hoodie is not as hard to sew as it looks. With a well-written pattern with step-by-step instructions and great pattern pieces, you can sew a hoodie in a jiffy!
This t-shirt sewing pattern comes with three sleeve options; short, long, and layered. There is also an optional cuff and pocket to be added if desired.
The pattern comes from 2 to 14 years in size. This is a loose-fitting t-shirt pattern perfect for play or even sleep.
This is the simplest romper pattern you can sew for your baby boy. The designer claims that this is one of her most sought-after patterns.
The boy's romper sewing pattern comes button along the shoulders for easy on and off and with a snap opening for easy diaper changes.
Last but not least, we have a jacket sewing pattern to wrap up the roundup. This lined jacket features a hood and pockets for added functionality.
Pin it for later here,