Let me get straight to the definition of interfacing. Have you ever wondered what gives stiffness to the collars and cuffs in your garments? Well, the material is called "interfacing" which gives structure, stability, and strength to the fabric.
It is also used to strengthen certain other areas like waistbands and button plackets in garment sewing. And, it is used to give structure and body to certain other sewing projects like bags and purses as well.
The interfacing fabric is used on the wrong side of the garment and is usually sandwiched between two layers of fabrics making it rarely visible on the outside.
My definition of what is interfacing for sewing wouldn't be complete if I do not explain the types of interfacing fabric and how and when to use the different types. So read on as I give you a gist of the different types of interfacing fabrics and their uses.
Types of Interfacing
There are various sorts of interfacing, and you should choose one based on the fabric you'll be using and, of course, the area of the garment you'll be utilizing it for. Please remember that the interfacing you select shouldn't ever be heavier than your fabric.
Woven Interfacing:
This kind of interfacing is the most prevalent one on the market. The woven interfacing resembles any other type of cloth. There is a grainline to it and you can see the weaves going up and down.
This type of interfacing fabric shrinks when it is washed and so you will need to pre-wash it before using. Otherwise, you will find that it pulls away from the fabric and forms wrinkles after you wash.
It is mostly used to give crispiness and stiffness to collars and cuffs in garments. Heavy-weight woven interfacing is used to give body and structure to bags and purses too.
It lasts longer and it comes in fusible and non-fusible forms.
Non-Woven Interfacing:
This type of interfacing has no grain lines and it looks like fibers bonded together to form a material that looks like thick tissue paper. It does not fray and does not need to be pre-washed because there is no shrinking associated with it. However, this type of interfacing is not durable.
Knit Interfacing:
This type of interfacing is stretchy and hence it is used to give stability and strength to stretch fabrics like knits. These fabrics need stretch and if you attach woven interfacing to them, they would lose their stretchiness.
Fusible Interfacing:
This type of interfacing has glue along the back and it can be fused to the fabric using your iron. Fusible interfacing is cut slightly smaller than the pattern pieces to which it is adhered. This is done in order to reduce the bulk in the seam.
Place the interfacing on the wrong side of the fabric, glue side facing down. Next, place a piece of medium-weight cotton fabric over it (I have not done that here so that you can see the interfacing and fabric). Heat your iron to a moderately high temperature and press, starting from the center. You need to lift the iron and press at different points to avoid shifting of the layers.
This interfacing is easy to use and If you are a beginner seamstress, just starting to try interfacing fabrics, this would be the right choice.
Non-Fusible Interfacing:
This type of interfacing does not have glue on the back and both sides of the interfacing look the same. Non-fusible interfacing is not fused but sewn onto the fabric. This sew-in interfacing is used when the fabric cannot withstand high heat. Or for lightweight fabrics that are too thin that the glue seeps in through it.
Non-fusible interfacing is cut in the same shape and size of the garment piece that it is attached to. It is basted to keep it in place and the basting stitches are removed later.
Double-Sided Fusible Interfacing:
This type of interfacing has glue on both sides of the material and it is mainly used for applique to hold the applique pieces in place. It is also used for a better finish while appliqueing.
What are the Substitutes to Interfacing?
Well, let me answer this question right away. Yes, you can replace interfacing with light to medium-weight cotton fabrics. The fabrics are cut using the same pattern pieces that are used for the main piece and are sewn in to the garment.
So, you might have got a rough idea about the definition of interfacing for sewing. If you like the post, you may pin it for later here,
If you would like to see how to make a bias tape, click on the picture below: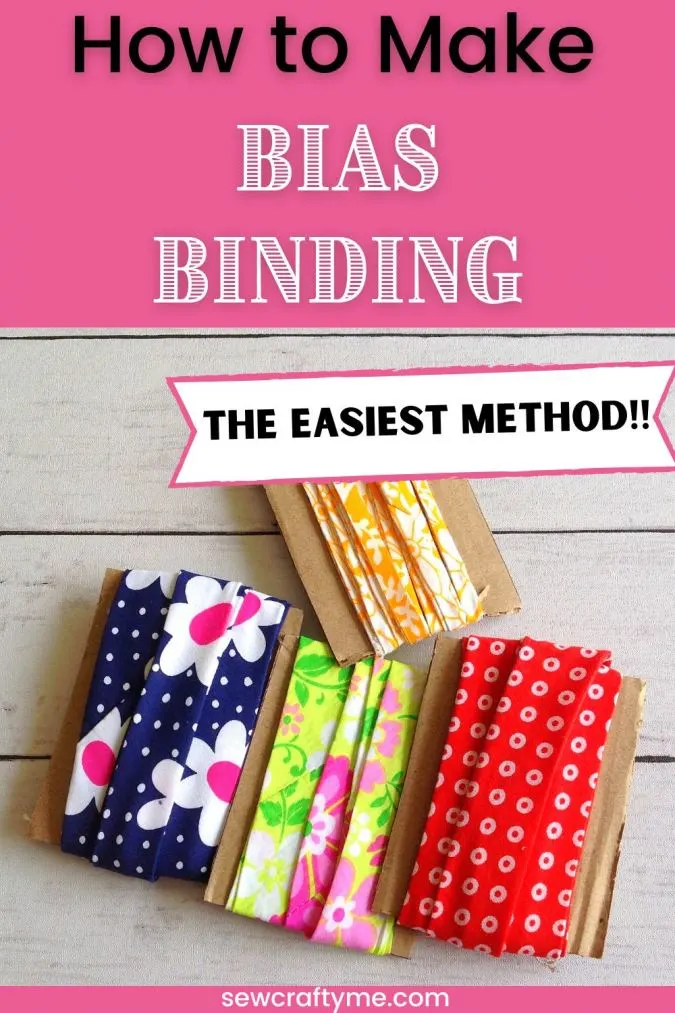 And, here are the top 10 safety suggestions for sewing, in case you want to see some guidelines and precautions: