Would you like to learn how to sew a knit dress for your little one? Well, here is a knit dress sewing pattern that comes in four sizes and is adorable on any little girl!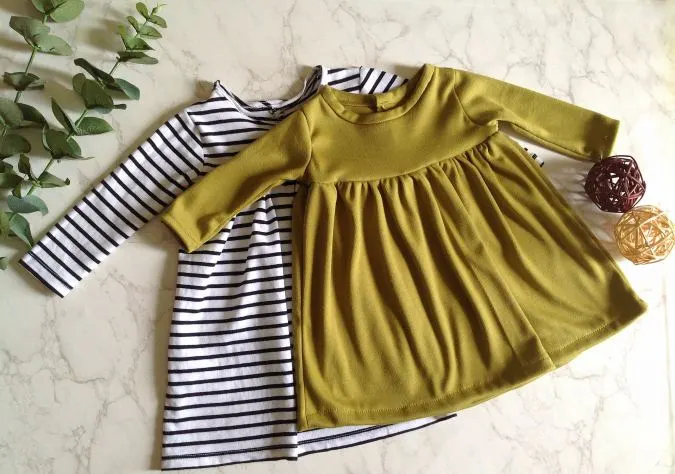 I have had this sewing tutorial on how to sew a knit dress in mind for some time now. I don't actually have many knit patterns. Wovens are my favorite because there is no limit to the colors and prints you can buy, while sewing with them.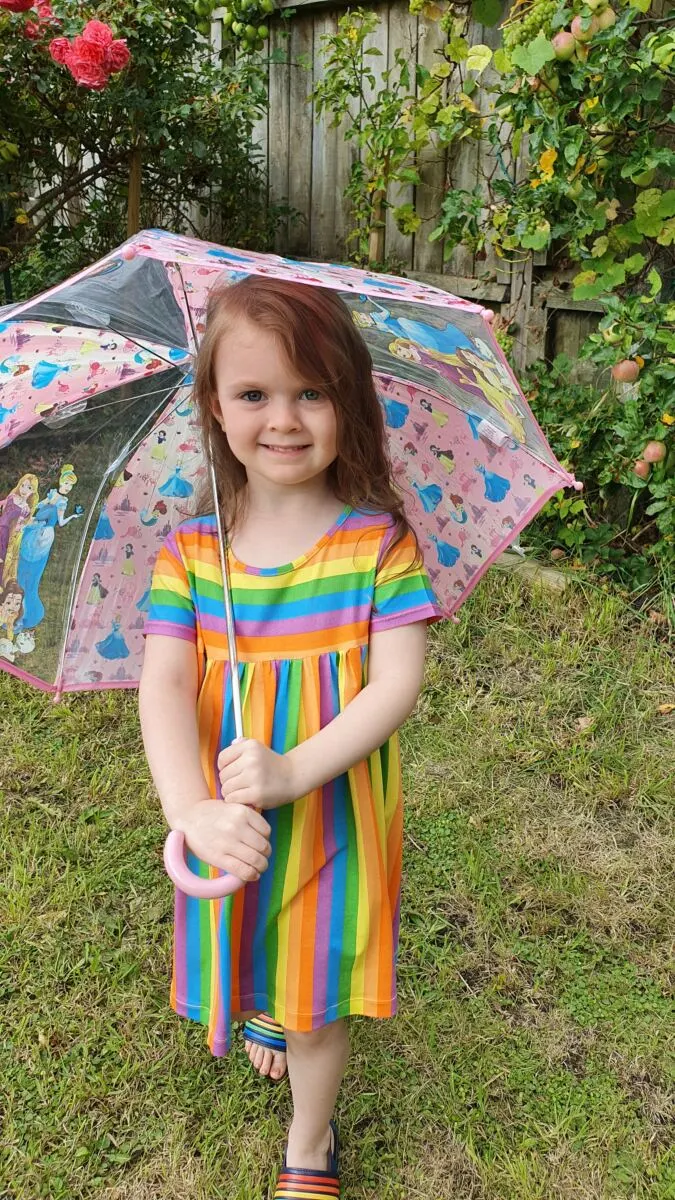 However, I have always been fascinated by knits. While sewing for my girls, I always liked to mix knits and wovens together to sew tunics and dresses for them. I love sewing with knits for their comfort and fit.
I often recycled mine and my husband's t-shirts while sewing little knit dresses. Liked the black striped one you see here. It has been made from one of my t-shirts.
I retained the hems of the sleeve and the lower hem, which made it a quick sew. Isn't the end result awesome? Well, I just fell in love with it!
In this DIY tutorial on how to sew a knit dress, I have given the fabric requirements for the bodice, sleeve, and skirt part separately so that if you would like to mix and match prints and colors, you can easily do so. I have also given options to sew it as a dress or top, to be paired with my knit leggings pattern.
Embellish the infant dress pattern with a little bow, fabric flower( tutorial coming up), or applique to make it even more adorable. There are options to choose short, ¾, or long sleeves. You can also sew it as a dress or a top and pair it with my knit leggings pattern to get a cute ensemble!
If you are looking for free baby sewing patterns, I can assure you that this is one of the DIY baby dresses you must definitely try. You'll adore it thanks to the detailed instructions, multiple options, and free templates.
If you would like to sew a matching pair of knit leggings, click on the picture below:
You can follow the written pattern below or purchase an ad-free PDF for just $ 3.99. The PDF includes templates and measurements for four sizes, starting from 6 to 18 months. Add to cart here.
How to Sew a Knit Dress
Materials Required:
Medium-weight Interlock knit, jersey knit or cotton knit for the bodice and sleeves (you may use any knit fabric that has a 50% stretch or more)- requirement specified in the table-3 below.
Medium-weight Interlock knit, jersey knit, or cotton knit for the skirt- (here again you may use any knit fabric that has a 50% stretch or more)- requirement specified in the table-3 below.
Kam snaps, sew on snap buttons or ordinary buttons – 2 to 3 nos.
A small strip of light-weight iron-on fusible interfacing to reinforce the button edges.
Sewing Notions
Pattern Pieces. * Enter your e-mail address and click the subscribe button to start downloading the template automatically.
Guidelines for Sewing with Knits.
Spread out your knit fabric on a large flat surface for cutting. This prevents it from getting stretched and distorted.
Secure the pattern pieces by using ballpoint pins or pattern weights. This would keep the knit fabric underneath from moving and would keep it in place.
Use polyester thread or a cotton-polyester thread to allow for stretch.
A ball-point needle is a must for sewing with knits.
Use a narrow zigzag stitch for necklines, armholes, and hems. You may use a straight stitch for the side seams. Try stitching on a double layer of scrap before sewing on your actual fabric.
Take care not to stretch the fabric while sewing. Hold the fabric up to keep it flat near the machine. If you have an option in your machine to reduce the pressure of the presser foot, that would be great too.
Since knit fabrics do not ravel, you don't need a serger. But if you need a professional finish and you have just an ordinary machine, you may go ahead and use the zigzag for the finish.
*All the fabrics used here are of 58- inches width. You may require extra if your fabric is not as wide as this.
*The fabrics shown here are only for illustration purposes and as such may vary from the original.
*The seam allowance is 3/8-inch unless otherwise specified.
*I suggest you read the entire pattern once before starting to get a general idea
Size Chart
Measure your child's chest. If your child is in between sizes go up 1 size. Choose the bodice size to fit your child's chest measurement and then lengthen or shorten the skirt piece for a tall or petite child.
Table-1
Finished Measurements
Table-2
Fabric Requirements
Table-3
Measurements:
In the table below "L" stands for the length of the fabric and "W" stands for the width.
***Bias tape can be made as narrow as 1- inch or as wide as 3- inches, cut according to your preference.
Table-4
Sewing:
Cut the skirt pieces and binding pieces, referring to table-4 above.
First, we join the front and back bodice pieces together.
Next, we make the bias tape ready to finish the neck. Instructions for cutting and making the bias binding strips can be found at the end of this tutorial.
Let's attach it to the neckline.
Next, we attach the sleeve to the bodice.
Let's finish the hem of the sleeve.
Let's do the side seams.
We have completed the bodice. Next, we sew the skirt part.
Next, we gather it.
Turn the upper thread tension of your machine to zero and the stitch length to the longest to get a basting stitch.
Turn the machine settings back to normal. Sew the bodice to the skirt, removing the pin as you go.
Next, we need to attach the buttons for closure.
If you are comfortable sewing buttons and buttonholes, you can opt for that too.
If you would like to purchase the pattern in more sizes, that includes 6 months to 5 years, you can buy it here for $5.99
Bias Tape:
You need to join fabric strips to get the required length of the bias binding, referring to the table-4 above.
If you would like to purchase the pattern in higher sizes, as an ad-free PDF including 6 months to 5 years, Add to cart here
Pin it for later here,
Can you believe you have learned how to make a knit dress and also how to sew stretchy fabric? So, come on sew some more and gift them to all the new moms you know!