Learn how to make adorable baby bandana bibs with this baby bib sewing pattern. In this step-by-step tutorial, you will learn how to make the bib in three sizes.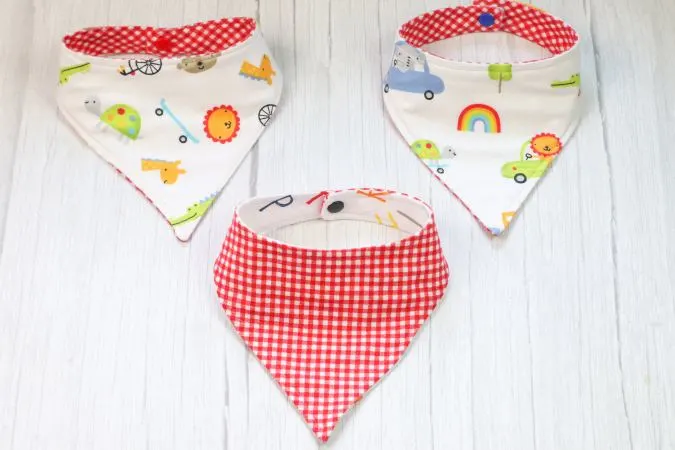 Well, you already know that I love sewing for babies. Whenever my relatives or friends have a new baby, I always gift them with my handmade baby gifts. That may include baby dresses, diaper covers, booties, and more.
But, there are times when I hardly find time to sew gifts, and often, I search for simple baby items to sew. The baby bandana bib is one such baby accessory that I would whip up quickly whenever I face a time crunch. Once the cutting is done, you can complete the bib in almost 15 minutes!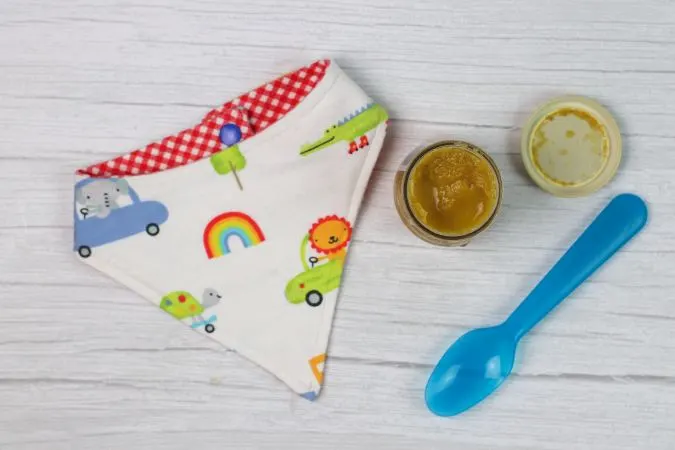 This baby bandana bib pattern is so easy to sew that any beginner can try it and I guarantee that the end result would be gratifying. You can even cut for a few bibs together and sew them in one sitting.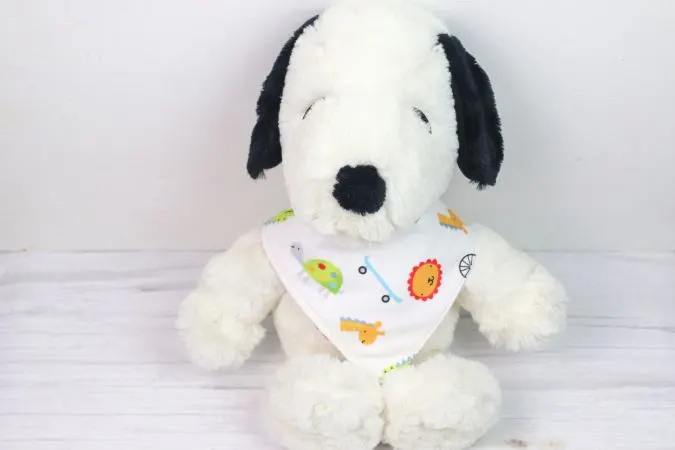 If you would love to play with different fabrics and prints, this bandana bib pattern is a great choice. You can also use your leftover scraps and turn them into useful baby bandana bibs.
If you would like to see all my baby patterns in one place, click on the picture below:
You can follow the written pattern below or purchase an ad-free PDF for just $ 2.99. Add to cart here.
Baby Bandana Bib Sewing Pattern
Supplies
1/4-yard flannel fabric for bib outer ($5.49 per yard at JoAnn)
1/4-yard flannel fabric for bib lining (outside)
Matching thread
Sewing pins or clips
Scissors
Turning tool
Iron and ironing board or iron mat
Cam snaps kit
Pattern Template. * Enter your e-mail address and click the subscribe button below to start downloading the pattern template automatically.
Skill Level: Beginner
Approximate time to complete: 15-20 minutes
Approximate cost to make: $2.75 (you can make two bibs per 1/4 yard of fabric
Finished Measurements:
0-6 Months: 13.25" snap to snap and 6" neck to tip.
6-12 Months: 13.75" snap to snap and 6.5" neck to tip.
12 Months to 2 Years: 15.25" snap to snap and 7" neck to tip.
Print and cut out your PDF pattern.
Instructions:
Pin it for later here,
Now you have created beautiful handmade baby bandana bibs! They are great for your baby or even as baby shower gifts!