In this post, you will find 25 free fleece sewing projects, perfect for the winter season. There are patterns for beanies, gloves, blankets, cowls, and more.
Nothing speaks winter than items made with fleece. Fleece is something I love to work with. I love the softness of the fabric and the fact that it does not fray makes it easy and quick to sew. The inexpensiveness of fleece also makes it the perfect choice for beginner seamstresses.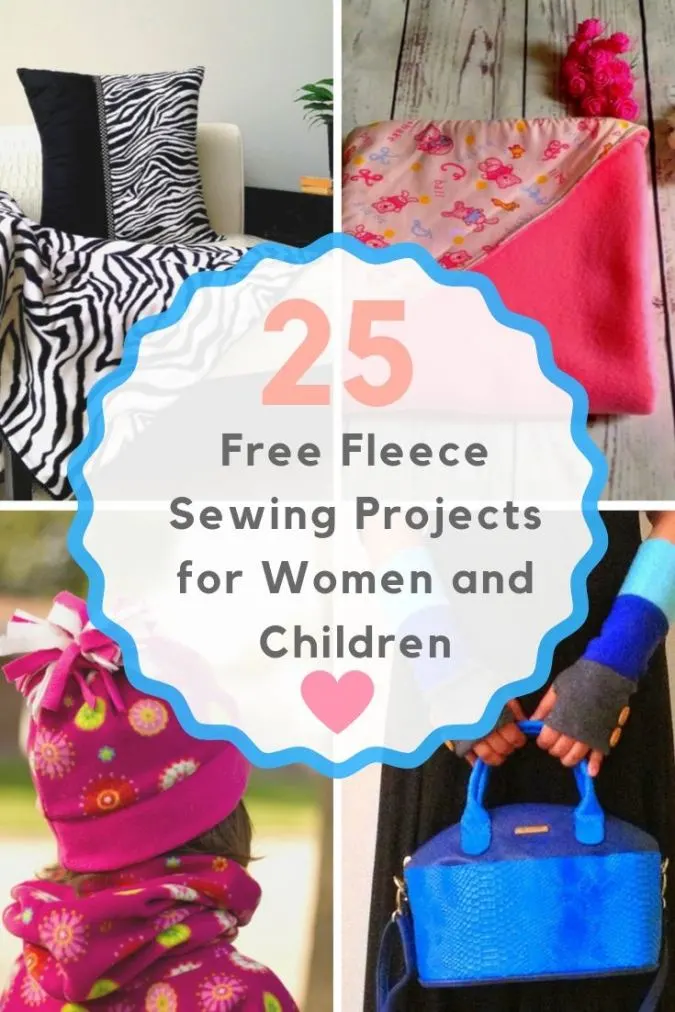 When I think about sewing with fleece, all that comes to my mind are blankets, beanies, jackets, and scarves. But, when I searched the internet, I could find even tiny little things made of fleece. They are all so cute to look at and fun to sew.
Here I have compiled 25 fleece sewing patterns from all over the web. These patterns should make sewing with fleece easy and fun.
25 Free Fleece Sewing Patterns for Women and Children
1) Easy Fleece Poncho Pattern for Kids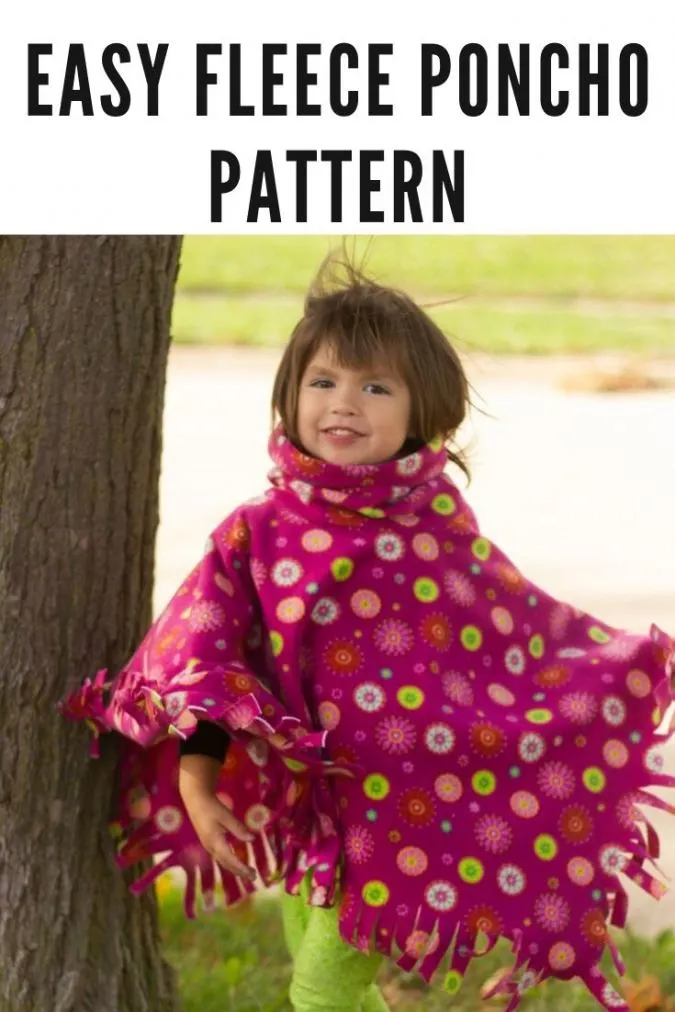 Easy Fleece Poncho from Sewcraftyme.com
This is a quick and easy fleece poncho sewing pattern for girls. These ponchos are light and stylish, yet very easy for on and off. They involve very little sewing and such are perfect as quick sew gifts.
2) Pompom Beanie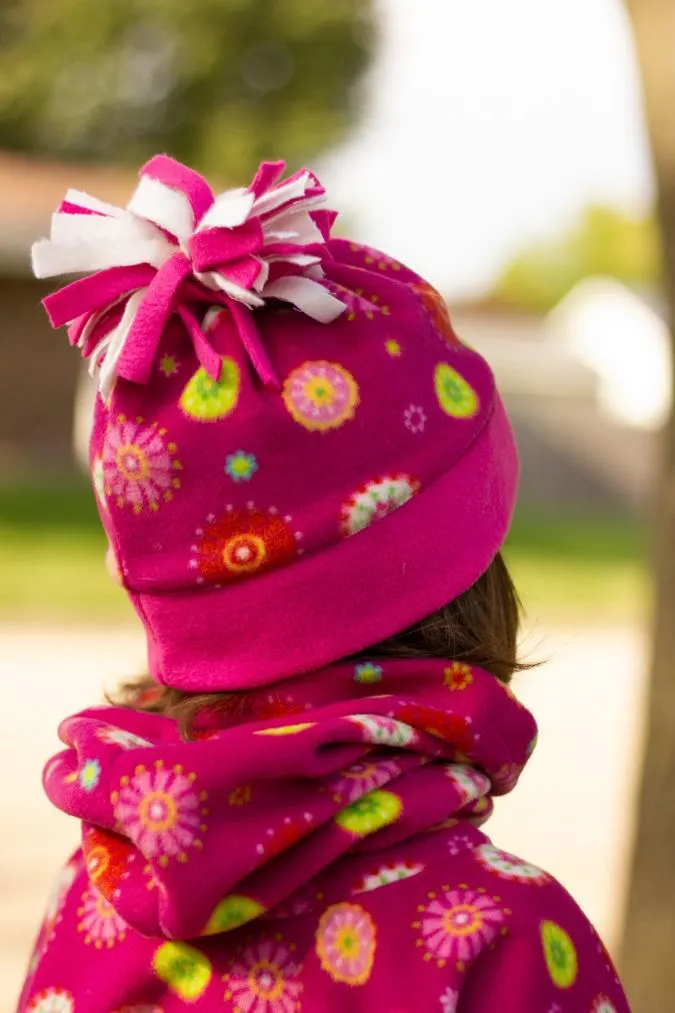 Pompom Beanie from Sewcraftyme.com
Learn how to make this pompom beanie for yourself and your little one with this easy tutorial. This is a beanie pattern, which is simple and quick to put together. The cuff and the cute pompoms render it comfy yet stylish.
3) Reversible Fleece Blanket
Reversible Fleece Blanket from Sewcraftyme.com
Sew these easy blankets with fleece to cuddle up on your couch in the colder months. Add trim details or keep it plain and simple for a quick sew. This is a very easy project, perfect for a beginner seamstress.
4) Fleece Flower Cardigan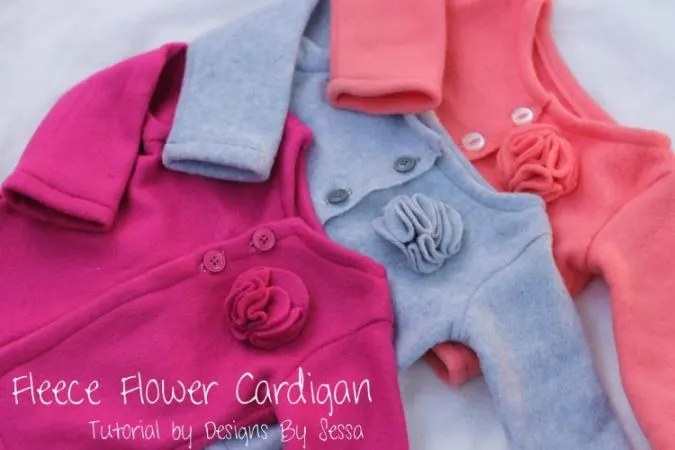 Fleece Flower Cardigan from Me Sew Crazy.com
This is a fleece flower cardigan sewing pattern, perfect for any little girl's wardrobe this winter. This simple DIY is as easy as putting a shirt together.
5) DIY Poncho Tutorial
DIY Poncho Tutorial from Melly Sews.com
Learn how to sew something stylish yet cozy for yourself with fleece. This fleece poncho sewing pattern has a cowl which can also be used as a hood.
6) Cozy Slippers
Cozy Slippers from Melly Sews.com
Make these cozy slippers that are designed with double layers of fleece to keep your feet extra warm during the colder months. They are quick and easy to sew and such they can make great handmade gifts.
7) Easy No-Sew Fleece and Fringe Scarf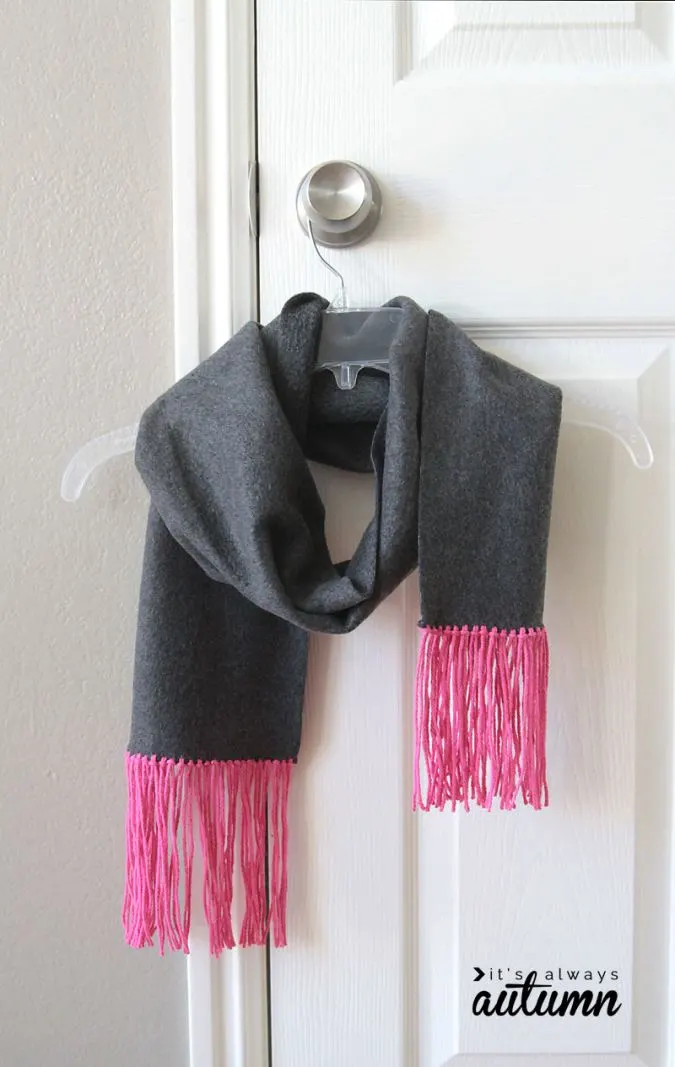 Easy No-Sew Fleece and Fringe Scarf from its Always Autumn.com
This is a scarf which is very easy to make. All you need to do is cut a piece of fleece and tie some brightly colored yarn to create a trendy fringed edge.
This scarf makes a perfect inexpensive gift for teens and women alike.
8)DIY Fleece Unicorn Pillow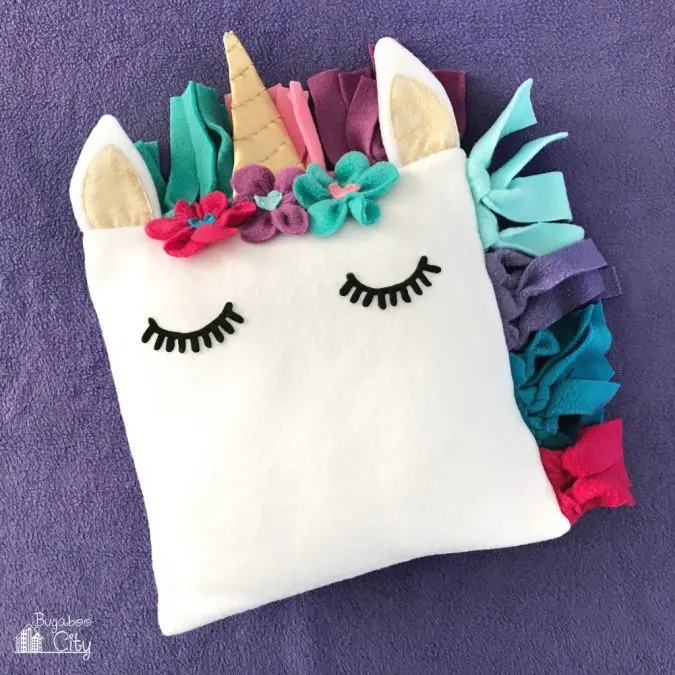 DIY Fleece Unicorn Pillow from Crafting Cheerfully
Learn how to make these unicorn pillows with a colorful mane and sweet flowers on the front. This is a cozy fleece pillow, perfect to decorate your little kid's room.
9) Fleece Football Hat
Fleece Football Hat from Make it- Love it.com
Sew this fleece football hat for your little boy to keep him nice and warm during the winter months. The football design of the hat is perfect for him to do the boy things while wearing his hat!
10) Penguin Hand Warmers
Penguin Hand Warmers from Make it- Love it.com
This is a fun tutorial to keep those little or big hands warm. These penguin warmers are filled with rice. You can warm it in the microwave a few minutes and use it to keep your fingers from getting chilly.
11) Fleece Ear Warmer
Fleece Ear Warmer from Delia Creates.com
Learn to make these simple ear warmers in a breeze with this tutorial. These ear warmers are perfect to keep your ears warm and cozy during winter. The extra-large bow adds to the style quotient of the warmer.
12) Patchwork Blanket
Baby Blanket from Sewcraftyme.com
Keep your little one warm and cozy with these reversible hooded blankets. Sew with cuddly fleece on both sides to keep your baby warm and cozy or replace fleece with cotton on one side to make a lighter and brighter blanket.
13) Fingerless Gloves
Fingerless Gloves from Sewcraftyme.com
Wear these striped fleece wrist-warmers as the weather turns chilly and make a style statement this fall! These fingerless gloves not only give you warmth but serve as a fabulous accessory for texting with smartphones as well.
14) Fleece Sword Tutorial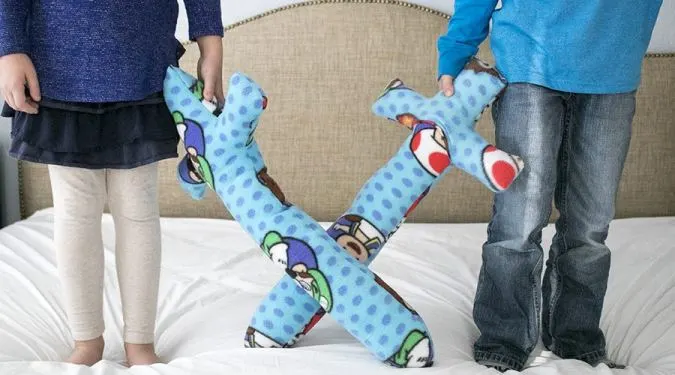 Fleece Sword tutorial from Me Sew Crazy.com
You want something fun and interesting to sew for your little boy? This sword pillow is a perfect choice. Let him have all the fun while mommy does not worry about getting hurt!
15) Baby Scarf That Stays Put
Baby Scarf from Apple Green Cottage
This is a sewing project that neither requires a lot of time nor material. You don't have to pull this scarf over your little one's head, you can just wrap it around the neck and secure it with the loop.
This makes it the perfect scarf sewing pattern for babies.
16) Easy Gloves Pattern for Women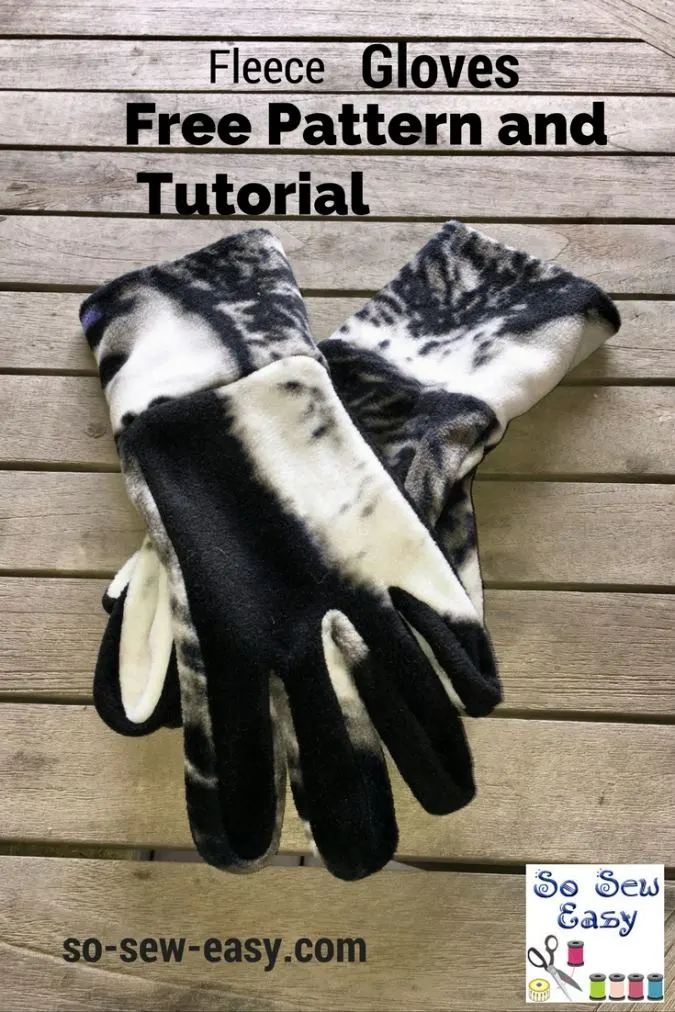 Easy Gloves Pattern from So Sew Easy.com
Don't waste your time in trial and error, making winter gloves for yourself. This is one gloves pattern for women that can give you the perfect fitting gloves for yourself or as gifts.
17)Fleece Pompom Scarf
Fleece Pompom Scarf from Sewcraftyme.com
This is a pompom scarf that requires very little sewing. This scarf can be a stylish addition to your little girl's wardrobe. With its cute pompoms and beautiful stripes, your little one would want to wear this playful scarf all day long.
18) Fleece Cowl
Fleece Cowl from Sewcraftyme.com
This is the perfect accessory to keep the winter blues away from your neck! This is again a pattern that requires very little fabric. Easy and quick to put together, this is again a sewing project, perfect for a beginner seamstress.
19) DIY Seatbelt Pillow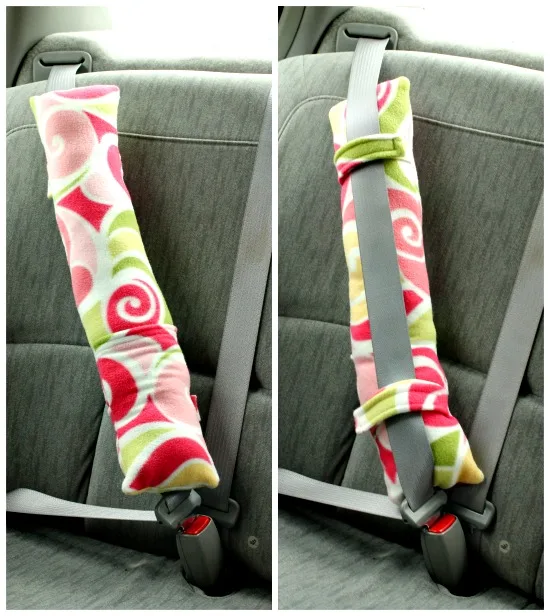 DIY Seatbelt Pillow from So Sew Easy.com
This is an easy seatbelt pillow tutorial, perfect for road trips. This pillow is completely machine washable and has a little pocket that can hold your phone or iPod.
2o) Kid's Travel Pillow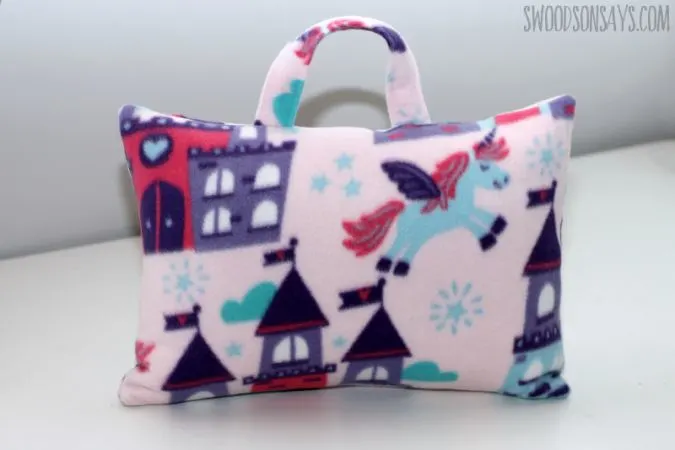 Kid's Travel Pillow from Swoodson Says.com
This is an adorable kid's travel pillow sewing pattern, which can be whipped up easily. This kid's pillow is designed with a handy pocket to store books and a handle to drag it along. That makes it a perfect gift to sew for a holiday.
21) Comfy Pants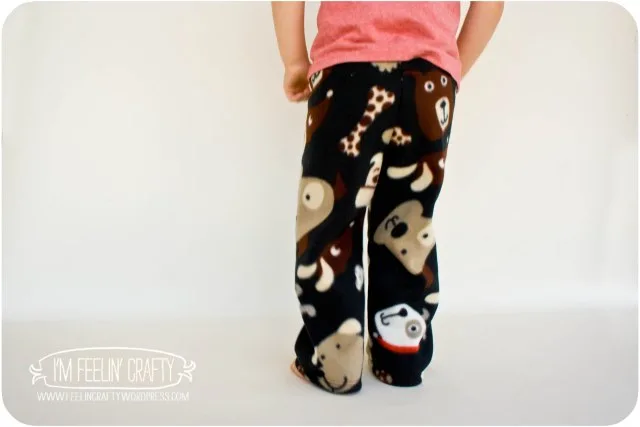 Comfy Pants from Feeling Crafty.wordpress.com
Sewing pants for your little one need not be bothersome anymore. This tutorial will teach you to sew pants with fleece easily and quickly.
22) No-Sew Fleece Mermaid Tail Blanket Pattern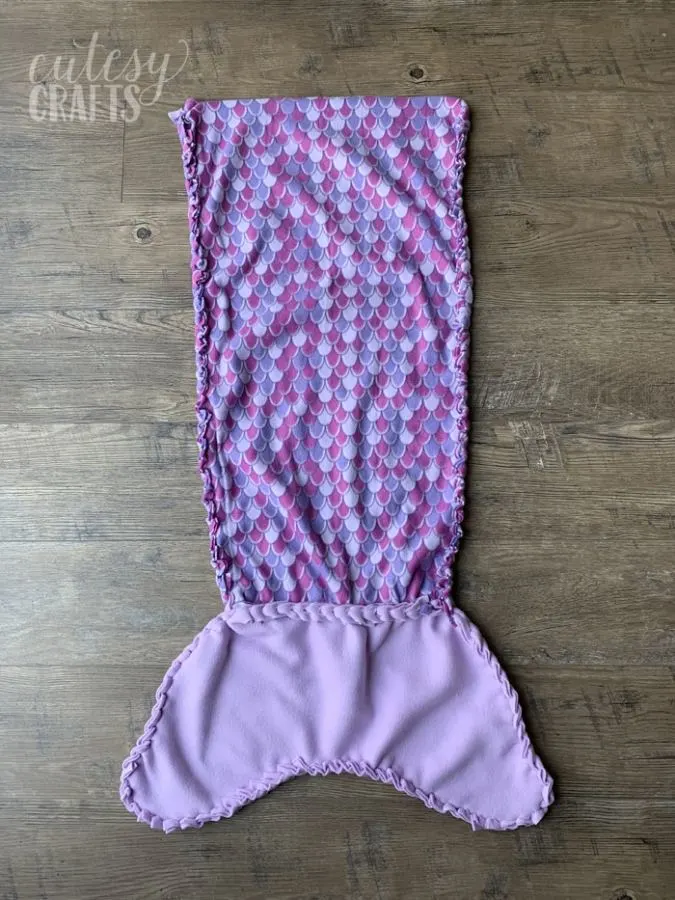 No-Sew Mermaid Tail Blanket from Cutesy Crafts.com
Now, you can make this mermaid tail blanket even if you don't know how to sew. This tutorial is for a child-size blanket. You can change the width and length to make it in bigger sizes.
23) Snuggly Slipper Boots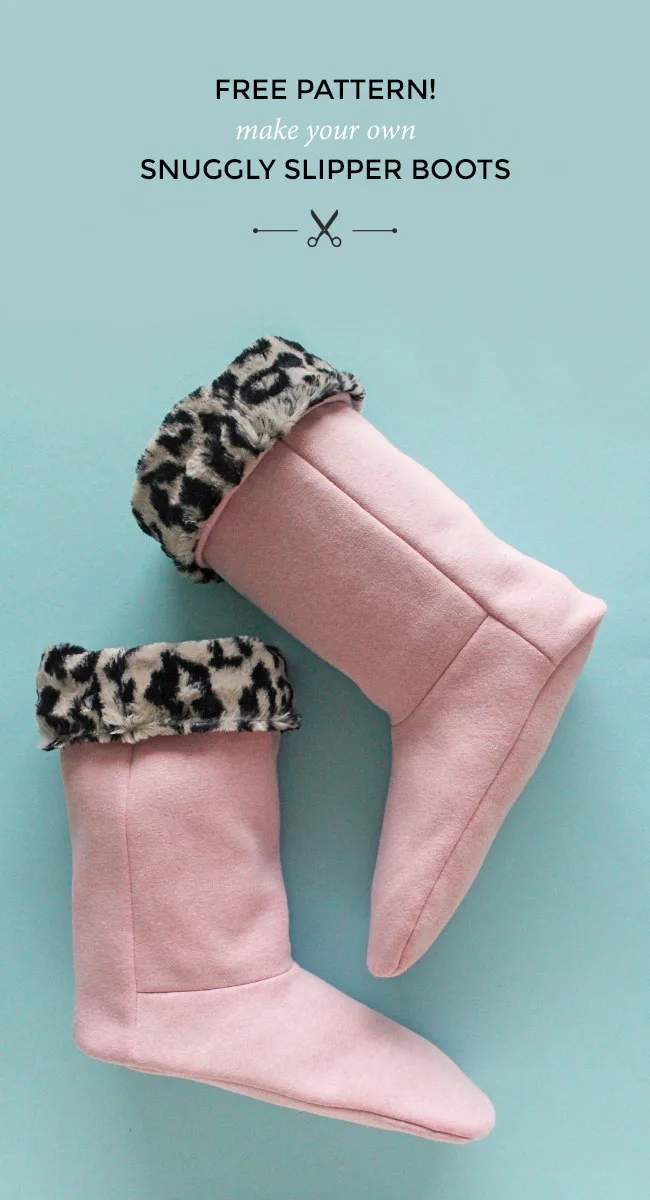 Snuggly Slipper Boots from Tilly and The Buttons
Make a cozy pair of slipper boots with this tutorial. They are easy and quick to put together. All they need are some fabric scraps and such they are definitely a scrap buster.
24) Easy DIY Fleece Wreath
Easy DIY Fleece Wreath from Wondermomwannabe.com
If you are on a budget to buy a store-bought wreath, you can make this awesome fleece wreath for just $5. All you need are some fleece scraps and a wire hanger to make this awesome wreath!
25)Easy No-Sew Fleece Pillows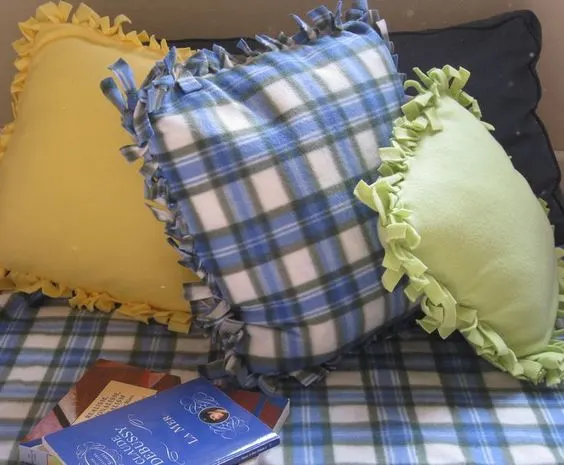 Easy No-Sew Fleece Pillows from Liveabout.com
Make your home cozier with this easy fleece pillow. These are no-sew pillows and as such, they can be done even if you don't know how to sew.
For more of my free patterns, click here.
For hundreds of free patterns and DIYs, visit allfreesewing.com.
Pin it for later here,
That is it about my 25 free fleece sewing projects for women and children. Hope you will have fun sewing all of them!