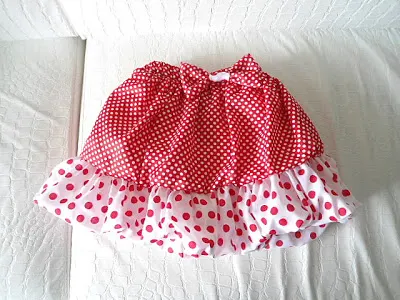 This bubbly bubble skirt is sure to enrich your little girl's wardrobe. My Sewing tutorial will help you make this bubble skirt in an hour or even less! There is no need to have a great deal of sewing experience to make this skirt. Any beginner seamstress can make it. This skirt is reversible and can be worn on both sides. You can mix and match fabrics and colors of your choice to make your own boutique style skirt. This tutorial also provides instructions to make the cute bow at the waist. So come on, what are you waiting for? make this designer skirt for your little one this Christmas season and see her face brighten up!
*The pattern contains detailed step by step instructions for ages ranging from 6 months to 10 years and can be used many times as your child grows.
* It is complete with a pictorial representation of the whole sewing process and is suitable for any beginner.
Payment can be made securely using your credit card with PayPal. Once the payment is made, the pattern will be emailed to you in 24 hours. If you have any questions or fail to receive the patterns please use the 'Contact Me' form in my blog. Please do not resell the pattern itself or pass it onto others. You are free to sell the finished items made from my patterns. All my patterns are protected by copyright.
$6.99