Have you ever been intimidated by gift wrapping? Have you tried wrapping gifts neatly multiple times and failed? Here is a fun tutorial that will teach you how to wrap gifts in not just one, but five ways!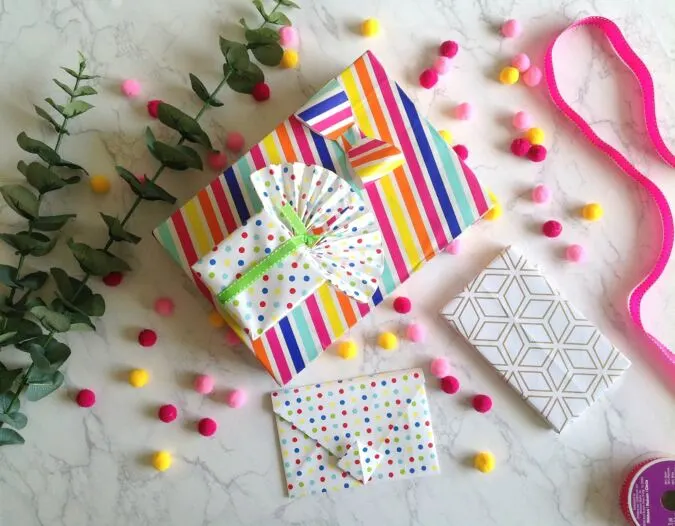 These gift wrapping techniques are easy, fun, and you'll be surprised at how awesome they look once they're done. The tutorial includes directions for wrapping gifts in a plain and simple way, as well as ornamental styles like the fan style, envelope style, and shirt style.
You will also receive directions on how to wrap the gift when there isn't enough paper.
How to Wrap Gifts- Five Ways
In this tutorial on how to wrap gifts, you will learn:
The basic style on how to wrap gifts.
The fan style of gift wrapping.
The envelope style.
The shirt style of gift wrapping
And finally, how to wrap gifts when there is less paper.
How to Wrap Gift Box- Basic Style
Supplies Needed:
Gift wrapping paper.
Gift wrap tape.
Double-sided tape.
Scissors.
Fan- Style Gift Wrapping
You will need the supplies just like you gathered earlier but you will need some burlap twine or satin ribbon for tying the fan.
Just as you did previously, fold the wrapping paper to cover the box completely and add 4- inches extra (this time I've added more inches to ensure the wrap doesn't come undone while I fold the fan).
Next, we need to fold the fan on top.
Envelope Style Gift Wrapping
You may take the measurements for the square, referring to the details below:
Small:
Finished measurements: 4.75" x 3"
Square dimensions: 8" x 8"-inch
Large:
Finished measurements: 6" x 4"
Square dimensions: 11" x 11"
Now you can see that the corners intersect.
Shirt- Style Gift Wrapping
Gather your supplies just as you did for the earlier styles.
Next we make a bow.
How to Wrap Gifts with Less Paper
Pin it for later here,