Guys, I've been wanting to make one of these tissue box covers for a while now, and I finally got around to designing a Cricut cut file for it, so I'm sharing that file with you today so that you can make your own Tissue Box Holder With Cutwork.
I used a Cricut Maker to get the tiny and precise cuts in the lid so my tissue holder could have a pretty complicated design with low effort. I never would have been able to get these cuts on my own.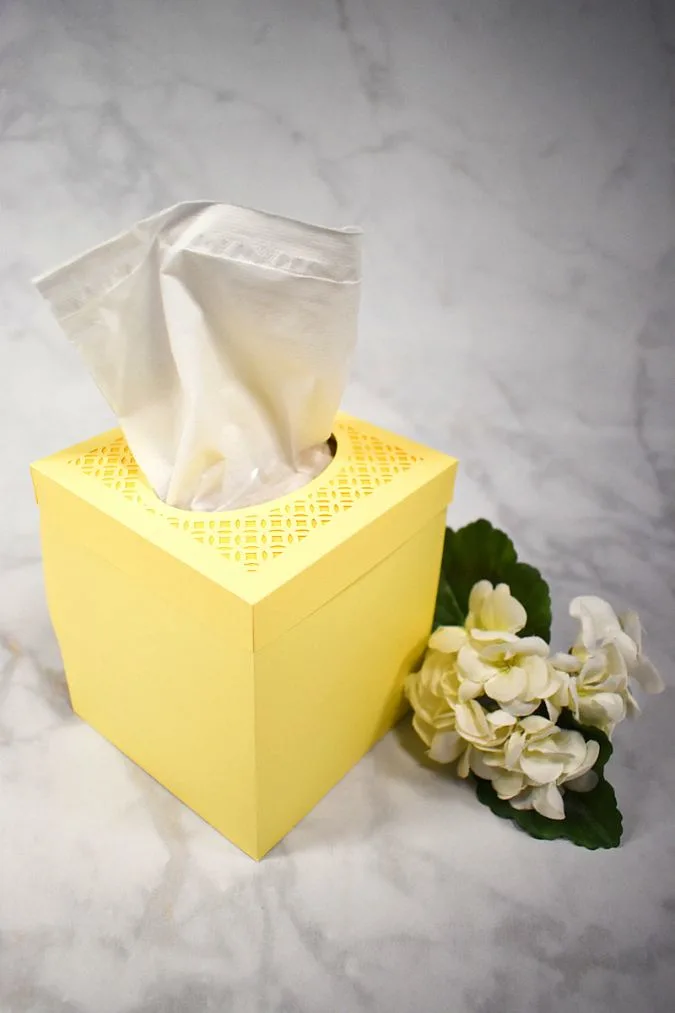 But the best part is that you can change the colors of cardstock to make sure your tissue boxes always fit with your decor in every room. I'm making mine yellow to give my living room a nice bright pop of color. You could use holiday colors to change out with your seasonal decor.
Just don't put one of these in your bathroom. It won't stand up to the moisture.
Ready to make one for yourself?
Supplies for this Project
Cardstock.
Cricut cutting machine.
Standard or Light Grip cutting Mat.
Fine Point Blade.
Rotary blade (Rotary wheel if using Maker).
Scrapbooking Glue.
Square tissue box.
SVG cut file for the tissue box holder.
How to Make a Tissue Box Holder with Cricut
Upload file into Design Space and Prep
Cut Out Your Tissue Box Holder Pieces
If you use the Explore Air 2, it would have you load the scoring tool in the left and the blade in the right and switch back and forth on its own.
You may need to use a weeding tool to pick out some of the small pieces.
And voila! Your finished tissue box holder! What colors are you going to use? I think I'm going to make a green one for my bedroom.
Let me know in the comments what kind of Cricut project you'd like to see next!
Pin it for later here,
For more of my DIYs and crafts, click here.
For hundreds of DIYs and crafts, visit DIY & Crafts.com