While I have decided to make all things dolly, why not make something cute and interesting as a doll rug? This DIY pompom doll rug is cozy and also fun to make. You can ask for your little one's helping hand too.
This soft and fluffy rug is perfect to adorn a doll's room. Soft and colorful, this flower-shaped rug is one of its kind.
This DIY pompom rug requires no sewing. Here, I have used different shades of pink for the rug. Try using other colors to have fun while making it.
Diy Pompom Doll Rug
Find the video tutorial at the end of this page.
Supplies Required
½- inch felt pompoms in assorted colors of your choice, for the flower body- 210 to 220 (the number of pompoms needed depends upon how tightly you glue them on to the base and such it may vary slightly for each person).
½- inch felt pompoms in a different shade for the flower center- 50 to 60 (here again, the number may vary).
Heavyweight fabric like canvas, denim or quilting cotton for the base.
Gather your supplies.
Take the fabric, fold it in four quarters and place the template on the fold. Mark and cut around the template to get the flower shaped rug base. Also, mark the center of the flower, while folded.
Your rug base will look like this.
Next, we need to draw the circle along the center of the flower.
Take the circle template and poke a hole at the center. Place it above the flower base, with the centers of the two shapes aligned and mark around the circle.
Our rug base is ready!
Start applying glue along the edge of the flower.
Take your pompoms and place it above the glue, before it dries out.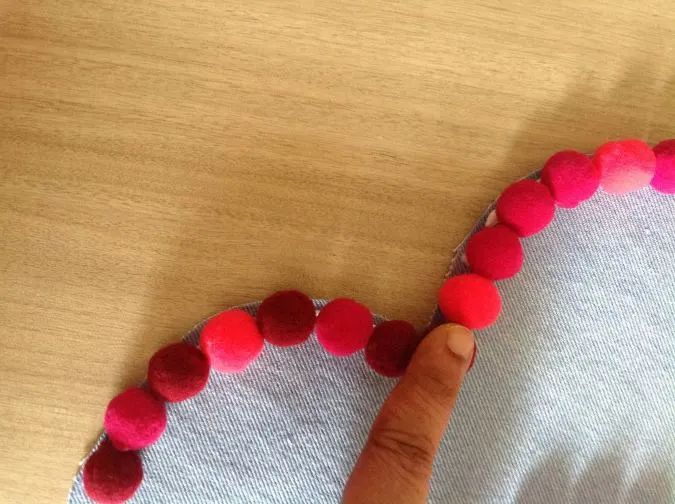 Softly hand press the pompoms to secure it to the base.
Continue gluing the pompoms all around the edge of the flower. Take a different shade of pompom and glue it along the edge of the circle at the center.
You have done the edges!
We move on to the inside of the rug.
Start gluing the pompoms inside the rug, without leaving gaps in between.
Glue the inside of the circle also with the pompoms and you are done!
You can find the video tutorial here:
If you would love to see some doll dress patterns, click here.
If you would love to see more DIYs, click here