Sew this easy hooded cape for your little girl and let her tame the heart of the wolf! This pattern is of a double-sided cape that can be sewn with cotton fabric on both sides or with fleece or corduroy on one side and cotton on the other.
It can thus be made as a perfect Halloween costume or as an ideal over-clothing in cooler weather. Sewn with fleece, it would be perfect outerwear to keep your little girl warm and cozy during winter.
Given the templates and detailed instructions, this is a simple pattern which any novice seamstress can try as her beginner project! With the given measurements, you can sew the cape for 4 to 7-year-olds.
If you would love to sew a fringed fleece poncho, click on the picture below: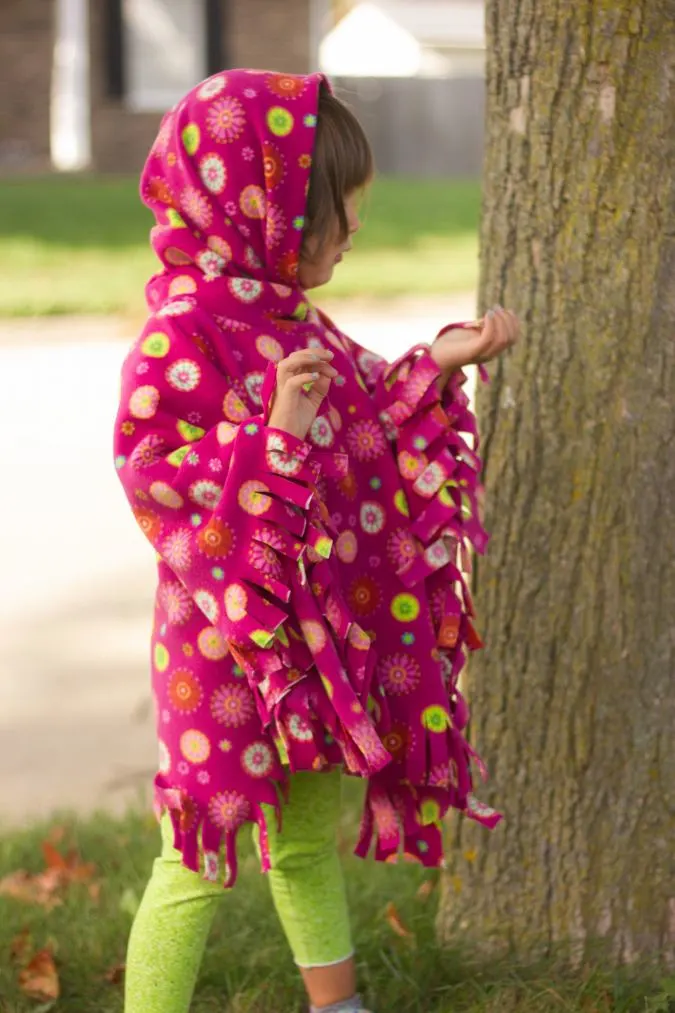 Material Requirements
Cotton Fabric for the cape- 2 & ¼ yards.
Cotton fabric of a contrasting color for the cape lining- 2 & ¼ yards.
One-inch satin ribbon- 1 to 1 & ½ yard.
Enter your e-mail address in the box provided below to download the template.
All the fabrics used here are 45 inches in width.
The fabrics shown here are only for illustration purposes and as such may vary from the original.
The seam allowance is ½-inch unless otherwise specified.
I suggest you read the entire pattern once before starting to get a general idea.
All seams are to be pressed flat
All seams are to be finished by zig-zag or serger.
Now we need to mark the neckline of the cape.
We need to attach the ties to the front cape piece.
Lets cut the hood pieces.
Let's sew the hood.
Repeat the steps with the hood lining also.
Now we need to attach the hood to the cape piece.
Now we need to attach the cape piece and the inner lining together.
Pin it for later here: