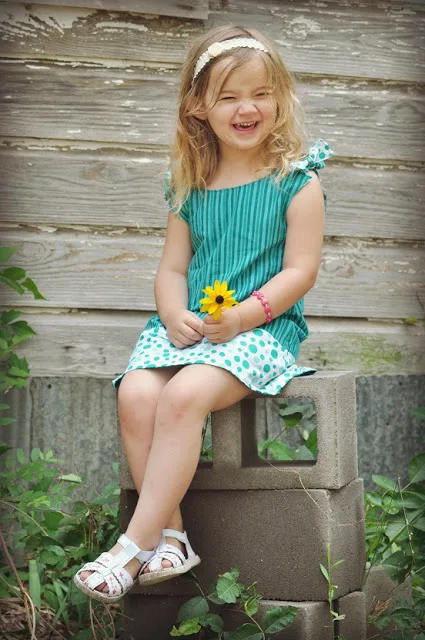 The hem line of this sewing pattern is expected to hit right below the knees. The model wearing the green dress is tall for her age.
This Reversible Dress Sewing Pattern is as handy as it is beautiful, It can be your best friend during play, travel or parties. If your little one stains it, just turn it over and it looks as good as another! This could be the perfect addition to your little girl's wardrobe this summer. You get two dresses in one!
Made with cotton fabric in a class A line cut, it can take the place of your favorite sun dress. Mix solids and prints, stripes and solids, polka and stripes, let your imagination take flight!
* Designed with the beginner seamstress in mind, this tutorial with its full body template and step by step instructions, makes it easy for any novice seamstress.
* Pattern runs from size 0-3 months to 8 Years and can be used many times over the years as your little girl grows.
* Pictures of every step are included.

Payment can be made securely through PayPal. Once the payment is made, the pattern will be emailed to you in 24 hours. If you have any questions or fail to receive the patterns please use the 'Contact Me' form in my blog.
Please do not resell the pattern itself or pass it onto others. You are free to sell the finished items made from my patterns. All my patterns are protected by copyright.
$6.99